Italy's active COVID-19 cases over 50,000 since late May, but new lockdown ruled out
Share - WeChat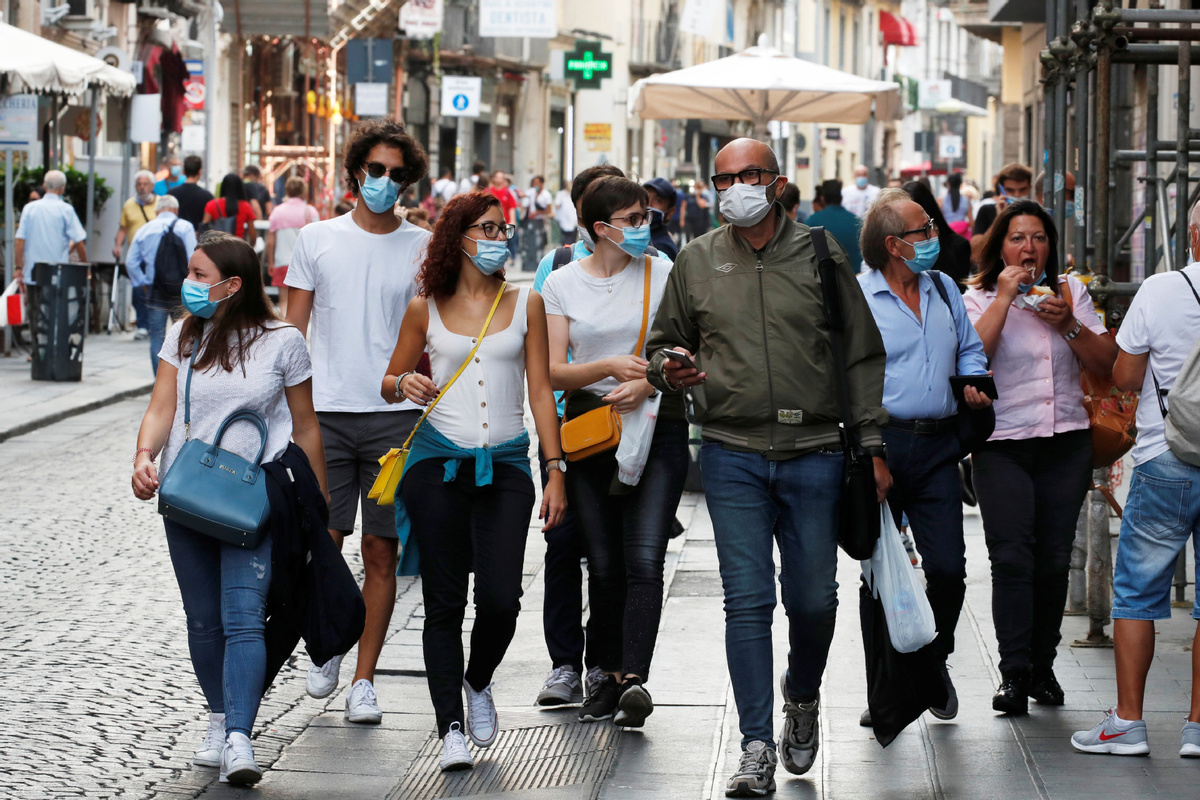 ROME - The number of active COVID-19 infections in Italy exceeded 50,000 again for the first time since late May, according to fresh statistics on Monday.
More specifically, national health authorities registered 705 new active cases across the country over the 24-hour period, which brought the total of active cases to 50,323.
The last time the country reached a higher figure in active infections was May 27 (50,966).
This resulted from a limited but constant upward trend in the latest weeks, official data showed. In August, experts explained this was mostly due to holidaymakers returning from countries with higher infection rates, and a more intense circulation of people.
In September, the daily increases have become more relevant, and one of the explaining factors could be the school reopening and the subsequent mass movement of pupils, parents, and teachers.
However, the pandemic situation at the country level seemed to remain under control.
Assessed cases grew by 1,494 to total 311,364 on Monday (against an increase of 1,766 on Sunday), considering infections, recoveries, and fatalities.
Of the 50,323 actively infected people, some 264 are currently in intensive care (10 more compared to the previous day), and 2,977 are hospitalized (131 more).
Recoveries grew by 773 to total 225,190, while 16 new fatalities were registered against Sunday, bringing the country's death toll to 35,851.
While northern Lombardy, Veneto, and Piedmont regions were the country's hotbeds during the first phase of the pandemic, now were southern Campania and central Lazio (surrounding Rome) worrying experts the most.
They recorded 295 and 211 new infections on Monday, respectively, the highest daily increase among the 20 Italian regions, data showed.
In related news on Monday, Foreign Minister Luigi Di Maio voiced Italy's solidarity towards European Union (EU) partners facing higher spikes in new cases these days.
"Europe has shown solidarity with Italy in the pandemic," the minister wrote on Facebook.
"Some countries in Europe are still suffering, and especially Spain and France, which are at risk of (having) a second lockdown. As a government, we will do our utmost to provide help."
Italy witnessed the height of the national outbreak in spring, when a nationwide lockdown was imposed to curb the spread of the virus.
Signalling the government deemed the current upward trends in the pandemic curve still manageable, Prime Minister Giuseppe Conte excluded a new national lockdown.
"I rule it out, because our situation today differs totally from the one we had in the first months of the year," Conte said in a virtual address at Trento Festival of Economics on Sunday.
"It is possible that new clusters will emerge, but in this case we are going to intervene with geographically limited measures."
Italy is also among a group of countries including Britain, China, Russia and the United States that are racing against time to develop coronavirus vaccines.