World needs to come together more than ever, expert says
Share - WeChat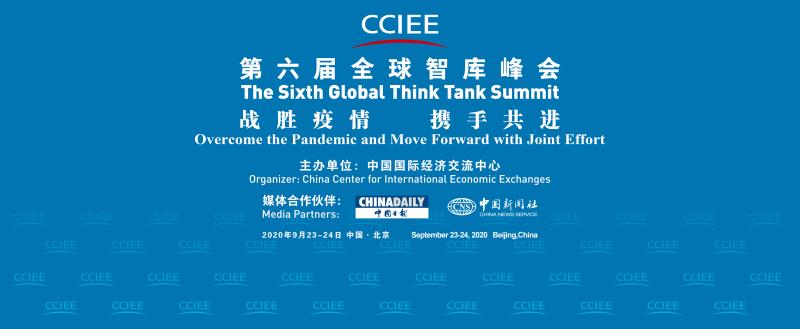 The sixth Global Think Tank Summit began online in Beijing on Wednesday. Organized by the China Center for International Economic Exchanges, the summit, whose title this year is "overcome the pandemic and move forward with joint effort", lasted two days.
Zeng Peiyan, chairman of CCIEE, said in his speech during the opening ceremony that the globe was currently facing severe challenge from the COVID-19 pandemic. Humanity is facing the most serious public health incident since the World War II, with all countries confronted by the daunting tasks of countering the pandemic, stabilizing the economy and improving people's livelihood. With the addition of deglobalization, rise of unilateralism and protectionism, significant contraction in international trade and investment, and heavy-hit on global industrial, supply and value chains, unprecedented challenges have been brought to humanity. The pandemic in terms of the world's economy is possibly not only a "blizzard" but a long "winter".
What's more worrying, Zeng said, is the deficit of peace, development, governance and trust for the global governance system. Some countries externalize and politicize domestic problems, making unilateralism and bullying prevail, breaking international rules and order, raising risks of fragmentation and confrontation in global governance.
Zeng added that while the pandemic is wreaking havoc, it has enlightened people a lot. The most important one is: the pandemic is the common enemy for all humanity, countries around the world are in a community with a shared future, the international community needs solidarity and cooperation more than ever before.
He said the urgent task should focus on fighting the pandemic, pushing to establish a global coordination mechanism of public health, strengthening sharing of anti-epidemic information and experiences, and promoting cooperation in medical and vaccine development. Meanwhile, a long-term and severe world's economic depression should be prevented. Talks on global economy, finance, energy, technology should be carried out on an honest, fair and constructive basis, fully accommodating concerns for all parties.
Zeng said China was the first country to be hit by the pandemic, but the Chinese government focused on the people and life, and controlled the epidemic with decisive measures. China's economy has seen rapid recovery. China will complete the building of a moderately prosperous society in all respects, and eliminate extreme poverty on schedule. The country sees continuous expansion in mid-income population and is the most promising consumer market in the world. It will build a "dual circulation" development pattern with the domestic market as a mainstay. The new pattern is not a shutting down but a higher level opening-up for better integration of domestic and international markets.
He said China will firmly expand opening-up and continue to improve market convenience for foreign investors and refine business environment. China will be always a contributor for the world's development, and is willing to jointly create development opportunities and share the fruits.
Chinese representatives said the think tank should seize the general trend of world's development, guide public opinion and promote diversified civilizations, sharing of progress, and higher level cooperation.
They said members of the think tank should enhance communication, offer advice without hesitation and oppose unilateralism and protectionism, strive to put an end to divergence among all parties for the building of an open and cooperative world's economy.
International representatives said the world is now in a turbulent era with uneven development. In particular, the COVID-19 pandemic has triggered a new round of global economic crisis. It has remarkably changed ways of domestic operation and international cooperation. Differentiation among countries is on the rise, contradictions have become more prudent. But it is also an imperative time for cooperation among countries. To overcome the pandemic and deal with the crisis, countries should specially strengthen cooperation in vaccine development and public health, promote globalization via digital technological revolution.
They said countries should propel green recovery and sustainable development, and should jointly stabilize global supply chains, forge multilateral framework and global orders based on rules. Countries should give full play to the role of the United Nations and international organizations by which a more harmonious and new-type international relationship can be established.
Representatives deemed the think tank should be used more effectively to offer intellectual support to governments and international organization.
Besides Zeng, former Japanese prime minister Yasuo Fukuda, former Singapore prime minister Goh Chok Tong, former Australian prime minister Kevin Rudd, former French prime minister Jean-Pierre Raffarin, former deputy prime minister of Poland Grzegorz W. Kolodko, UN undersecretary-general Liu Zhenmin attended the opening ceremony and delivered speeches.
The summit attracted roughly 200 former political leaders, heads of international organizations, and think tank representatives from over 20 countries and regions.