Nation has bigger role to play within world body, experts say
Share - WeChat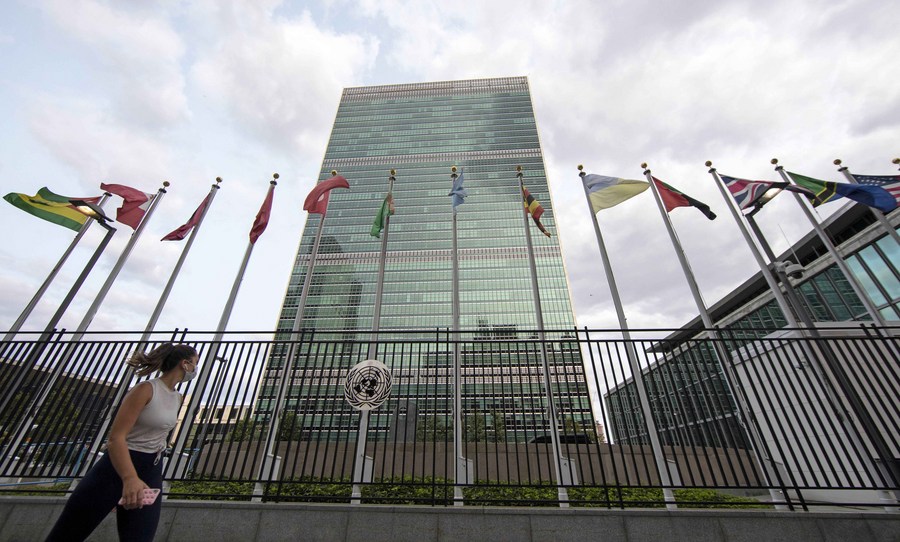 As the United Nations celebrates 75 years as an international institution dedicated to peace, cooperation, sustainable development and eradication of poverty, experts say China has a bigger role to play in fostering the organization's key initiatives while promoting peace among nations at this critical juncture.
Christopher Bovis, professor of international business law at the University of Hull in the UK, said: "China's political and economic leadership has already earmarked a number of features which focus on promoting globalization, from a different facet.
"The Chinese government has heralded its impetus to the global economic progress by the application of a responsive and responsible political and economic leadership which must insist on the need to promote sustainable development."
Earlier this month, China issued a position paper to reiterate its support for multilateralism and the authority of the UN, criticizing "certain countries and political forces" for "putting the world in serious jeopardy" by "playing the blame game, clamoring for 'decoupling'", and moving toward deglobalization.
While China believes that economic development is the underpinning strategy for building a prosperous society and eliminating poverty, Bovis said the focus of sustainable development should be "the assessment of the traditional trade systems raised by the role of institutional organizations such as the UN, and China has committed in the functioning of a workable, fair and sustainable international trade system".
In recent years, the effectiveness of the UN's role in global governance has increasingly been questioned as countries that are in economic conflict take different ideological stances on international problems.
Doris Fischer, professor of China business and economics at the University of Wuerzburg in Germany, defended the importance of the international organization, saying that the world needs institutions for global governance to tackle those problems that cannot be addressed adequately by single countries or regions.
Fischer said China, as an important member of the UN, has expanded its influence considerably over the past decades. "Important contributions have been its engagement, for example, in the UN peacekeeping programs, its increased engagement in the United Nations Framework Convention on Climate Change and also the cooperation in global health issues," she said.
Ben Cavender, managing director at the China Market Research Group, said that, as the world is seeing a serious shift in how nations cooperate to solve pressing global problems, "countries like China have a unique opportunity to step forward and support key initiatives around economic development, alleviation of poverty, and sustainability".
Inclusive global community
"In the past China has taken a quieter approach to geopolitics, but given the current state of the global community, this is a crucial time for countries to take leadership and build a more inclusive global community," he said.
Cavender pointed out that China has taken a much more active role especially in funding large infrastructure projects that have the potential to benefit developing nations.
"Many of these projects run the risk of not being successful long-term unless they are planned and executed in concert with the broader international community," he said.
At the Extraordinary China-Africa Summit on Solidarity against COVID-19 in June, China pledged that once the development and deployment of a COVID-19 vaccine is completed in China, African countries will be among the first to benefit. China is also working with other G20 members to conduct debt suspension for the poorest countries.
"There are many positive learnings that can be taken from China's approach to battling Covid, both domestically, where China has had great success in slowing the virus, and internationally, where China has attempted to provide aid to countries that have not had good access to medical supplies," Cavender said.
Bovis echoed his view, saying "China believes in international and cross-border collaboration and has shown demonstrable commitment and willingness in collaborating on COVID-19 related research … vaccines and prevention measures are developed rapidly for the benefit of every nation."
China has managed to lift more than 850 million people out of poverty since the reform and opening-up began in the late 1970s, with GDP growth averaging almost 10 percent a year, according to the World Bank.
Fischer, of Wuerzburg University, argues that China's economic success of the past four decades, which has laid the foundation for its growing international influence, is the result of accumulative policy-learning over the years, and it is something worth sharing with other countries.
While this has been famously captured by the saying that reform was a process of crossing the river by feeling the stones, Fischer said: "China's policy-learning model has arguably been much more complex, which includes studying the examples of other countries, commissioning studies to experts, listening to all kinds of advice and eventually try to come up with adequate solutions for China which were, however, usually first tested with experiments."
She said the policies China chose for its success are not necessarily transferable, but the essence would be to transfer the willingness to adapt such a learning process.
Fischer added that China needs to be cautious about the mismatch between trying to convey its increasing economic and political power and rightful international influence by demonstrating the country's economic success and stability of the past decades, and the narrative in global governance contexts that China is a developing country and should be treated as such.