China-EU economic ties resilient despite global trade woes
Share - WeChat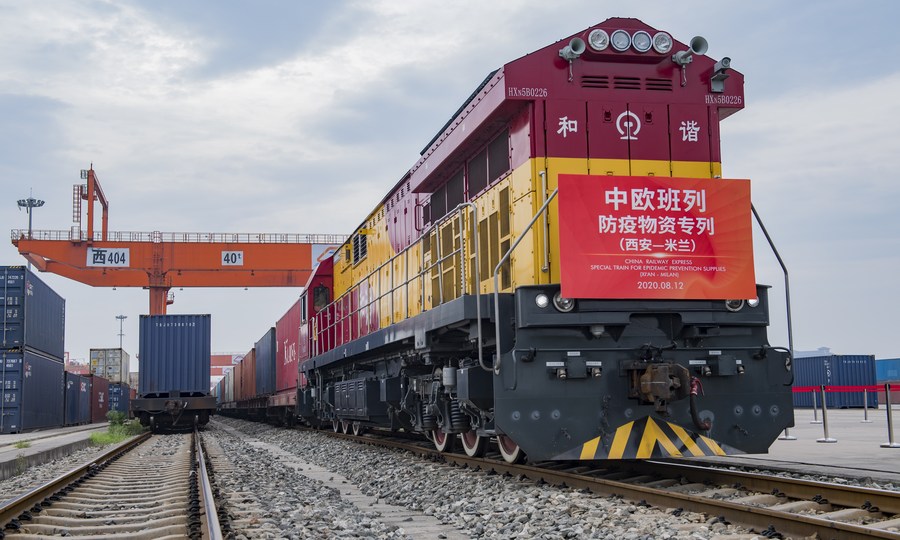 FRANKFURT -- Despite the shrinking global trade market due to the COVID-19 outbreak, trade flows between China and the European Union (EU) remain comparatively steady and resilient, facilitating the combat against the pandemic and economic rebound in both sides.
In a post-pandemic world where international cooperation and the value of multilateralism are more important than ever, China and the EU could see new opportunities emerge in economic cooperation, experts have said.
Dynamic trade
Xavier Wanderpepen, who is responsible for China-Europe rail freight activities at Forwardis, a subsidiary of France's national railway company SNCF Logistics, was impressed by the surge of freight train operations between China and Europe during the first half of this year.
"In my company, since April 2020, demand for trains has increased sharply. The increase is more than 20 percent compared to 2019," Wanderpepen said.
The rise contrasted with the overall gloomy picture of global trade in the early months of the pandemic, during which the World Trade Organization in June forecast an 18.5-percent drop in global trade in the second quarter.
Wanderpepen noted that rail transport has been playing an indispensable role in delivering medical supplies from China, which are most needed in Europe for containing coronavirus, and at the same time facilitating transport of massive goods made in France to China where demand picks up robustly, boosting exports and imports in both countries.
Late August, the first freight train with goods exclusively "Made in Austria" pulled out of the Vienna South Terminal for Xi'an, China, while the first "Bay Area" carrying industrial products made in the Guangdong-Hong Kong-Macao Greater Bay Area left south China's economic hub Shenzhen for Duisburg in Germany.
With new routes launched one after another, the number of China-Europe freight trains hit a record high of 1,247 in August, up 62 percent year on year, marking the sixth consecutive month with double-digit growth, data from China State Railway Group showed.
According to the General Administration of Customs, China saw its trade with the EU rise 1.4 percent year on year during the first eight months of 2020, contributing to 14 percent of China's overall foreign trade.
For the EU, in the first seven months of this year, China became the bloc's top trading partner, a position previously held by the United States, said Eurostat on Wednesday. EU's imports from China increased by 4.9 percent in the January-July period from a year ago, while its imports from the United States dropped by 11.7 percent.
For Germany, the largest economy in the EU, China also surpassed the United States for the first time in the second quarter to become its largest export market. Moreover, Germany's exports to China in July have rebounded almost to last year's level, according to Germany's Federal Statistical Office.