A new look for a new era
Share - WeChat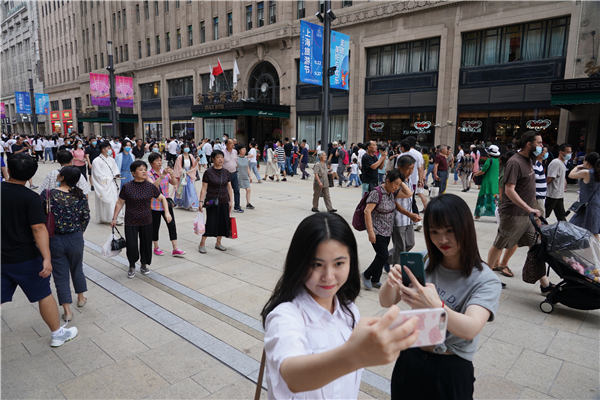 Nanjing Road, Shanghai's most famous shopping street, gets an injection of vitality and glamour, Xing Yi reports.
In 1928, American missionary and educator Francis Lister Hawks Pott wrote: "At night they were illuminated by thousands of electric lights, and helped make the upper part of Nanking Road a 'great white way' ... They mark both the gradual process of the modernization of China and the growing prosperity of Shanghai."
The dazzling night scene of the country's top commercial street, Nanjing Road, that Pott described in his book, A Short History of Shanghai, has not changed after a century, except for becoming much brighter and longer.
The renowned shopping street, which runs west to east from People's Square in the city center to the Bund along the Huangpu River, officially opened its eastern section on Sept 12 after a nine-month renovation project.
The renovation converted the 500-meter stretch from a regular road into a pedestrian street, connecting its existing 1-kilometer pedestrian mall on the west of its intersection with Middle Henan Road.
The renovation was the biggest upgrade of the road in the past two decades.
Qiao Zhengyue, a columnist of the city's historical architecture and the author of a bilingual book, Shanghai Nanjing Road, which was published in August, attended the grand opening of the extension of the pedestrian street, which also marked the start of this year's Shanghai Tourism Festival that runs through the end of this month.
Most Popular