China's top envoy to US stresses the good in bilateral relations
Share - WeChat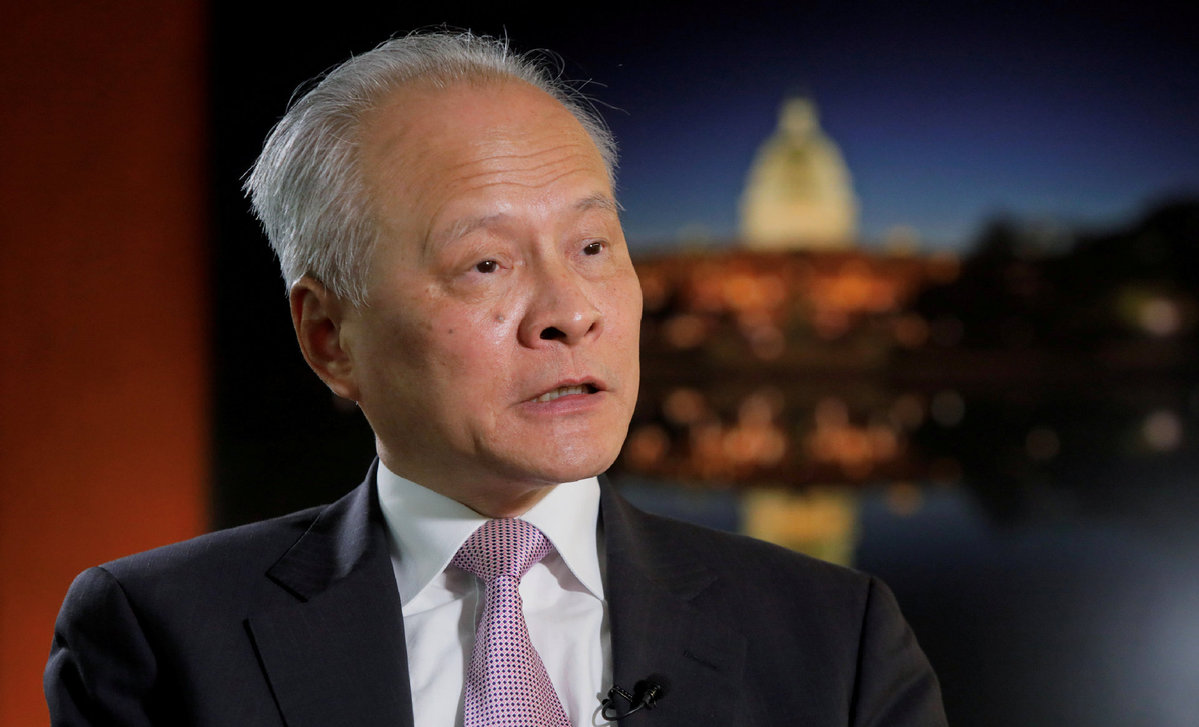 Chinese Ambassador to the United States Cui Tiankai said that for China and the US, their common interests and mutual needs always outweigh whatever differences the two may have.
Cui made his comments in an interview with former US treasury secretary Hank Paulson on the podcast Straight Talk with Hank Paulson. The interview was conducted Aug 28 and aired Monday. It touched on Cui's career and relations between the US and China.
Cui worked on a farm in China for five years, was an interpreter at the United Nations in New York and studied at the Johns Hopkins School of Advanced International Studies. He has been China's ambassador to the US for more than seven years.
Discussing China's foreign policy, Cui said that it "has been clear from the very beginning that we want to have a constructive and cooperative rather than confrontational relationship with the United States".
"We want to base ourselves on mutual respect, mutual understanding and hopefully, mutual accommodation with the aim of mutual benefit. That has been the essence of our policy all along, ever since President Nixon and Dr (Henry) Kissinger visited China" in 1972, Cui told Paulson.
Looking back at the past 40 years, Cui said the US-China bilateral relationship has changed a great deal: "It has expanded, it has deepened and it has gotten more complicated, more comprehensive and more complex."
He said one of the expanded cooperation efforts was the initiation of the G20 summits — which Paulson, as treasury secretary, was personally involved with — that began in response to the 2008 global financial crisis.
"We also handled issues like climate change, international terrorism and epidemics like Ebola in Africa. Even for this current pandemic, there has been a good degree of cooperation between China's provinces and cities and American states and cities, between companies and institutions of the two countries," Cui said.
He pointed out that neither China nor the US can handle many global issues all by itself.
"It is the expectation of the international community that China and the United States should work with each other, not against each other, on these global challenges. This is the larger common interest," Cui said.
There is no question that differences exist between China and the US, Cui said.
"We have to recognize that there will always be differences between us because we are two different countries with very different historical heritages, different cultures and different political and economic systems. But we have to manage the differences in a constructive way," he emphasized.
When it comes to issues such as the situation across the Taiwan Straits, Xinjiang, Hong Kong and the South China Sea, Cui said those are a matter of sovereignty, territorial integrity and national unity.
"Sometimes we just don't believe why these issues should become issues between our two countries. They are internal issues for China," he said.
Despite disputes over those issues, Cui said China and the US have managed them quite well so far. "But now the current situation is making us very concerned and even alarmed. There are some clear attempts in this country to cross what people call the red line with very serious consequences. So, I hope people can really draw experience and good lessons from the past few decades," he said.
With new measures for reform and opening-up — the new Foreign Investment Law and the master plan for the development of the Hainan Free Trade Port, for example — China is opening up more, Cui said.
Because of the new measures, US and other foreign companies operating in China will have better access, better opportunities and certainly greater predictability, he said.
"But at the same time, what is very challenging for us is that while we are trying to be more open to the rest of the world, some people in other parts of the world are trying to raise barriers to us. They are raising barriers for TikTok, WeChat and Huawei, etc. This is a real challenge for us. We are trying to open our door wider, but they are building walls. They're raising barriers. What should we do?" Cui asked.
He also pointed out that both China and the US were mindful of each other's national security concerns while they developed mutual ties and deepened and widened relations. The national security of either China or United States wasn't hurt in the process but actually was helped, Cui said.
"If you have more interaction with each other, you know better the other side. You know how the guys on the other side think, their mindset, their strengths and weaknesses, and you know much better how to deal with them, how to avoid the risks, how to promote mutually beneficial cooperation. This is the experience we have learned over the last 40 or 50 years. Why should we change it?" he asked.
Cui warned that the two countries need to be careful not to be misled or trapped by groundless fear, suspicion or even hatred.
"I don't think that will make anybody safe. That will make everybody less secure. This is just against the need for national security," he said.
Cui said he is optimistic for the future of the bilateral relationship: "It will move forward. It will be stabilized, especially in the next few months, and with more efforts, we can open up new opportunities for further cooperation."