Customs efforts open windows for exporters
Share - WeChat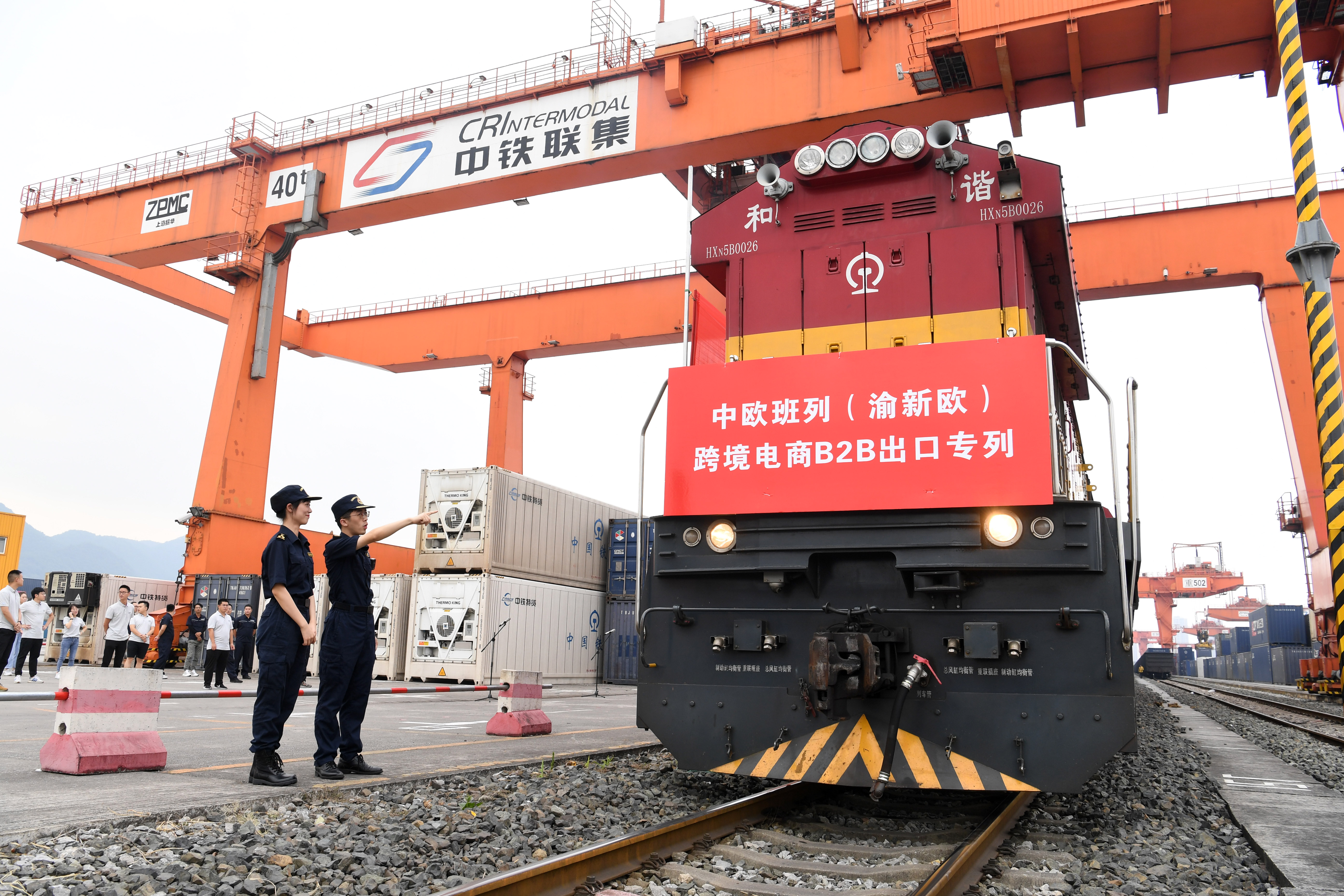 Simplified clearance procedures for transhipment of goods help traders ship products quickly to more destinations
China's exporters that have long been a thriving component of the national economy and strong supporters of global supply chains are finding fresh momentum as the country allows more cities to apply experimental Customs supervision modes for business-to-business e-commerce exports.
Many opportunities are arising from the General Administration of Customs' move to implement such modes in 10 Customs districts, including in Beijing; Shenzhen, Guangdong province; Tianjin, Hangzhou, Zhejiang province and Nanjing, Jiangsu province, on July 1 to integrate the Customs operations for B2B export of goods.
The administration then expanded this pilot program to another 12 Customs districts, including Shanghai; Nanning, the Guangxi Zhuang autonomous region; Chengdu, Sichuan province; and Xi'an, Shaanxi province on Sept 1, with many of them being inland and western cities.
B2B e-commerce export refers to either the direct export of goods from domestic businesses to overseas businesses via cross-border logistics based on mutual deals over a cross-border e-commerce platform, or the export of goods by a domestic company to its overseas warehouse, from which the goods will be delivered to overseas buyers based on their deals over a cross-border e-commerce platform.
Among other supportive measures, the new program offers e-commerce B2B exporters simplified export declarations and paperless Customs clearance, including one-off registrations, streamlined declarations and expedited clearance at lower costs, said Deng Guangwen, deputy head of GAC's Nanning Customs district.
Deng said that under the new operational mode, the duration of Customs clearance has been shortened. This helps prevent overdue returns caused by unstable international transportation.
Between July 1 and Aug 30, the 10 pilot Customs districts had inspected and cleared a total of 6.32 million batches of exported goods under the pilot program.
The pilot program will provide cross-border e-commerce B2B exporters in Chengdu, particularly micro, small and medium-sized exporters, with more convenient channels and help "made-in-Chengdu" goods enter global industrial and supply chains, said Li Xuantong, deputy head of GAC's Chengdu Customs district.
A few thousands kilometers away, the Customs authority in Shanghai has also taken into account the actual circumstances of small businesses, and introduced paperless processes of clearance for certain goods when a single consignment is worth less than 5,000 yuan ($732).
Wang Wenjiang, president of Shanghai Ideal International Logistics Co Ltd, said the company's export orders recently rose to nearly 300 on a single day, growing 50 percent on a daily basis before the city became a zone for carrying out pilot regulations for cross-border B2B e-commerce exports.
Customs statistics showed that the value of imports and exports transacted online by cross-border e-commerce enterprises reached 604.4 billion yuan in the first half, up 6.7 percent year-on-year. It also unveiled that the number of Customs offices in the pilot program has more than doubled in just two months, showing the program is effective and helpful for companies.
"This certainly reflects China's accelerating pace of opening up and the world's surging demand for Chinese goods. The expansion of pilot program is a win-win move and will continue to increase the volume of railway cargo on the China-Europe freight train service," said Zhuang Rui, deputy dean of the Institute of International Economy at the University of International Business and Economics.
To maintain solid economic fundamentals, the central government has reiterated that policy measures and fiscal funds should be used to ensure focus remains on the "six priorities" of employment, people's livelihoods, development of market entities, food and energy security, stable operation of industrial and supply chains, and smooth functioning at the community level, and to ensure stability in the six areas of employment, finance, foreign trade, foreign investment, domestic investment and market expectations.