Domestic auto market sees strong growth in August
Share - WeChat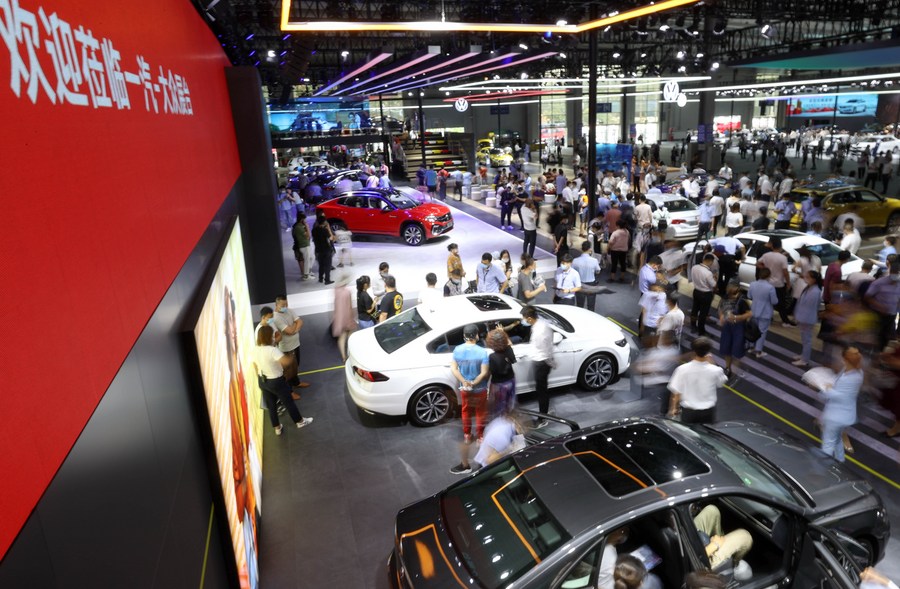 Industry association says post-virus sales rebound could continue in coming months
China's auto market has gradually recovered from the coronavirus pandemic with five consecutive months of positive growth.
The market is expecting a better performance in the traditional peak months of September and October periods, according to the country's leading automotive industry association.
The latest statistics from the China Association of Automobile Manufacturers, released on Thursday, show that August sales reached 2.19 million units, up 11.6 percent year-on-year and 3.5 percent month-on-month.
Of those sales, 1.76 million were passenger vehicles, up 6 percent from the same month last year.
In the first eight months, China sold 14.55 million vehicles, down 9.7 percent compared with same period last year. The decline narrowed 3 percentage points compared to the first seven months.
CAAM said the customer confidence boost came after the government launched consumption season activities and promotion events of new energy vehicles in rural areas.
Auto demand was suffering even before China shut down its factories and dealerships in February to fight the coronavirus.
More new models will hit the market at upcoming Beijing auto show, and travel demands will increase during Mid-Autumn Festival and National Day holiday in early October. The traditional "golden September and silver October", which refers to the period of best market performance each year, will also see strong sales growth, the association estimated.
The new energy vehicle segment achieved encouraging results in August, surging 25.8 percent year-on-year to 109,000 units. For the year to date, sales reached 596,000 units. New energy vehicles include battery-powered electric, plug-in hybrid and hydrogen fuel-cell vehicles.
Electric startups, from homegrown Nio and Xpeng to Tesla from the United States, are expanding manufacturing capacities in China, which play an important part in the market.
Xu Haidong, the vice-chief engineer of CAAM, said that Chinese customers are gradually accepting the products of electric startups and the products have promising signs of development in the near future.
Xpeng's listing last month marked the latest Chinese electric startup's effort to raise capital in the US, following Li Auto in July and Nio in September 2018, which will help them get a better foothold in fierce competitions in the Chinese market.
The startups achieved strong performances in August. Nio delivered 3,965 units, accounting for an increase of 104.1 percent year-on-year. In the first eight months, Nio has delivered 21,600 electric cars, surpassing its total sales in 2019. Li Auto delivered 2,711 units last month, hitting a new record of its monthly delivery. WM Motor sold 2,057 units last month, surging 143 percent year-on-year.
The new energy vehicle sales rebound was fueled by rural new energy vehicles sales promotion events and local governments' support, Xu said. The new energy vehicle will maintain promising growth in the next few months and is likely to reach 1.1 million vehicles for the full year, he added.
Chinese car brands sold 655,000 passenger vehicles last month, growing 6.3 percent year-on-year. Their market share saw a slight increase of 0.1 percentage points to 37.3 percent in August, marking the first increase over the past five months.
Xu said that the brands have made efforts to improve the appearance of their vehicles, as well as the quality and intelligent features to meet customer demand.
Chinese automakers reported sales growth in August. Geely Automobile sold 113,443 cars, up 12 percent year-on-year. Its Lynk & Co brand hit a new record of monthly sales to 17,098 units, increasing 56 percent year-on-year.
Changan Automobile reported sales of 169,415 units in August, increasing 35.6 percent compared with last August. Seeing year-on-year growth for five consecutive months, the carmaker achieved sales of more than 1 million for the year to date. Great Wall Motors sold 89,442 cars last month with an increase of 27 percent year-on-year.
CAAM also noted that the sales of commercial vehicles was driven by government investment in infrastructure and as buyers upgraded to comply with stricter emissions rules. Sales of trucks and other commercial vehicles, which constitute around a quarter of the market, surged 41.6 percent to 431,000 units in August.