Powering the world with solar boost
Share - WeChat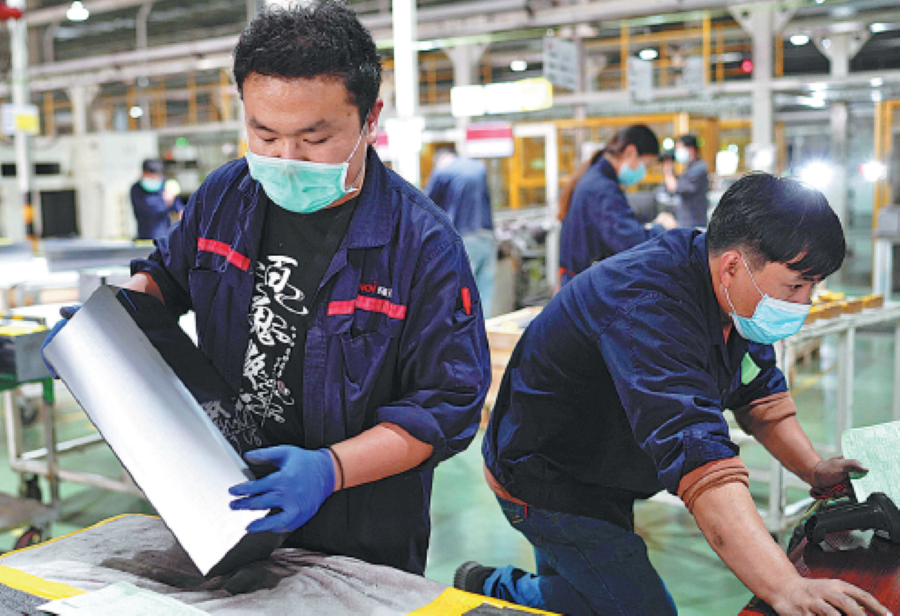 Longi Green Energy diversifies from photovoltaic products to downstream firms
Longi Green Energy Technology, a major Chinese manufacturer of monocrystalline silicon photovoltaic products, will continue to expand the production capacity of its overseas plants.
Its overseas revenue exceeded 7.654 billion yuan ($1.12 billion) during the first half of this year, accounting for 38 percent of its total revenue.
The company's major overseas markets, including the United States, Europe and the Asia-Pacific region, witnessed a component shipment increase on a yearly basis of more than 100 percent, said the Xi'an-based company, which is also the world's largest supplier of monocrystalline silicon.
With the markets gradually recovering, exports of photovoltaic or PV units, mainly to Europe, went up 62.5 percent year-on-year to 3.9 gigawatts during the first half. The value of the company's exports is expected to grow 50 percent yearon-year to 12 billion yuan this year, according to Zhong Baoshen, chairman of Longi Green Energy.
Longi's capacity to make monocrystalline silicon wafers is about half of the global total. The company is also expanding business to downstream solar modules, solar cells and solar power plants.
He said the company is stepping up hiring by 17,000 people for both its overseas and home plants, to meet the growing market demand. Its employee ranks are forecast to reach 51,000 next year.
According to the company, the North American market is still expected to grow in 2020, despite the impact of COVID-19. Shipment levels in most of Europe and countries like Japan and South Korea are gradually returning to normal, it said.
With the nation's deepened efforts of boosting high-quality development, Longi said building integrated photovoltaics or BIPV is one of the best channels for the future application of solar energy.
Market insiders said the country's industrial production resumption, together with the gradual return of overseas demand, have boosted its performance, making it better than expected. This is expected to continue in the second half of the year.
According to Bloomberg NEF, an industry information provider, the outlook for the solar industry for the third quarter for many countries is optimistic again as many governments have resumed their plans to auction solar plants.
The biggest contributor to the rise, according to the news agency, is China, for which it increased the 2020 estimate to 37 to 43 GW from 29 to 43 GW in the second quarter of this year.
Strong build in the second quarter, a good auction, subsidy-free pipelines and a shift away from province-wide to localized shutdowns to halt COVID-19 outbreaks are all reasons to count out the low scenario, it said.
According to Jiang Yali, a solar analyst at Bloomberg NEF, the impact of COVID-19 on China's solar industry is lower than expected. As many overseas markets are also gradually recovering, the country's solar exports will also gradually improve, she said.
The company said the outbreak will have a limited impact on its operations and production. It is now effecting gradual resumption of work at its plants nationwide.
Earlier this year, Longi purchased a Vietnam-based solar cell and module OEM (original equipment manufacturer) Vina Solar for 1.78 billion yuan, a move that has further lifted its overseas capacity and improved its global installation layout.
It has also been giving priority to increasing production at its plant in Kuching, Malaysia, to supply clients in China and other parts of the world to offset losses caused by domestic interruptions to production and transportation. It plans to expand its operations in Malaysia with the construction of a plant to manufacture monocrystalline cells.
Citing a number of new projects coming online and strong demand for products as the main reasons, the company reported a first-half net profit of 4.1 billion yuan from a revenue of 20.1 billion yuan, up 43 percent year-on-year.
Its annual production capacity of monocrystalline silicon wafers increased from 42 GW at the end of last year to 55 GW at the end of June, and annual output of monocrystalline modules also rose from 14 GW to about 25 GW, the report showed.
According to the China Photovoltaic Industry Association, in the first half, China added 11.52 GW of new photovoltaic power, including 7.08 GW of centralized photovoltaic power and 4.44 GW of distributive photovoltaic power.