Learning to love the taste of 'fire'
Share - WeChat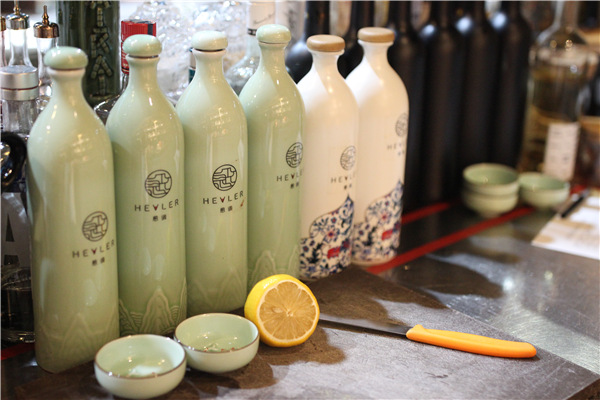 Despite the ongoing pandemic, global interest in Chinese 'white liquor' has barely waned, with dozens of cities around the world celebrating World Baijiu Day.
To most foreigners, baijiu is better known for its intensity and efficacy in causing a hangover than as a complex Chinese spirit worth savoring.
Time magazine once dubbed the spirit "sorghum firewater" because of its fiery flavor.
Han Ling, the founder of Healer Bar in Shanghai, is among the many who are trying to correct this misconception.
On World Baijiu Day on Aug 9,Han hosted a masterclass where she mixed baijiu with ingredients such as rose, elderflower liquor, cinnamon, lemon and Bohea, a black tea blend from the mountains of Wuyi, to create cocktails that would allow participants to better understand the taste of this oft-misunderstood Chinese spirit.
During the class, Han also delved into the history of baijiu and its production and preservation processes. Guests then got to sample different types of the spirit.
Fermented and distilled from wheat or a mixture of sorghum, rice, corn and barley, baijiu was first made 1,000 years ago. Today, China has more than 10 types of baijiu that come in different flavors and aromas.
"The beauty of baijiu lies in its old nature. Chinese like traditional flavors and baijiu has exactly that,"Han says.
"The production techniques for baijiu are quite unique as well. While the flavor of whiskeys and wines are affected by the type of barrels they are stored in, you only taste the grain in baijiu."
Han, who has participated in the past three editions of World Baijiu Day, says the response to her events every year has been improving.
"So many people want to know about baijiu these days. When we had a World Baijiu Day event at the bar in 2017, there was a long line of people waiting to enter," she recalls.
Her tiny bar that measures only about 80 square meters was again fully occupied on this day. The majority of the 30 guests, all of whom watched her demonstration intently, were foreigners.
Among them was Alexa Camus, whose family business represents famous Chinese baijiu brand Moutai in foreign markets. Having lived in Shanghai since 2001, the Frenchwoman says she loves the complexity involved in baijiu production.
Most Popular