Chinese cultural exports take the lead at recent trading event
Share - WeChat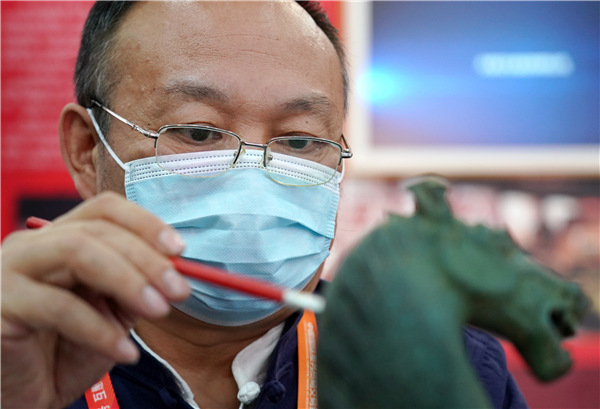 A promotional video, in which African people are watching Chinese films and TV series with great interest, caught the attention of spectators at the cultural services exhibition area of the 2020 China International Fair for Trade in Services, which concluded on Wednesday.
Both the digital television and the programs they are seen enjoying in the video were made by StarTimes Group, a Beijing-based media company attending this year's fair.
Since exploring the African market in 2002, the company has expanded its investment in digital TV in 37 countries on the continent, including Rwanda, Nigeria and Kenya.
Guo Ziqi, vice-president of the group, says that with the rapid development of digitization in Africa, there is a greater demand for quality Chinese movies, TV dramas and programs.
"Only when people understand what these works from China are saying will they want to watch them, and thus be willing to understand the country's culture. So, well-dubbed films and TV dramas are the key to telling Chinese stories and spreading the voice of China," says Guo.
In recent years, a total of 503 films and 276 TV series from China, as well as a large number of documentaries and cartoons, have been dubbed into more than 10 foreign languages, including English, French and Portuguese, in the translation and dubbing center set up by StarTimes Group in Beijing.
Most foreign staffers with the company come from Africa.
"Kids in my hometown love watching Chinese kung fu movies so much that even the smallest TV set has a crowd around it," says Alex Herbert Shogotera, from Tanzania, who voices a character in the dubbed version of the Chinese martial arts movie Ip Man produced by the center.
Joelle Zita Bolabola, a voice actress and TV presenter from Gabon, has studied and lived in China for years. She says she has introduced Chinese food to people in her hometown through programs produced by StarTimes.
The popularity of Chinese dramas in Africa could not be achieved without the large exhibition and trading platform provided by the CIFTIS for Chinese and foreign enterprises and institutions.
Most Popular