Scenario-based consumption in vogue
Share - WeChat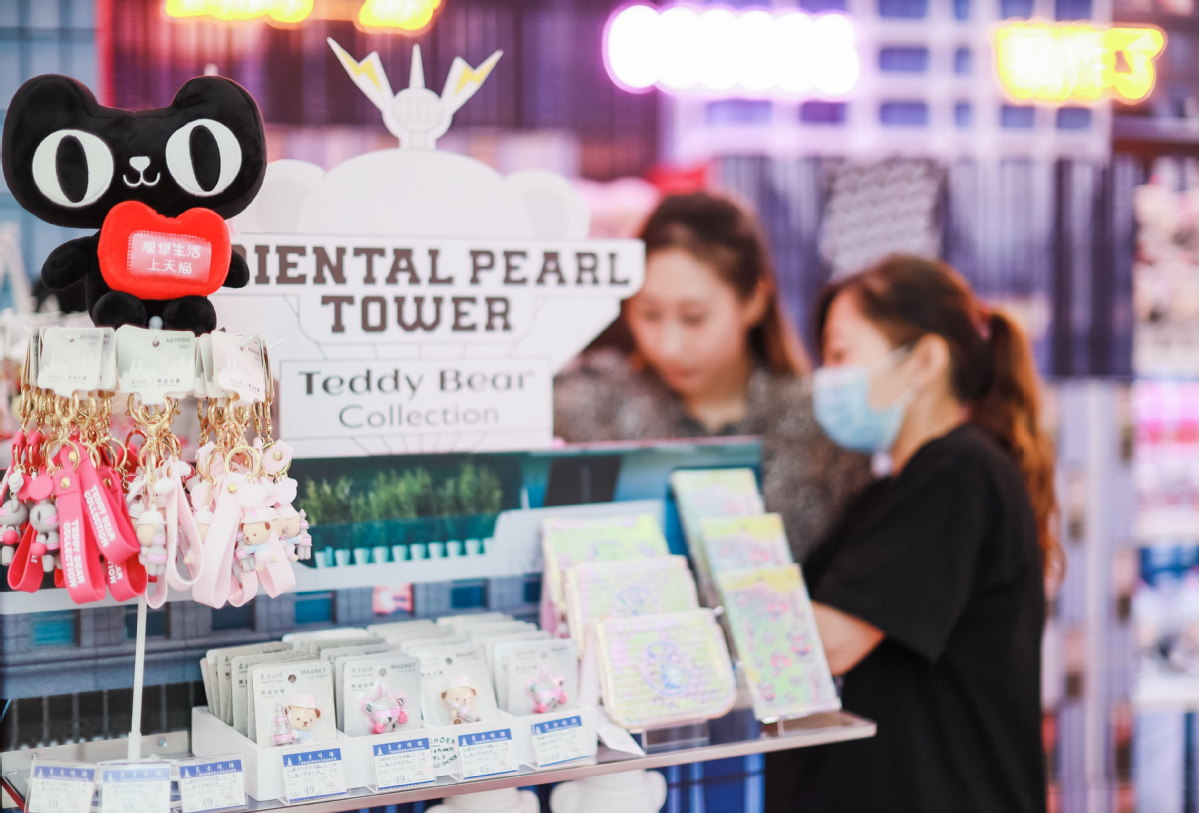 Retailers in China are enticing younger consumers with scenario-based shopping experiences through co-branding efforts and intellectual property collaboration.
Last month, a total of 20 Tmall-themed stores featuring various brands made their debuts during a conference in Shanghai, where names like L'Oreal and Bosch unveiled their joint stores with Alibaba's Tmall platform in key cities including Shanghai, Beijing, Shenzhen, Guangdong province and Hangzhou, Zhejiang province.
Designed to cater to and connect with China's youthful, digitally savvy and trend-seeking consumers, each store is fitted with fun, interactive features such as AR(augmented reality)-enabled hairstyling mirrors at the Tmall x L'Oreal store and a digital touchscreen game at the Tmall x Bosch store, which opened their doors in August.
"Through the collaboration, we hope to tap the market of those born after 2000," said Zhang Lihua, CEO of Teddy Bear Collection. "We hope the fun designs will help ignite impulse purchases, especially among females."
Line Friends, a global brand featuring characters based on stickers from the messaging app Line, has also stepped up efforts with major landmarks and commercial properties in China.
In August, the creative studio worked with Shanghai's Yu Garden to launch a themed party commemorating Chinese Valentine's Day during which Brown the bear and Cony the rabbit were dressed in traditional Chinese costumes to celebrate together with young couples.
In the online sphere, Line Friends recently mobilized 70 licensers to participate in Tmall Super Brand Day on Aug 18 when some 1,000 licensed products were up for grabs. The company said it plans to incorporate more local elements in the future.
Line Friends will also join hands with online influencer Li Jiaqi to co-create contents prior to the Nov 11 Shopping Festival.
Zhang said she is looking to scatter such stores across key tourist attractions nationwide in three to five years.
The online-to-offline architecture enabled by Tmall and the physical stores allows the company to reach a growing number of customers-even from overseas-who haven't physically visited sites.
Liu Min, strategic vice-president of Bosch China, said the co-creation, backed by data, started from choosing store locations.
"It's a new branding battlefield. From data analytics, we manage to comprehend customers' fast-changing interests in real time, and set up booths like ice cream stands in our stores to attract their attention and devise storylines based on their interests," Liu said.
Other brands that have opened Tmall-themed stores include KFC, Kohler, Nestle, Swisse and Reebok.