Anxiety disorder
Share - WeChat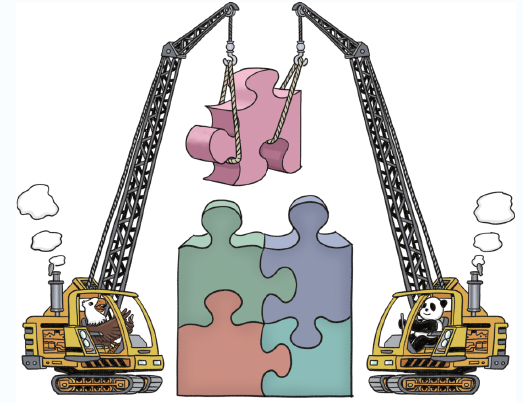 US foreboding about the state of the nation is manifest in its China anxiety and its attempts to disrupt the global governance framework
The prominent US political scientist Francis Fukuyama wrote extensively about the success of Western-American liberalism and the end of history after the "fall" of the Berlin Wall in 1989. Yet about 30 years later, in an essay in Foreign Affairs titled "The Pandemic and the Political Order: It Takes a State", he writes that the United States, in dealing with the novel coronavirus pandemic, "has bungled its response badly and seen its prestige slip enormously". In another related essay in The Atlantic, he concludes that "America's deepening tribalism leaves few reasons for optimism".
Fukuyama squarely raises the question: Is the US, today, fit for purpose? He ultimately argues with customary persuasive polish that, yes, it surely is. He emphasizes that it was the US' singular misfortune to have the most incompetent, divisive leader in its modern history at the helm when the (COVID-19) crisis hit. Thus, the US encountered an extraordinary and magnified misfortune, which explains so much of the political calamity which has recently unfolded. Accordingly, it is not the nature of the US political regime itself which has been exposed as visibly unsound.
Fukuyama argues cogently that nations which have a competent state apparatus, trusted government and effective leadership have done best in coping with the pandemic. He cannot bring himself to note, explicitly, that China ticks all these boxes but that implicit message is clear.
Awkwardly, the Harvard Ash Center recently announced the outcome of its long-term assessment of Chinese Communist Party Resilience: "Since the start of the survey in 2003 to its conclusion in 2016, Ash Center researchers found that Chinese citizen satisfaction with government has increased (to over 90 percent for the central government) virtually across the board."
Other serious US commentators similarly sway from topic to topic across this unhappy spectrum focusing on: How the US is slipping generally; followed by coverage of the fearful Trump dynamic; often saving the demonic-China-factor for the most intense review.
This is revealing: The US is plainly more anxious and uncertain about its own condition and the future outlook than usual. During the Cuban Missile Crisis in 1962 and after the Sept 11 terrorist attacks on the US homeland in 2001, the US felt the ground move dramatically beneath its feet before reasserting its customary self-possession.
This time, however, there is no external anxiety-trigger in plain sight that can be responded to with force. The sense of foreboding is palpable but this time its sources are more widely distributed. And some are plainly internal.
The key to understanding whether the Trump era just represents a deviation from the norm or whether it is part of a trend is to consider which apprehensions faced by the US are most fundamental. The dire response to the pandemic is immediately apparent but this is a second-order test of political fitness which has unfolded within a far more crucial challenge.
As the world's primary superpower, the US has, over the last 100 years, largely been able to remodel the framework within which it has met each new geopolitical challenge. Regardless of whether this reshaping relied on military or economic confrontation or political persuasion, it was consistently presented as part of a pivotal, liberal evangelical mission to put the world to rights. The model for these worthy conversions was that of a free and democratic US. The emphasis was predominantly on installing US-style, liberal political processes which, as it happens, especially suit private, often huge, US business interests. This process also offered repeated existential confirmation of the advantageous nature of the proffered, "universal" political wisdom. The full persuasive package could be adapted significantly, as Japan has shown, although Japan still became a heavily garrisoned, US geopolitical confederate.
Over the last decade, the US has become increasingly distressed by the continuous rise of China. There are many aspects to this US anguish but the paramount amplifying factor is that China refuses to allow itself to be processed in accordance with this time-tested mode of fashioning the world order based on the US' unswerving image of itself.
The US has a super-abundance of economic and intellectual resources. It should be far better prepared to deal with the changing world order and to compete and debate vigorously and yet grow together with China. Instead, fueled by exasperation, maddened by perceived victimhood and incensed by its own bungling, it has resorted to what is now a policy of comprehensive confrontation directed at China. Jeffrey Sachs, a professor at Columbia University, recently identified this policy slant as "America's Unholy Crusade Against China".Geopolitical distemper has seldom been so evident during peacetime.
Let's be clear, China still confronts many immense challenges and still has much basic work to do. But Beijing has forged its own way of acting for all of China, relying on cultural and institutional determinants which operate very effectively and compatibly with-but outside of-the political framework the US expects. In doing so it has relieved more poverty and given more hope to more people in a shorter time than any nation in history. This reality visibly devalues incantations about the universal political wisdom of liberalism and dark reflections on barely examined authoritarianism, even before one begins to inspect the conspicuous performance-legitimacy malfunctions of the US system.
Many share Fukuyama's deep faith in the central worthiness of the US-liberal system of governance-commonly combined with a belittling of typecast, scary-authoritarianism. I am far less convinced. The Trump era is not a deviant exception. It has arisen within a remarkably influential system that has delivered much good. However, due to its own deep internal contradictions, this is a system that has also repeatedly delivered divisively ruinous outcomes.
The author is a visiting professor in the Faculty of Law at Hong Kong University. The author contributed this article to China Watch, a think tank powered by China Daily. The views do not necessarily reflect those of China Daily.
Most Viewed in 24 Hours
China Views