China-Europe rail links boost pandemic recovery
Share - WeChat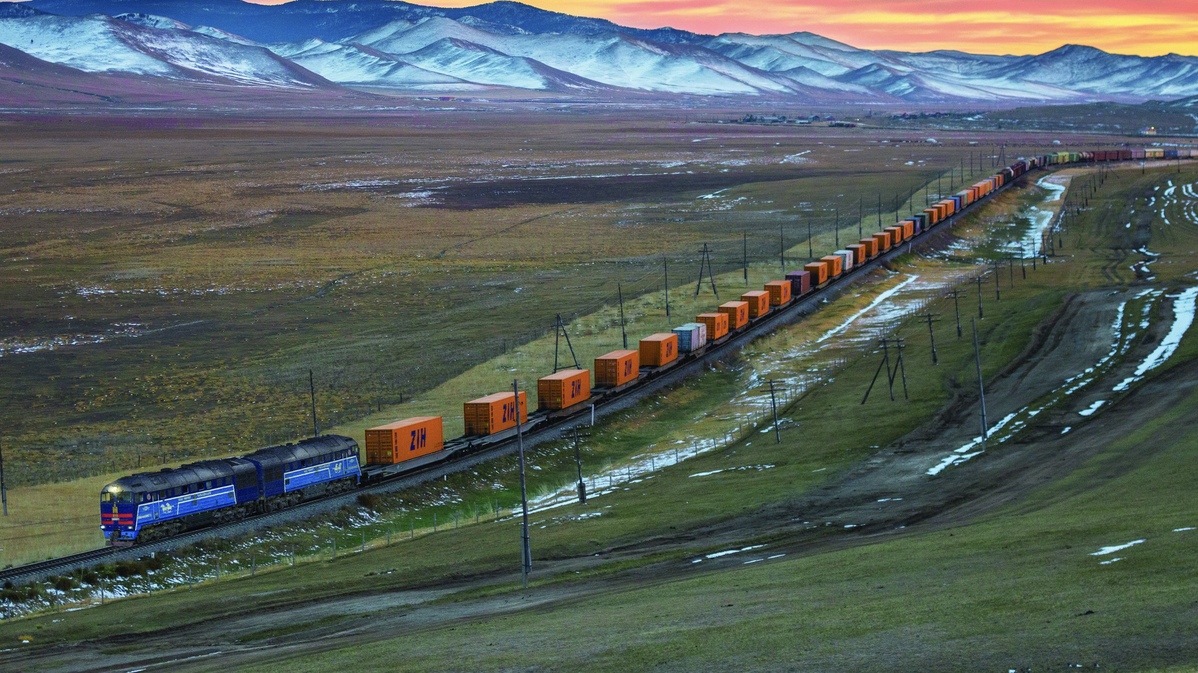 Trains carry vital medical supplies to continent
Italian trader Nicola Sangiovanni has exported European food and beverages to the bustling metropolis of Chongqing for the past few years.
His business could have been severely hit by the coronavirus pandemic, but he has been able to continue it thanks to rail freight services between China and Europe.
"When COVID-19 spread across the world-with flights halted, borders shut and companies facing the prospect of missing contract deadlines-China-Europe freight trains helped us make up for lost time," he said.
During the outbreak, Sangiovanni has sent 10 container loads of wine every two months from the Italian city of Genoa to Chongqing on freight trains traveling to China via the Xinjiang Uygur autonomous region.
These trains provide "fast, low-cost and convenient transportation", he said.
"The China-Europe rail freight link has helped our business return to normal, and I think it could also help boost trade," he said.
Claudia Vernotti, director of ChinaEU, a business-led association in Brussels, the Belgian capital, said rail freight has become the preferred means of transporting goods between Europe and China during the pandemic.
Global air and sea freight capacity fell in the first seven months of the year due to restrictions imposed at airports, ports and national borders to contain the pandemic, she said.
Reduced cargo flights have resulted in the cost of such services rising two to three times higher than last year's rates, while transit times have lengthened, she added.
China-Europe rail freight services, launched in 2011, are considered a significant part of the Belt and Road Initiative aimed at boosting trade between China and other countries and regions.
Rail freight lines now link more than 60 Chinese cities to over 50 destinations in Europe.
According to China State Railway Group, from March to July, the services from Chinese cities to Europe set a number of records.
In July, China-Europe freight trains made 1,232 journeys, the highest monthly figure ever, and a rise of 68 percent year-on-year.
In the first seven months of this year, 6,354 trips were made by these trains, a year-on-year rise of 41 percent. They transported 574,000 standard cargo containers, a rise of 46 percent compared with the same period last year.
Vernotti said: "These trains are a better fit for goods that need to be transported faster than by sea, and are cheaper than air freight. I believe the China-Europe rail freight link has great development potential and will play a crucial role in reviving global trade and business ties as a safer and greener form of logistics."
Since March 21, when the first batch of medical supplies to combat COVID-19 was sent by rail from Yiwu, Zhejiang province, to Madrid, the Spanish capital, China-Europe freight trains have contributed greatly to the global fight against the virus.
By the end of July, the trains had transported 4.97 million items of medical supplies weighing a total of about 39,000 metric tons, according to official figures.
Kang Yan, deputy general manager of Zhengzhou International Hub Development and Construction Co in Henan province, said rail freight services to Europe resumed from the city on Feb 16.
"The trains have transported a great deal of urgently needed anti-epidemic material," he said. "At the end of February, we also opened the freight services to overseas individuals to help them transport personal items."
In the first seven months of this year, 585 journeys were made between Zhengzhou, capital of Henan, and European destinations. The total cargo value was $2.34 billion, a year-on-year rise of just over 18 percent. The weight of the cargo was 364,700 tons, up by nearly 32 percent year-on-year.
Kang said these trans-continental freight trains closely link Asian and European countries through trade and also play an important role in strengthening global efforts to fight the pandemic.
"Moreover, without these trains, far more damage would have been caused to the global supply chain, and the shortage of anti-epidemic materials in countries along the route would have been more severe," he said.