Global firms ready to ride the winter sports wave
Share - WeChat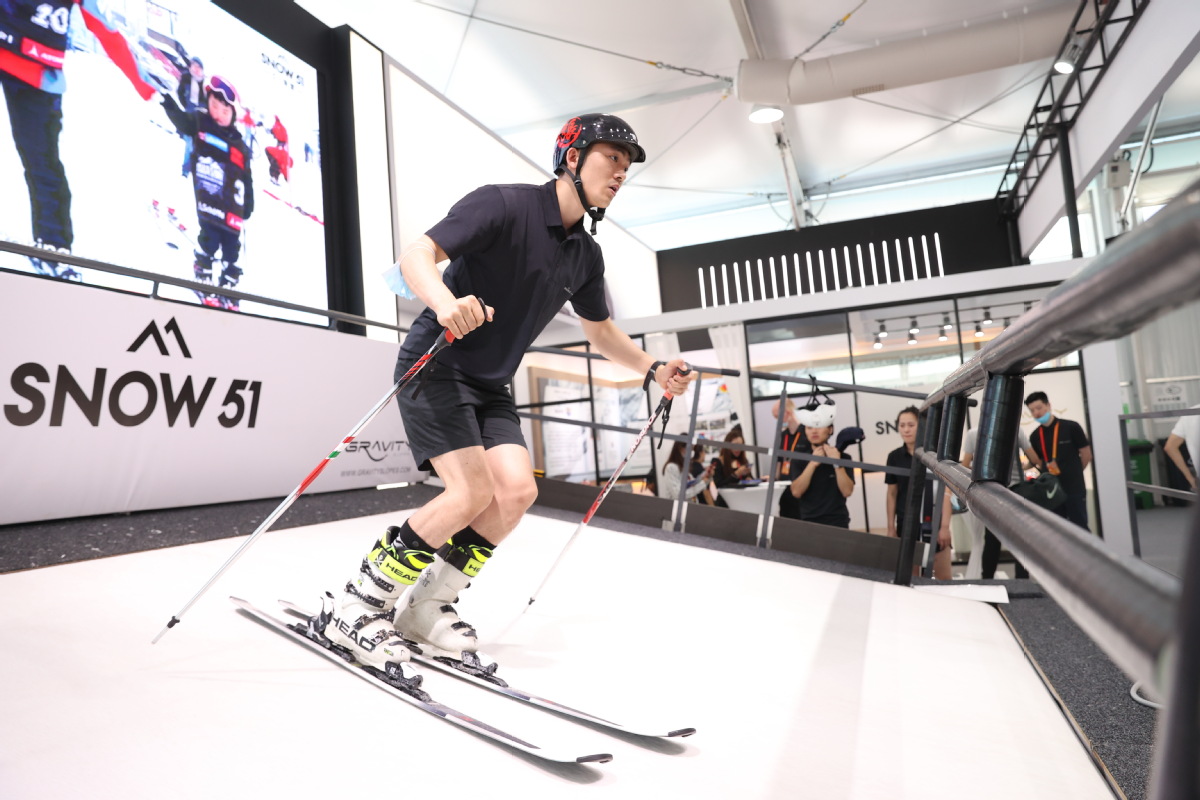 The throng of customers checking out the latest skiing equipment at his stall during the World Winter Sports (Beijing) Expo 2020 is sweet music for Christian Wilhelm as he gets ready to surf the emerging winter sports wave in China.
"For the winter sports industry it has been an important year as this year's expo is being held as part of the ongoing China International Fair for Trade in Services. We see this as a great opportunity to spread awareness about our industry and promote new products to more people. China has really made this huge opportunity possible despite the COVID-19 challenges," said Wilhelm, head of project management and engineering at Sanhe Doppelmayr Transport Systems Co Ltd, a subsidiary of Doppelmayr Garaventa Group, a global company engaged in ropeway research, development, and manufacturing.
Doppelmayr is supplying nine ropeways to the National Alpine Skiing Center for the 2022 Winter Olympic Games. "Our ski lifts (for the 2022 Winter Olympic Games) will be operational by the end of this year," he said.
"The expo is also the first time this year that we have had an opportunity to discuss solutions and ideas offline. It has given us opportunities to expand our existing customer base and reach out to potential customers."
Doppelmayr is just one of the many winter sport equipment manufacturers that are hoping to cash in on the huge business opportunities in China's fast-growing winter sports market ahead of the upcoming Winter Olympics in 2022.
Thanks to the growing demand for professional equipment from professional skiers and amid growing need for products among amateur players or fans, the winter sports industry is increasingly being viewed as a new pillar of economic growth in China.
Li Yingchuan, deputy head of the General Administration of Sport of China, said China's winter sports market is expected to attain a value of 800 billion yuan ($117 billion) by 2022 and 1 trillion yuan by 2025.
"The Chinese government has attached great importance to the development of the winter sports industry. The total number of venues for winter sports has risen steadily in the country, with a wider cross-section of participants willing to participate in the events," Li said at the World Winter Sports (Beijing) Expo 2020.
"This year is a special year for China's winter sports industry. The COVID-19 pandemic had huge negative effects on the global economy, and the winter sports industry in China has not been spared either. Winter sports activities ground to a virtual halt with 774 ski resorts and 388 ice skating rinks facing mandatory shutdowns due to the COVID-19 epidemic effect. It has been a tough time for the industry," Li said.
"China has rolled out a series of supportive policies and will continue to do so to help businesses recover and further stimulate sports-related consumption," Li said.
These measures include tax cuts or waivers, a delay in social insurance payments and lower loan interest rates from departments at various levels.
China's efforts to revive the winter sports industry has also received praise from the international sports community.
"The expo in Beijing sends a strong signal of confidence that the world of sports is ready to contribute to the recovery from the (COVID-19) pandemic and to the rebuilding of a more human-centered and more inclusive society," said Thomas Bach, president of the International Olympic Committee, in a video address to the World Winter Sports (Beijing) Expo 2020.