Tale of the Tiger Dad
Share - WeChat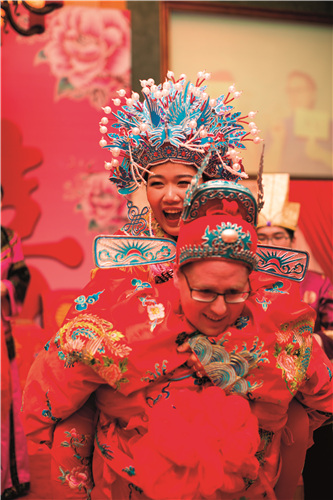 A German web celeb's charming and humorous book recounting the trials and tribulations of trying to win over his wife's tough Chinese father is translated for Chinese readers.
When Thomas Derksen, who was born in Gumersbach, Germany, in 1988, went to the Snake Artificial Island in the suburb of Shanghai to fish with his Chinese father-in-law, he thought it was a good opportunity for the two to improve their relationship, as his wife Zhu Liping suggested. They got married in 2014.
On the one-and-half-hour journey to the island, Derksen's father-in-law, "old Zhu", who's the manager of a local driving school, called five of his friends one by one, promising to give them each two fish, in addition to the two he had promised to his wife.
However, it proved difficult to catch more than the two fish which Derksen hooked, and the unhappy father-in-law and the nervous son-in-law barely exchanged a word. In the end, to honor their promises, they went to a nearby market to buy a dozen fish.
Derksen recounts this funny anecdote in his German book, Und Taglich gruBt der Tigervater: Als deutscher Schwiegersohn in China (And the tiger father says hello everyday-As a German son-in-law in China) based on his love story with Zhu Liping. The book, having sold more than 20,000 copies in Germany, has been translated into Chinese titled Meet the Tiger Fatherin-Law and published by Tongji University Press early this year. The first run of 5,100 copies has sold out.
In 2017, Thomas Derksen and Zhu Liping had became popular online in China for the funny videos they created, mainly about the culture shock between China and Germany. By watching the Derksens' videos, the Chinese audience got to learn more about Germany and how German people see Chinese culture and society.
"I was thinking of how to let German people learn more about China. My friend suggested that I write a book. I wrote down all the funny things that I experienced in China and, to my surprise, the publisher was interested in it," Derksen explains in a video about the book.