State firms set to see growth in exports
Share - WeChat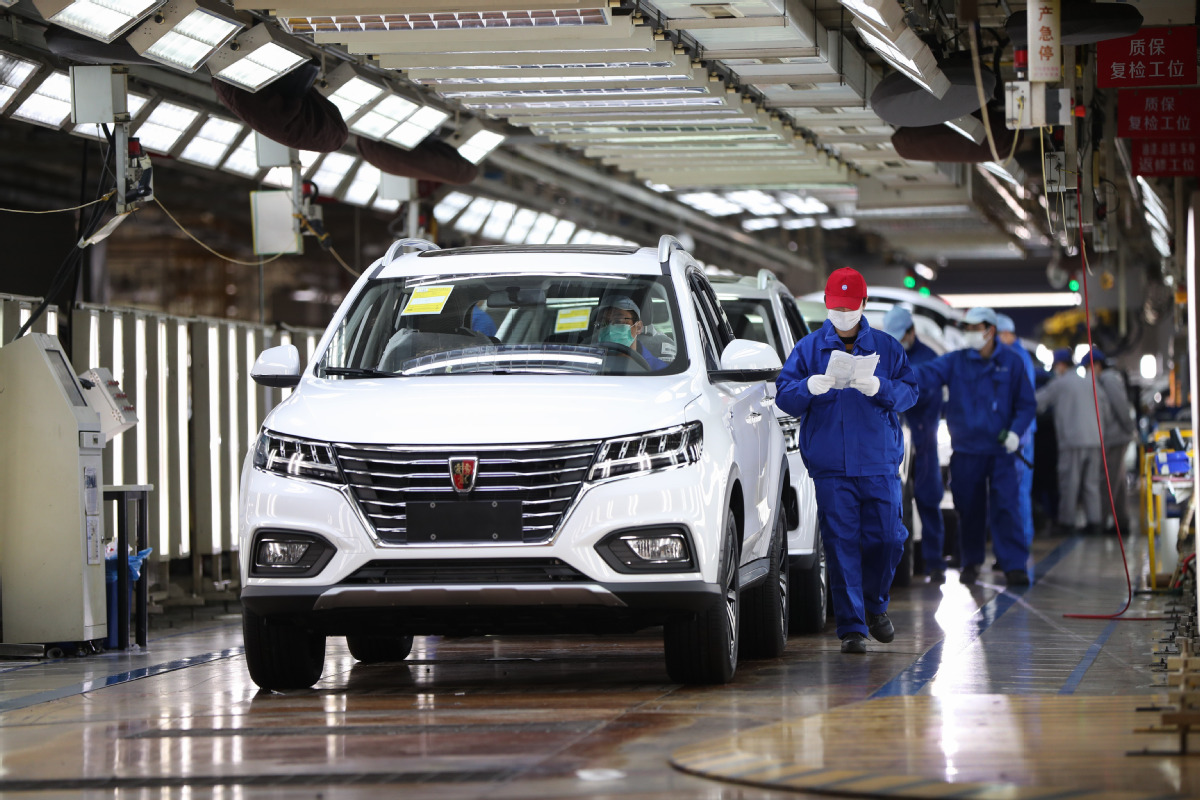 Automakers, engineering enterprises and shipbuilders major beneficiaries
After months of losses caused by factors such as COVID-19 and declining global demand, State-owned manufacturers have managed decent export business volume since the second quarter, said business executives.
SAIC Motor Corp, the largest vehicle producer and exporter in China, exported 2,500 MG and Maxus-branded vehicles to Australia, New Zealand and Fiji last week as demand in Oceania grows for Chinese vehicles.
The vehicles, loaded onto two vessels, are scheduled to arrive at their destinations later this month. They are SAIC Motor's biggest order ever by markets in Oceania.
Zhao Aimin, deputy general manager of SAIC's overseas sales department, said Oceania-in particular Australia and New Zealand-is one of its seven major overseas markets. The company's MG marque is now the best-selling Chinese-branded sedan in these two countries.
Despite the pandemic, the brand has expanded its global market share to 2 percent thanks to its sufficient supplies when competitors struggled to import vehicles.
The Maxus brand is also popular in Australia and New Zealand. The brand's accumulated sales of pickups, SUVs, MPVs and vans in the two nations since it entered the two markets several years ago have exceeded 30,000 units, Zhao said.
The Shanghai-based State-owned carmaker exported 154,000 vehicles in the first seven months of the year, accounting for 34 percent of Chinese carmakers' total exports. Its vehicles can be found in more than 60 countries and regions around the world.
In addition to fuel-powered vehicles, Zhao said the group's new energy vehicles are gaining popularity in Europe since their debut in 2019. Sales of MG's EZS in Europe exceeded 10,000 in the second half of 2019. The company is planning to export its NEVs to Switzerland and Spain this year. It currently has more than 25,000 employees in overseas markets.
Sumec Group, a subsidiary of China National Machinery Industry Corp-the country's largest machinery maker by production capacity-exported a number of generators to Japan in late July, marking Sumec's first foray into this developed market.
The Nanjing-based group's Asian division plans to explore the Japanese market and has established connections with Iris Ohyama-a Japanese manufacturer of plastic consumer products-at the end of 2018.
Jin Yongchuan, Sumec's president, said frequent natural disasters such as earthquakes and typhoons in Japan have resulted in a large market for emergency power generation equipment. This allowed the two sides to work together to develop variable-frequency generators, with production beginning in China in 2018.
The production part approval process (PPAP) of generators, originally scheduled for March, was delayed until May due to the pandemic. After further epidemiological condition improvements followed by PPAP and the authorization of production, the first batch of generators for Japanese customers was finally produced in July, Jin said, adding that followup orders have continued flowing into the company.
CSSC Chengxi Shipyard Co Ltd, a Jiangsu province-based shipyard and a subsidiary of China State Shipbuilding Corp Ltd, delivered the first refrigerated container vessel to Dole, one of the world's largest producers of fresh fruits and vegetables, last week.
The ship has a total length of 195 meters, a width of 32.2 meters, a depth of 17 meters, a design draft of 10.5 meters and a service speed of 19.5 knots.
The shipowner built this vessel to transport fruit, mainly bananas, under refrigeration.
At the same time, it is equipped with a temperature monitoring system to adjust power supply and the internal temperature of the vessel's container portion to facilitate system maintenance, according to a CSSC Chengxi statement.
To ensure trading partners have sufficient power amid their battle against the pandemic, central SOEs from energy sectors including China Huadian Corp and China Energy Investment Corp have also sent staff and shipped materials for contagion prevention to power stations under the build-operate-transfer model in Saudi Arabia, Pakistan and South Africa since March, said Zhou Lisha, a researcher at the research institute of the State-owned Assets Supervision and Administration Commission of the State Council.
Apart from facilitating energy and transportation projects overseas, SOEs from the manufacturing sector have relied on China's advantage of having the world's most complete industrial system with the most diversified sectors to boost the nation's foreign trade and deliver products on time to global clients, she said.
The government will optimize central SOEs' resources to develop both global and domestic markets, ensure the supply of basic goods and commodities, maintain the safety of industrial and supply chains and strive to achieve quality and efficient economic growth in the second half, said Peng Huagang, secretary-general of SASAC.