Putting a new spin on vinyl vim
Share - WeChat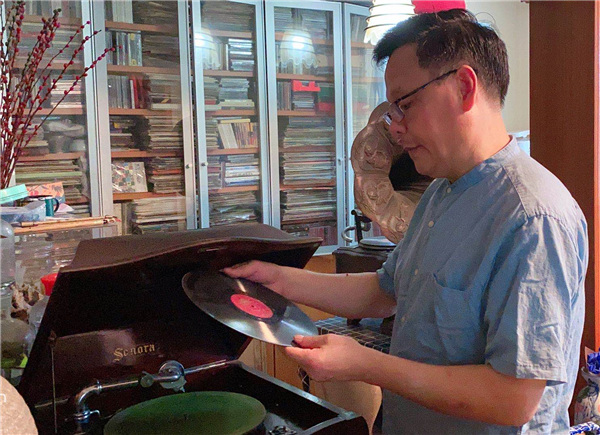 Listening to music has never been more effortless than in today's digital era. Instead of having to insert cassette tapes or CDs into audio systems, one needs just a few clicks of the mouse or swipes on a smart phone to gain access to a vast database of songs stored online.
But for Chen Mo, the act of listening to music is markedly a more deliberate affair that requires unsheathing a vinyl from its cover, laying the record on the turntable and gently placing the gramophone needle onto the groove.
"Records have a warmer sound than digital music. It feels almost as if the music is being performed right in front of you. It feels like I'm chatting face-to-face with an old friend," says Chen, who has been collecting vinyl records since the 1980s.
Today, the 50-year-old boasts a collection of some 10,000 vinyl records spanning various genres, including Chinese opera, pop music and classical music. Some of his rare records cost him as much as 10,000 yuan ($1,440).
"My collections are stored in three places-a study room at home, a warehouse and a studio in the workplace. This prevents the records from warping and cracking, as they can't bear too much weight when stacked on top of one another," he says.
Chen, who runs an audiovisual-product company in Shanghai, says his love for music was inherited from his parents-his mother was a fan of Chinese operas and the father loved Suzhou Pingtan.
As his parents could not afford a radio, Chen used to sit at the doorsteps of his neighbor's home just so he could listen to music. The situation changed when Chen started working as a salesman at a department store in the 1980s.
"The average monthly salary in the city then was around 400 yuan, but I managed to earn about 1,000 yuan. This allowed me to buy a phonograph for 85 yuan as well as some records," he says.
Most Popular