FM urges closer ties with Norway
Share - WeChat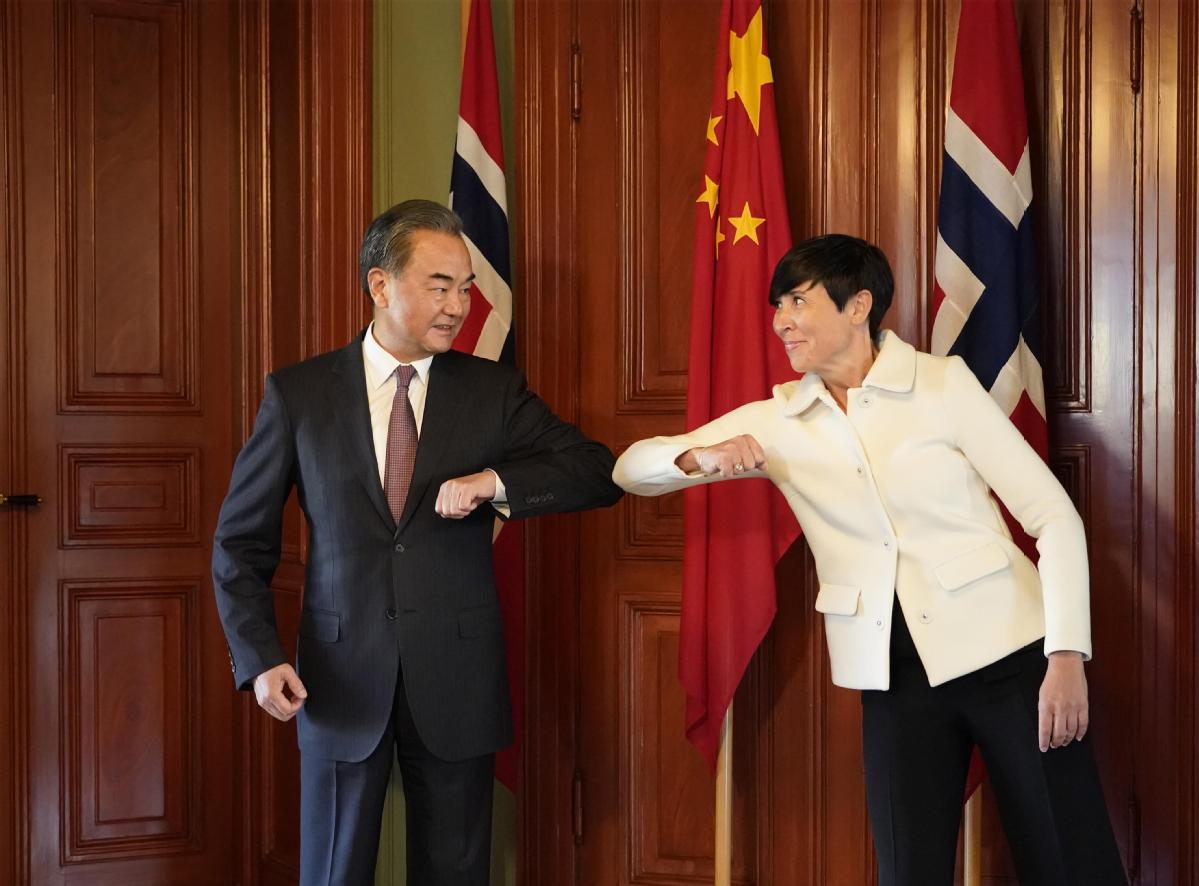 Wang also calls for China, Europe to continue opening up trade, investment
China welcomes Norway and other European countries to actively participate in its latest round of opening-up and development, State Councilor and Foreign Minister Wang Yi said on Thursday, pointing out that China is committed to further opening-up.
Wang also called for China and European countries to keep opening up their trade, investment and industries to each other and expand cooperation in these sectors to contribute to their own development as well as global economic recovery.
He made the remarks at a joint news conference with Norway's Foreign Minister Ine Eriksen Soreide in Oslo.
Citing a speech President Xi Jinping made at a symposium with experts on economic and social work on Monday, Wang said Xi's words sent a message that instead of shutting its door, China will open it even wider to the outside world in the face of COVID-19 and sluggish global growth.
Wang said China will deepen its reforms to achieve lower tariffs, reduce negative lists, enhance market access, create more transparent market rules and bring about a more attractive business climate so that China and other markets will be better connected and enjoy larger scale interaction that is more efficient and more dynamic.
For more than four decades, China's reform and opening-up proved that openness brings progress, while isolation leads to backwardness, Wang said, adding that China has developed together with the outside world through opening up itself, and the world has continued to benefit from China's opening-up.
China's opening-up and development have brought huge business opportunities and "development dividends" for various countries, including Norway, and has made irreplaceable contributions to global economic growth, Wang said.
China has overfulfilled its commitments to the World Trade Organization and reduced its average tariffs to 7.5 percent, Wang said, adding that the country has ranked as one of the economies with the most notable improvement in doing business for two straight years.
Wang's trip to Norway was the first visit a Chinese foreign minister paid to the country in more than a decade since the then-foreign minister Li Zhaoxing visited in 2006.
China-Norway relations worsened in 2010 when the Oslo-based Nobel Committee conferred the 2010 Nobel Peace Prize on the late convicted Chinese criminal Liu Xiaobo. The two countries normalized their ties in December 2016.
Wang said his trip was aimed at sending a message that the two countries should cherish the healthy and stable recent state of their ties, conduct post-pandemic cooperation as soon as possible, uphold multilateralism and contribute to global economic recovery and better global governance.
The two countries should focus on the big picture of healthy and stable ties, he said.
While they are distant from each other and have very different national conditions, bilateral ties will develop steadily with a stronger political basis as long as they respect each other, treat each other equally and take care of each other's core interests and major concerns, Wang said.
Wang also called for an early conclusion to the two countries' free trade agreement talks, which he said is vital to bilateral trade and an open global supply chain.
Congratulating Norway for being elected as a nonpermanent member of the United Nations Security Council from 2021 to 2022, Wang said China hopes to set up a mechanism of multilateral talks with Norway and cooperate with the country more closely.