Chinese fintech that powers lenders across the globe
Share - WeChat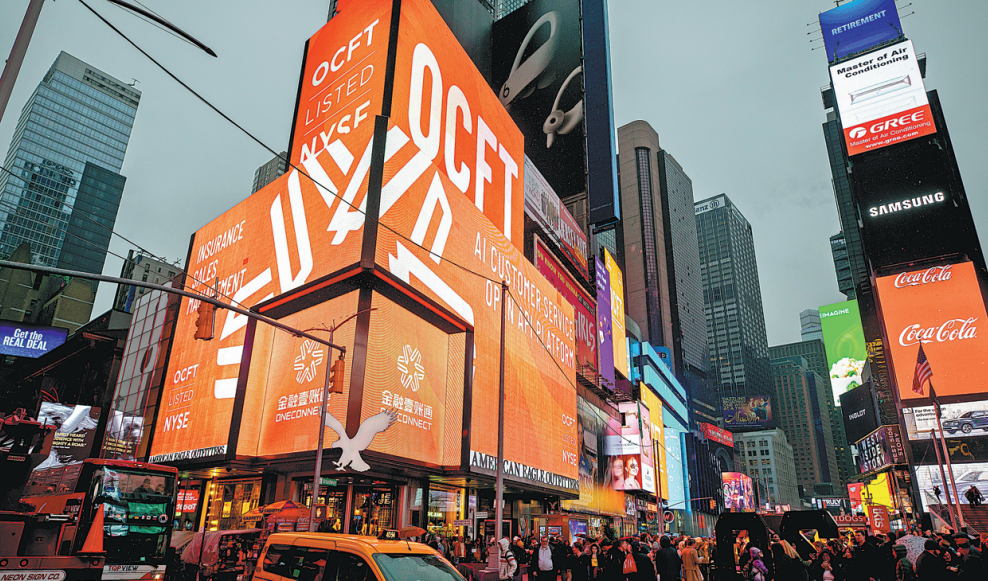 Ping An's OneConnect shares its expertise to strengthen the world's financial institutions
OneConnect Financial Technology Co Ltd, the fintech arm of Ping An Insurance (Group) Company of China Ltd, is coasting on the Belt and Road Initiative to expand its overseas layout. In doing so, it is meeting the financing needs of local companies in the markets it operates in.
Currently, OneConnect's overseas business spans 15 countries and regions, including Singapore, Thailand, Indonesia, the Philippines, South Korea, Japan, and Germany. It is constantly expanding into BRI-related economies.
Jessica Tan, Ping An Group's co-CEO, said: "The reason why our fintech was able to cover more than a dozen countries and regions in 18 months is that we don't compete for customers with local enterprises. Instead, we export fintech. We have over 10 years of experience in fintech. We would like to help local enterprises increase their efficiency and lower costs."
As an active enabler of the BRI, OneConnect serves local companies across East Asia, Southeast Asia, the Middle East and Europe. It endeavors to support key areas related to the initiative, including facility connectivity, unimpeded trade, and financial integration, Tan said.
In July, OneConnect signed an agreement with the Abu Dhabi Global Market in the United Arab Emirates to develop technologies such as artificial intelligence, blockchain, and distributed ledger. In June, it tied up with UBX, a subsidiary of Union Bank in the Philippines, to build the country's first blockchain-enabled technology platform.
The technology platform offers services, including AI analysis, remote review, and anti-fraud scrutiny, to meet local enterprises' digital-age needs like multi-channel loan application processing, credit evaluation, loan appropriation and customer identity verification.
In addition, it can effectively reduce credit approval time, and provide more accurate risk assessment, OneConnect executives said.
Bin Ru Tan, chief executive officer of OneConnect Southeast Asia, said: "Banks and insurance companies recognize that digital adoption is here to stay and now is an opportune time to accelerate digitalization. We are seeing strong demand for our smart interview, digital banking, and smart lending solutions as they support a truly seamless remote banking experience.
"Having grown our footprint across Southeast Asia, today we have amassed extensive domain knowledge when it comes to understanding the local financial landscape and regulations. We have successfully collaborated with top financial institutions and leading third-party service providers to build end-to-end digital solutions and ecosystems that are highly relevant to the local markets."
Wang Penghu, general manager of the company finance department of China Citic Bank, said that banks' digital transformation makes inclusive finance possible. Digitalization also contributes to precise marketing, and lowers the banks' customer acquisition service costs, he said.
A report from accounting firm EY(previously Ernst & Young) showed that 85 percent of the banks around the world have made digital transformation the focus of their future work.
Unsurprisingly, OneConnect has been very busy. It has been helping financial institutions in making the required digital transformation. In China, the company has served all of the country's major banks in less than four years. And 99 percent of the country's city commercial banks, and 52 percent of insurance companies, have been empowered with digital transformation. Outside China, OneConnect is making similar inroads into the global financial services industry.
"OneConnect is able to make contributions to the advancement of the financial services industry in Asia, and even the world. We are confident that we can make even more significant contributions, going forward," Bin Ru Tan said.
OneConnect's overseas expansion began in Southeast Asia. The region is home to a rapidly rising middle-income class as well as an evergrowing number of internet users. But, modern financial infrastructure is conspicuous by its absence.
For instance, bank card and bank account penetration rates in the region are low. Only a few people of the overall population use credit cards. The credit reporting system is weak. Many people still rely on cash.
OneConnect hopes to introduce Chinese experience and fintech expertise to the region, to quickly bridge the financial services gap and increase the penetration rate of inclusive finance.
Currently, in Thailand, three of the top 10 banks are served by One-Connect, while in Malaysia, Indonesia, Vietnam, Cambodia and the Philippines, OneConnect has made inroads into the local markets by establishing subsidiaries or is working with local enterprises.
"Using our smart finance platform, we included over 70 percent of the small and micro enterprises in the supply chain credit system, greatly increasing their financing possibilities. The fintech solution, which has already proved effective in China, unlocks the vitality of small and micro enterprises in Southeast Asia and boosts the economic development of the countries in the region," Bin Ru Tan said.
"We will ramp up our efforts so that the countries can achieve the same good results as in China."
In the future, more fintech projects will be undertaken in countries and regions related to the BRI, so that the dividends of Chinese technology can benefit a wider range of communities and peoples, company executives said.