Biden reaches his long-sought goal
Share - WeChat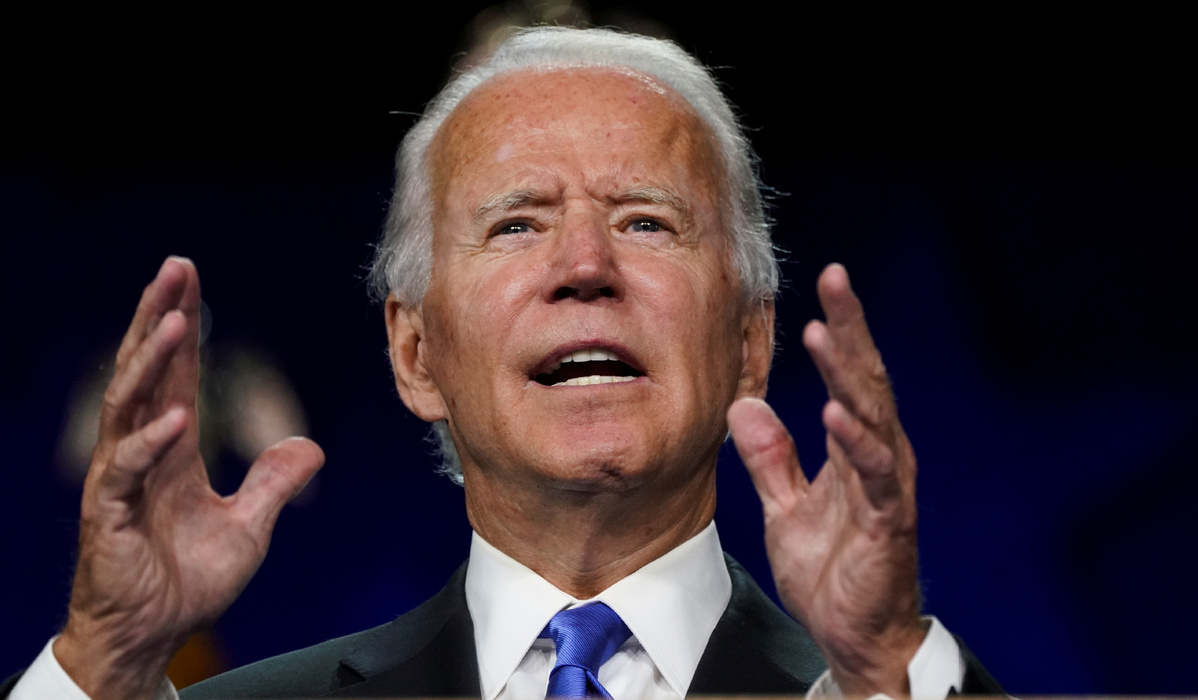 Joe Biden, the 77-year-old former vice-president and longtime senator, was ready Thursday night for one of his biggest political moments, accepting the Democratic nomination for president of the United States.
Biden, who previously sought the White House in 1988 and 2008, was to deliver his remarks to a live audience consisting of a few reporters, aides and family in his hometown of Wilmington, Delaware.
Biden is making his bid against President Donald Trump on Nov 3 in perhaps one of the most difficult years in American history. The economy has been damaged by the fallout from the novel coronavirus pandemic and ongoing protests over racial injustice in several major cities that started with the death of George Floyd in Minneapolis police custody on May 25.
"Donald Trump is not responsible for COVID-19 — but he does bear full responsibility for the failed national response," Biden said ahead of his live television speech wrapping up the Democratic National Convention.
"We've got to hold him accountable this November," he said in a tweet.
Other speakers on the convention's final night included politicians who challenged Biden for the nomination.
"Every American must now decide. Can America be a place where faith is about healing and not exclusion? Can we become a country that lives up to the truth that black lives matter? Will we handle questions of science and medicine by turning to scientists and doctors? What will we do to make America into a land where no one who works full time can live in poverty?" said Pete Buttigieg, former mayor of South Bend, Indiana.
Cal Jillson, a political scientist and historian at Southern Methodist University in Dallas, said the virtual format of the convention was forced on the Democrats, and even more so on the Republicans, but Democrats have made it tighter and more fast-moving than the traditional national party conventions.
"Biden leads by a comfortable margin, seven or eight points in most polls, so the goal of the convention is to solidify that support and to encourage disaffected Republicans to stay open-minded during the general election campaign," Jillson told China Daily.
The Republican convention next week has the more difficult task of winning back moderate Republicans and cutting into Biden's lead, he said.
According to Jillson, an incumbent administration has to defend actual results, how has it handled the novel coronavirus, the economic decline and the social unrest, while the challengers can criticize and declare that they would have done better on all fronts.
"In difficult times, the challengers have the advantage," he said.
Asked about Trump's counterprogramming to the Democrats, Jillson said Republicans have had less time to prepare their virtual convention, but they have the benefit of going second, "so we will see how well they can make their case".
The Republican National Convention, which starts Monday, will give Trump and his party a chance to reject the Democratic critique, claim success against the virus and its economic consequences, paint the demonstrators as "dangerous radicals" and describe why a second term is warranted, Jillson said.
Commenting on how the DNC events help the Democratic presidential candidate, Stanley Renshon, a political scientist at City University of New York, said they help, but at the margins.
"The Democrats are united in their basic anti-Trump campaign message, and Trump has broken enough policy and political eggs in his presidency to give those complaints some traction," Renshon said in an email.
He said Trump has a good record to run on in several ways, and he will make the most of Democrats' left turn.
"Trump himself is a commanding but equivocal figure. He is his own best friend, as president, and his own worst enemy. How those two sides of Trump play out in this election is, at this point, unclear," said Renshon, author of an upcoming book The Real Psychology of the Trump Presidency.
Vanessa Williamson, a senior fellow of governance studies at the Brookings Institution, noted that the Democratic convention celebrated the role of women in public life with an extraordinary lineup of female leaders, including nominating a woman of color as a major-party vice-presidential candidate for the first time in American history.
"It is good to recognize the progress made and still to be made in the election of women to political office," Williamson said in a post Thursday.
"But, once the pomp and circumstance for made-for-TV political events end, we should also consider what policies legislators, regardless of gender, should prioritize to improve the fortunes of all women," she said.
Rob Means, a small-business owner for more than 20 years in Milpitas, California, is glad about the pairing of Biden and Kamara Harris. He admitted that, "Democrats "aren't perfect, especially the corporate Dems." However, he believed "progressive Dems", such as Biden and Harris, are replacing the "bad apples" in many cases.
A longtime Democrat, Means said he was disappointed with the Trump administration because what he called the president's many lies, a wrecked economy, racism, disregard of the rule of law, and "the worst response to COVID-19 of all the industrialized nations".
However, some of his neighbors, who are ardent Republicans, disagreed.
Ernest Sampayan, a marketing specialist for a limousine-rental company in the San Francisco Bay Area, said Trump is "the best" because "when he promises, promises kept".
June Chang in San Francisco contributed to this story.