Focus both immediate and long-term
Share - WeChat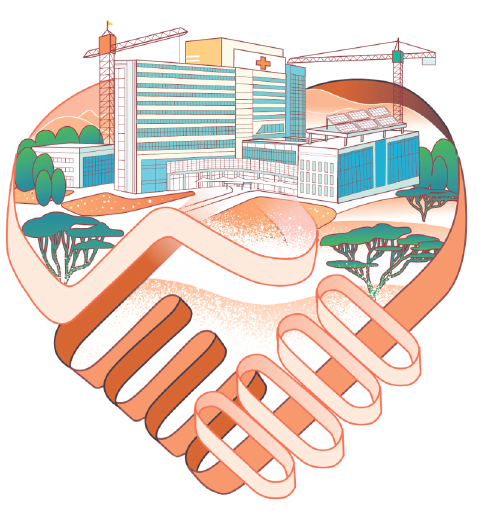 China and Africa are transforming their cooperation into real health and development outcomes
Since the Extraordinary China-Africa Summit on Solidarity Against COVID-19 in June, China and Africa have maintained close coordination and deepened their cooperation in the fight against the novel coronavirus. The two sides have maintained frequent high-level political exchanges. President Xi Jinping has held telephone conversations with over 10 African leaders. State Councilor and Foreign Minister Wang Yi has kept in close contact with his African counterparts using various means. Moreover, both sides have reactivated cooperation between their political parties, parliaments and local governments.
In the face of the grave public health threat, China has provided several rounds of anti-pandemic supplies to all African countries as well as the African Union. China and Africa together facilitated the transportation of anti-pandemic materials to over 20 land-locked African countries. Upon the request of African countries, China has sent public health experts to 11 African countries, and it is sending more teams to countries such as Guinea and South Sudan. In all, 46 Chinese medical teams have shared their experiences with tens of thousands of African medical staff and people. China is also finalizing the list of 30 hospitals to be paired-up with African hospitals to begin a fresh area of online cooperation. Not long ago, China and the AU signed an agreement on constructing the African Centers for Disease Control (CDC) headquarters in Addis Ababa, capital of Ethiopia. China aims to launch this important project by the end of this year.
Efforts are being made to relieve Africa's debt burden. In line with the G20's Debt Service Suspension Initiative (DSSI), China has reached oral or written agreements with over 10 African countries on debt suspension. Chinese Vice-Minister of Finance Zou Jiayi has accepted the initiative of the AU to have a video conference with AU envoys for further exchanges. As a market-based financial institution, the China Development Bank is participating in the debt suspension efforts and its negotiations with relevant countries are making progress. There is need to note that the debt issue, intertwined with economic and social development, can only be solved in a comprehensive manner.
Even in the face of the unprecedented pandemic, China-Africa economic and trade cooperation has not come to a stop. Over 1,100 Chinese projects continue operating in Africa. During the first four months of this year, China's investment in Africa grew by 4.4 percent, compared with the same period last year. The trade volume between China and Africa reached over $80 billion in the first half of this year. Upon the request of the African side, Chinese investors moved swiftly to build face mask production factories and virus-testing laboratories in Africa. In one West African country, upon the requirement of its government, a Chinese chemical plant is planning to send more staff by a chartered plane to resume the local projects and make new contribution to this country's economic and social development. And we have put forward new guidelines for Chinese projects with a focus on public health, economic reopening and people's livelihoods.
This year marks the 20th anniversary of the founding of the Forum on China-Africa Cooperation (FOCAC). It is of great importance to ensure the smooth organization of FOCAC activities within this year and to look forward to the meeting in 2021 with a view to better planning for our cooperation in the next stage, and bringing about more tangible benefits to our two peoples.
The most urgent thing now is a vaccine. To date, six COVID-19 vaccine candidates, including three from China, have entered Phase III clinical trials. Many Chinese people have been vaccinated for emergency use. All of them induced an immune response to the virus without any negative side effects.
China has already started the process to conduct vaccine cooperation with some countries including Egypt. As President Xi has promised, once the development and deployment of a COVID-19 vaccine is completed in China, African countries will be among the first to benefit. This great initiative could not be implemented successfully without African countries' participation and cooperation. Africa and China will work hand in hand in this new field of cooperation.
Fighting against the pandemic is the immediate challenge, however stabilizing the economy and improving people's livelihoods are the long-term tasks. China-Africa financing cooperation is indeed of mutual benefit. It expands African countries' access to financing and overcomes the bottleneck problems of Africa's development over the years. We fully understand that the African continent is exploring its own development path, with the guidance of the AU Agenda 2063. China is encouraging more Chinese enterprises to invest in Africa's industrialization projects or take the innovative means of cooperation like public-private-partnerships or build-operate-transfer. China and Africa should make full use of their comparative advantages to build more special economic zones and industrial parks in Africa, transforming the outcomes of China-Africa infrastructure cooperation into Africa's real industrialization potential.
Africa has witnessed accelerated integration over the years, including the establishment of the African Continental Free Trade Area, which is also a great opportunity for China-Africa economic cooperation. We encourage more Chinese businesses to localize their production in Africa and help Africa create jobs, rather than focus on the raw material trade or low value-added manufacturing.
Last but not least, Africa is a young continent and a region full of development potential. New businesses such as e-commerce and mobile payments are growing fast. We should blaze new trails in the digital economy and add new impetus to China-Africa cooperation on the Belt and Road Initiative. China is taking seriously the concern of African countries on climate change and we are ready to take actions with Africa to that end.
The world today is at a crossroad, facing more uncertainties and instabilities. China and Africa are bound together by common interests in safeguarding multilateralism and upholding international fairness and justice. The two sides are more than ever committed to upholding the multilateral system with the United Nations at the core, and supporting the WHO in playing a bigger role in the global fight against COVID-19.
The author is the director-general of the African Affairs Department at the Ministry of Foreign Affairs. The author contributed this article to China Watch, a think tank powered by China Daily. The views do not necessarily reflect those of China Daily.
SHI YU/CHINA DAILY
Most Viewed in 24 Hours
China Views