Coronavirus crisis a blessing in disguise for some in Kenya
Share - WeChat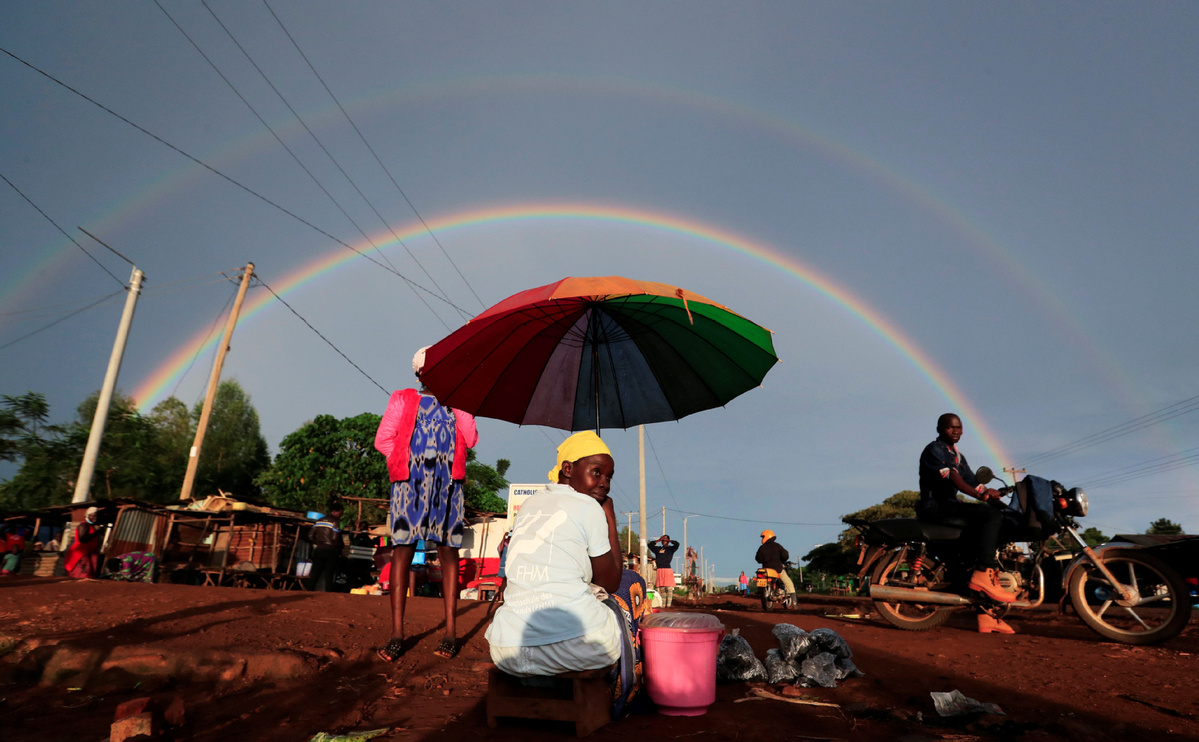 Despite the negative impacts of the coronavirus to countries' economies across the globe as well as livelihoods, the pandemic has turned out to be a blessing in disguise to some people, who either due to stay-at-home directives or losing their jobs, have had the opportunity to let their skills and passions thrive and are now engaging in income-generating activities.
Esther Wanjagi, who hails from Kenya's port city of Mombasa, used to sell secondhand clothes, a business that literally died following the restrictions imposed by the government to control the spread of the coronavirus in March.
She then decided to venture into hawking refill perfumes but the business didn't pick up, because people were reluctant to open their gates to strangers or even sample her products freely due to fear of contracting the coronavirus.
Amid the frustrations, a discussion in a WhatsApp group opened her eyes to try another venture.
Sarah Kinyanjui runs Sheerah the City Builders platform, focusing on building women up socially, physically, psychologically and spiritually, and she had a discussion motivating women to venture into something instead of facing hunger and domestic violence due to a lack of money to cater for their basic needs.
She specifically encouraged women to try rearing indigenous chickens, which are mostly kept under a free-range system, offer a flexible production system and are adaptable to many agro-ecological zones.
This was an eye-opener to Wanjagi, as she had attempted the business of rearing broiler chickens in 2016 but stopped at some point.
Full of determination and passion, she started off with two hens and after a short while, they hatched 10 chicks. This motivated her further and she added to her flock. Wanjagi looks forward to having a large poultry farm in the near future and is grateful to Kinyanjui's advice on indigenous chicken farming.
"A mature cock goes for $7 to $12 here in Mombasa while a hen goes for $5.5 to $7. I look forward to earning a good income. Indigenous chicken farming is better than broilers in terms of the cost and income, so I'm optimistic," Wanjagi said.
Vivian Asero, a training and development consultant in entrepreneurship, personal management, life skills and leadership, saw her business stand still when the government prohibited public gatherings as a precautionary measure against the spread of the coronavirus.
"I was majorly involved in training organized forums by corporations, community-based organizations and nongovernmental organizations," she said.
Motivated by Kinyanjui's advice in the WhatsApp group, Asero, who resides in Kenya's Kakamega County, decided to keep indigenous chickens to explore the sector and cut back on food expenses.
Today, she doesn't have to buy eggs or chickens for home consumption, significantly reducing her food costs.
"It's an interesting venture and I plan to add more," she said.
Beatrice Oloisape from Tanzania's Dar-es-Salaam city also decided to revisit her chicken-rearing business due to the stay-at-home precautionary measures against the coronavirus spread.
"In 2014-2017, I used to rear broilers, a flock of 400, but I stopped after we relocated to our current place which has a small space. However, I now plan to venture into indigenous chicken farming, focusing on selling eggs," she said.
Oloisape who in 2007 to 2017 worked in a poultry farming company, has adequate skills and she is now determined to grow big. She is currently constructing a poultry house, planning to start off once it's complete.
"I'm disciplined when it comes to business, hence I look forward to growing big," she said.
Faith Mue, a private school teacher whose salary was suspended following the closure of schools, ventured into selling secondhand clothes in the Matuu market in Kenya's Machakos County, an initiative that has helped in sustaining her livelihood.
The single mother of one said she doesn't plan to go back to her teaching career, but instead she will focus on running a business.
"I have realized that I was in a comfort zone, earning very little and living a hand-to-mouth existence. The coronavirus was a real eye-opener to me. I look forward to growing big in business. I'm learning the ropes of entrepreneurship with plans to diversify in the near future," Mue said.