Flower-inspired art takes the spotlight at new exhibition in Shanghai
Share - WeChat Artworks with flowers as their subject created by 25 contemporary artists across the world are on display at an exhibition at the Pearl Art Museum in Shanghai.
Titled In the Name of Flower, the exhibition showcases more than 150 pieces made using various media, such as painting, photography and sculpture. It will end on Dec 6.
"It's a unique way for people to explore topics such as art, life and death," says Li Dandan, curator of the exhibition and the museum's director.
A series of oil paintings by Chinese artist Yang Xun explores the power of life.
Yang says his works were inspired by the time he faced a career dilemma.
"I was confused and did not know how to achieve a breakthrough in my career after years of doing black-and-white painting," he explains.
This predicament went on for five years until 2014, when he was motivated to add colors to his work after seeing the flowers in the courtyard of his Beijing residence.
Soon after, flowers like magnolias and begonias became the subjects of his works.
"One element is never absent in the series-round light spots, which represent the origin of lives and the source of power," he adds.
This discussion of life is also depicted in the series of photographs, titled Blue Bones, by Hu Weiyi.
Through cyanotype, a photographic-printing process widely used to record the pattern of paint specimens with a blue background, the artist combined the negatives of flowers with X-rays to create photos where flowers seem to grow from the bones.
"It all started with a black-and-white X-ray of a patient infected with the novel coronavirus that went viral online in February. The image was just etched in my mind,"Hu says.
"Inspired by this, I created this series where the blue background indicates sadness and pain. Combined with the flower images, these photos can also been seen as a symbol of rebirth and hope."
Similar themes are also seen in the sculpture series Life Museum-Flowers by Xu Xinhua, who mixed roses, lilies and other flowers with porcelain clay before placing the mix into a kiln.
The resulting clay was then shaped like flowers and the plant ash was turned into a glaze. The artist's work is meant to symbolize the duality of life and death.
Other artworks on show include Untitled by Taiwan artist Michael Lin.
The artist is attempting to convey the message that art should not just be viewed but experienced and even felt through his installation, which features pillows and wall paintings with flower themes.
The interactive multimedia installation Moving the Garden by Taiwan artist Lee Mingwei centers on kindness. Here, visitors are encouraged to pick a flower and give it to a stranger after leaving the exhibition.
If you go
Through Dec 6, closed on Mondays. Pearl Art Museum, 1588 Wuzhong Road, Minhang district, Shanghai.80 yuan ($12) per person; 150 yuan for two.
Free of charge: medical staff, soldiers, firefighters and people with disabilities.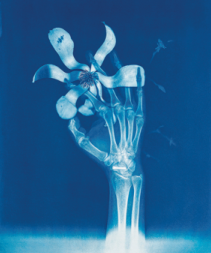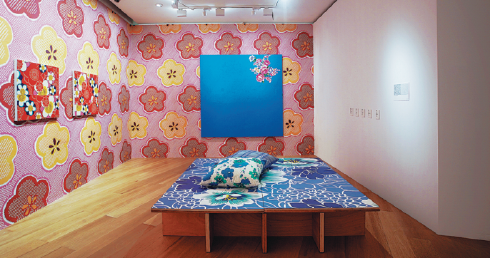 Today's Top News
Editor's picks
Most Viewed