Swimwear industry shows signs of gradual recovery
Share - WeChat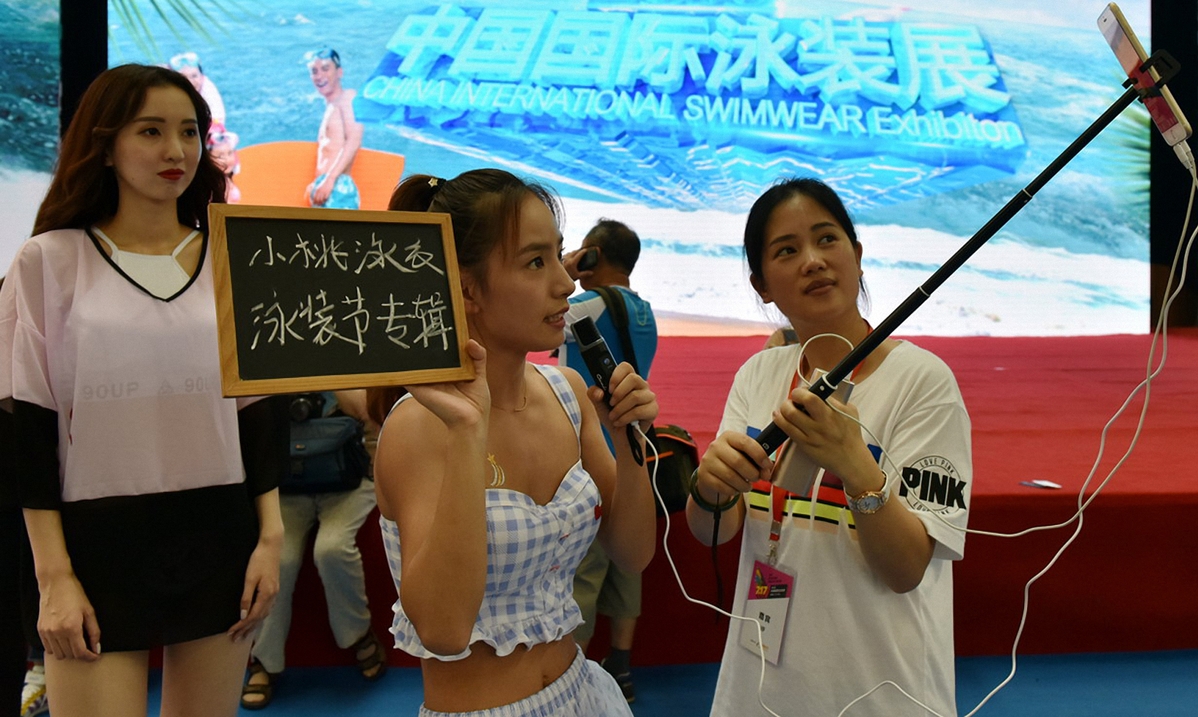 Healthy increase seen in orders via online platforms
Many businesspeople in Xingcheng-a small coastal city, located in Liaoning province, which produces nearly 25 percent of the swimwear in the world-have started to see signs of a recovery of exports, e-commerce and domestic demand despite obvious challenges this summer as the COVID-19 pandemic has forced people to stay at home and reduce outdoor activities.
Local enterprises have previously felt pressure due to falling demand and disruptions in foreign trade caused by the contagion.
Gross output of the swimwear industry in the city dropped 10.93 percent year-on-year in the first quarter and 22.64 percent in the second, Xingcheng's industrial and information technology bureau said.
Despite canceled orders, hindered offline logistics and falling revenues, local businesspeople are revving up production and online sales promotions, saying they have confidence in exports and see signs of a market recovery.
"This year is challenging, but opportunities outweigh the crisis. It forces companies to transform from original equipment manufacturers to brand owners, expand sales channels and eye bigger markets," said Yu Shuqin, vice-president and secretary-general of the Xingcheng Swimsuit Industry Association.
Zhang Dongyuan, chairman of major swimwear producer Super Stava Group, received his first swimwear order this year in late May-1 million suits from clients in the United States and Europe, production for which will finish next month. The next order is under negotiation, he said.
"We received no orders from February to May. The good news is that we contacted a foreign trade company in Dandong (another city in the province) that needed protective garments for export," Zhang said.
"Now we have begun to receive more orders from cross-border e-commerce. Production has returned to the right track," Zhang said, adding that he predicts order volume and sales revenue will be no less than that in 2019.
"Though many countries are still practicing social distancing, more are allowing the public to visit seashores, and unlike Chinese-who tend to use the same swimsuit for several years-foreigners' purchase frequency is much higher. The demand will not shrink," Zhang said.
The company is developing an "online celebrity" project to invite models and salespersons to promote its products online, with the latest designs highlighted, which he said will number 300 to 1,000 new types each year.
Stava purchased US-based apparel maker Ingear Corp. Stava's major brand Ouyi is sold in the US, France, Italy and Russia.
Qin Junge, chairman of Xingcheng City Hengtai Mading Clothes Co Ltd, found a way forward through e-commerce and small-scale retail sales as traditional foreign trade continues to be hindered by the coronavirus pandemic.
In the past, the company would usually have enough orders inked to max out full-year capacity by August. But this year, Hengtai received no orders from previous clients. "Customers didn't go to stores or beaches, so our partners overseas sold less. They're not willing to take more risks when there is much uncertainty about how the pandemic will evolve," Qin said.
Like Super Stava, Hengtai produced protective clothing in April and May. In June, it made its first foray into cross-border e-commerce, which, to Qin's surprise, largely reinvigorated the business.
He said Hengtai landed small orders from time to time from two cross-border e-commerce companies, which offered higher prices than offline buyers. But the company now had to pay for e-commerce-related logistics and advertisements.
He added that it takes time to adapt to new production modes from more than 1,000 to less than 100 suits per order. And delivery periods were also cut from two months to around a week. "Though it inevitably raises management costs and decreases efficiency, it's the only way out of this predicament as far as I see.
"The mode bypasses dealers and sells to customers directly, which is cheaper and faster for consumers," he said. "When consumers cannot or don't want to go to offline stores, basic demand for swimwear-for use at the beach or the pool-won't evaporate but can be met via online channels."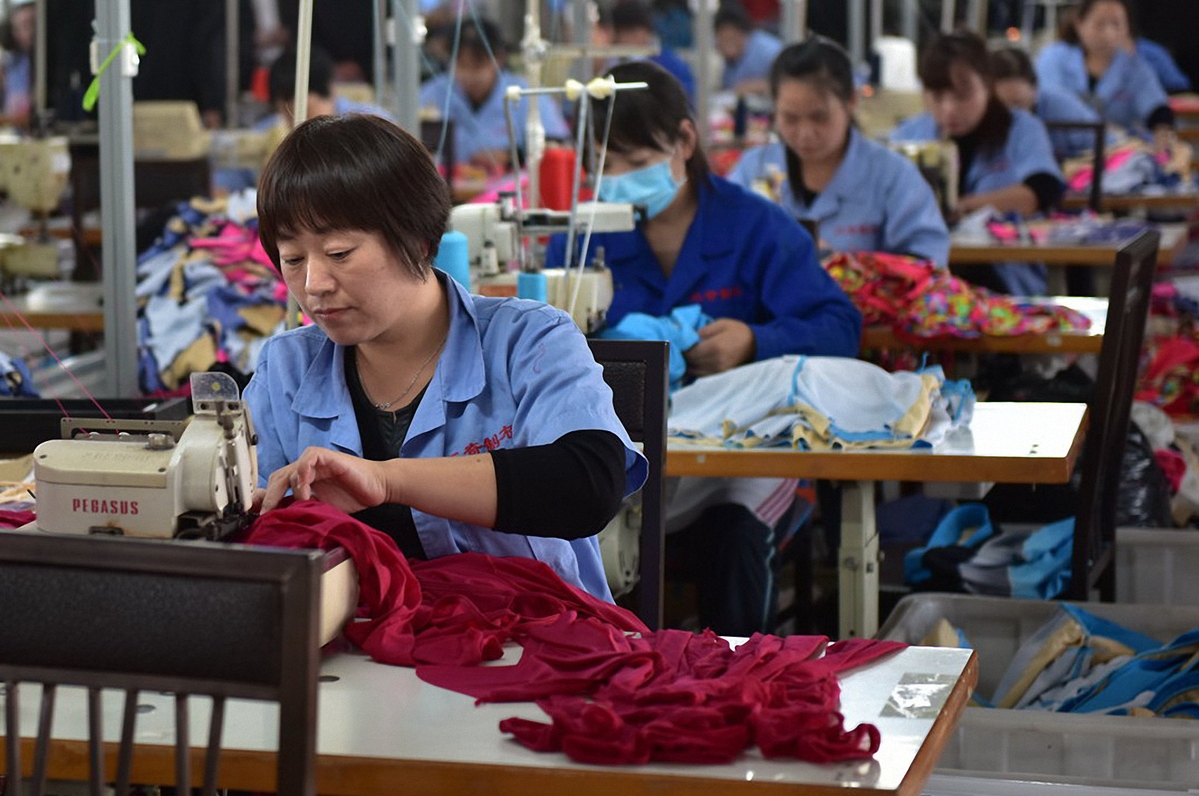 Hengtai was founded 31 years ago, and Qin said he should have jumped on the e-commerce bandwagon earlier. "It's better to be involved in both the foreign and domestic markets and combine online and offline selling to survive amid uncertainties."
He said he talked with some swimwear businesspeople who focus on the domestic market and said business dropped by between one-third to a half since the coronavirus outbreak. "The domestic market will be more competitive as the supply exceeds the demand. Some people, especially those in rural areas, will never wear swimsuits. It's just a cultural difference," he added.
Wang Shaowei, chairman of Xingcheng Huihuang Clothing Co Ltd, said he has not made any progress in gaining more orders from dealers in Europe and South America this year. "The clients expressed interest, but no action has been taken."
Wang therefore turned to domestic buyers, online orders and the production of sports and casual wear. The company's annual revenue used to be 100 million yuan. This year it is expected to be half that, he said, adding the company still has the potential to break even.
His factories are still expected to produce sufficient swimsuits next year to "keep workers busy and paid", and he isn't worried about sales due to "good product quality".
He's happy to achieve annual revenue of 100 million yuan from the niche garment segment, but he regrets that he doesn't have a piece of the strong potential Chinese consumer market.
Wang Xinquan, founder of Aesop E-commerce Co Ltd, is bullish on the domestic market.
"Swimwear is about culture, entertainment and leisure. As material needs are met, more Chinese attach importance to lifestyle and wellness issues, which will promote related consumption," Wang said. "Demand for good brands and personalized products will accelerate."
Aesop cooperates with five OEMs in Xingcheng and three in other cities to produce its brand and sell to the US, Australia and Europe. Since the pandemic, it lost about $1 million in sales and saw an increase of 600,000 yuan in logistics costs related to cross-border trade.
Over the past 40 years, Xingcheng developed itself from a fishing village with basic workshops and street vendors into one of the largest swimwear manufacturing bases in the country. The city has over 1,100 swimsuit manufacturers and 100,000 related workers. All companies are privately owned and most serve clients overseas, covering about 140 countries and regions. Annual revenue of some 200 companies surpassed 10 million yuan each, according to the city government.
George Ren, senior partner and vice-president of Roland Berger China, said it's no surprise that a small Chinese city like Xingcheng has a large international market share, as China has the most complete industrial chain in the apparel sector-an industry that targets global consumers.
"Though the pandemic is dampening demand, tourism is recovering, especially domestically, so there are opportunities for swimwear," Ren said. He suggests producers expand domestic sales or turn to other categories to hedge against risks.