Chinese vaccine among leading candidates undergoing testing in Brazil
Share - WeChat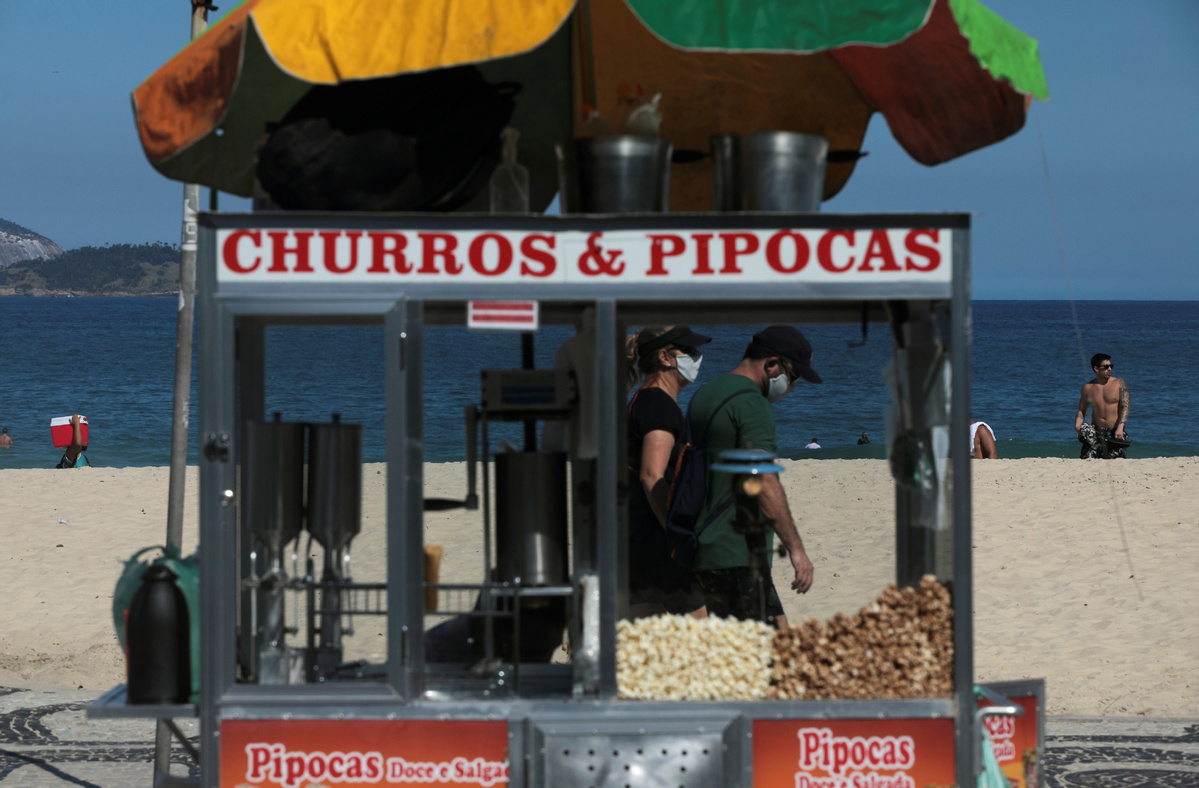 Brazil is looking for the right vaccine to end the coronavirus pandemic as the country tackles one of the worst COVID-19 outbreaks worldwide.
Among the leading candidates is a vaccine being developed by Chinese biopharmaceutical company Sinovac Biotech, which is now in the final stages of testing.
Brazil is among the countries where phase three trials for the vaccine are being conducted. It is also supporting the development of a vaccine jointly developed by Oxford University and multinational pharmaceutical company AstraZeneca, as well as one being developed domestically.
Benny Spiewak, a partner at SPLaw, a law firm in Sao Paulo specializing in life sciences, said, "This Brazilian multipronged approach is necessary and appropriate.
"On the one hand, the Brazilian government secured certain research and development endproduct rights to the Oxford vaccine. On the other, the government of the state of Sao Paulo entered into a strategic agreement with Sinovac.
"The decision to support both was correct. The two measures aim to ensure Brazil not only gets the vaccines but also accesses the underlying technology supporting them."
Brazil is in dire need of a COVID-19 vaccine, as it is tackling the second-worst outbreak in the world after the United States, and the worst in Latin America. As of Sunday, it had recorded more than 3 million cases and over 101,000 deaths, according to multiple sources.
Spiewak added, "Honestly, nothing else matters apart from learning that science has managed to identify a vaccine and that pharmaceutical medicine can cope with COVID-related symptoms. Politics must give room and space to science."
The agreements reached will help Brazil better understand how to quickly develop a vaccine and strengthen its biotechnology industry, he said.
"Brazil has been continuously, albeit quietly, demonstrating that it aims for its publicly-funded entities to strengthen their positions as key biopharma producers," Spiewak said.
"The biopharma capacity of entities such as Fiocruz and (Instituto) Butantan is comparable to the world's best. Adding vaccine capability advances not only their individual leadership, but Brazil's."
Fiocruz and Instituto Butantan are two state-owned research centers, and Sinovac is partnering with the latter for phase three trials of its vaccine in Brazil.
Dimas Covas, director of Instituto Butantan, said, "The approval of phase three clinical trials demonstrates that the Sinovac and Butantan partnership is an efficient collaboration, offering the hope of saving lives worldwide."
Weidong Yin, president and CEO of Sinovac, said the partnership in Brazil would allow the company to advance development of vaccines for global use and to further its ambition to supply vaccines to eradicate diseases such as COVID-19.
The company is conducting a clinical trial with some 9,000 healthcare professionals who have volunteered to take the vaccine. They are tending to COVID-19 patients at 12 sites in Brazil.
The Sinovac product CoronaVac is being tested in Brazil and other countries, including Indonesia, Bangladesh and Turkey. Corona-Vac is an inactivated vaccine, which means it is based on an inert version of the SARS-CoV-2 virus.
Spiewak said Brazil has a well-regulated pharmaceutical industry with a strong foundation to conduct clinical trials. The country's diverse population makes for a "quasi-ideal clinical trial environment".
"Once you combine the two components, you have a country with a market that is already one of the world's most relevant for clinical trials," he said.
Hugo Nogueira, an international relations analyst in Belo Horizonte, said the rapid push to develop a vaccine "shows a very important change in the government's position. It initially rejected the agreement for equal distribution of the vaccine by the WHO, but is now actually cooperating in its development.
"This provides a much better perspective for Brazilians, who under the previous scenario would have been drastically affected by distribution of the vaccine."
Brazil is also working on developing its own vaccine, but will have to overcome a number of hurdles. One of these involves importing all the reagents it needs, which can be time-consuming. Another is dealing cumbersome bureaucracy.
However, Jorge Kalil, a professor of clinical immunology and allergy at the University of Sao Paulo and leader of the research team working on a SARS-CoV-2 vaccine, said progress has been made.
"We are already testing some formulations in animals," Kalil said. "We still think that at the beginning of next year we'll be able to start phase one clinical trials, so let's see what these vaccines are going to produce. We are also working on a second-generation vaccine.
"I think the quality of medicines is good, so Brazil is a good place for a clinical trial. The disease is also still spreading in the country, so it's very important for phase three that there is a high level of attack on the outbreak.
"It is also important that Brazil has good agreements, because if Brazilians are being tested, at least we should be able to access the vaccines when they are ready. However, we have to know how they are going to perform in real life. We have to be aware that there are many vaccines in clinical trials.
"Of course, we cannot predict what's going to happen, but it's very important that the vaccine protects many people and for a long time."