WHO expands support to COVID-stricken countries in Africa
Share - WeChat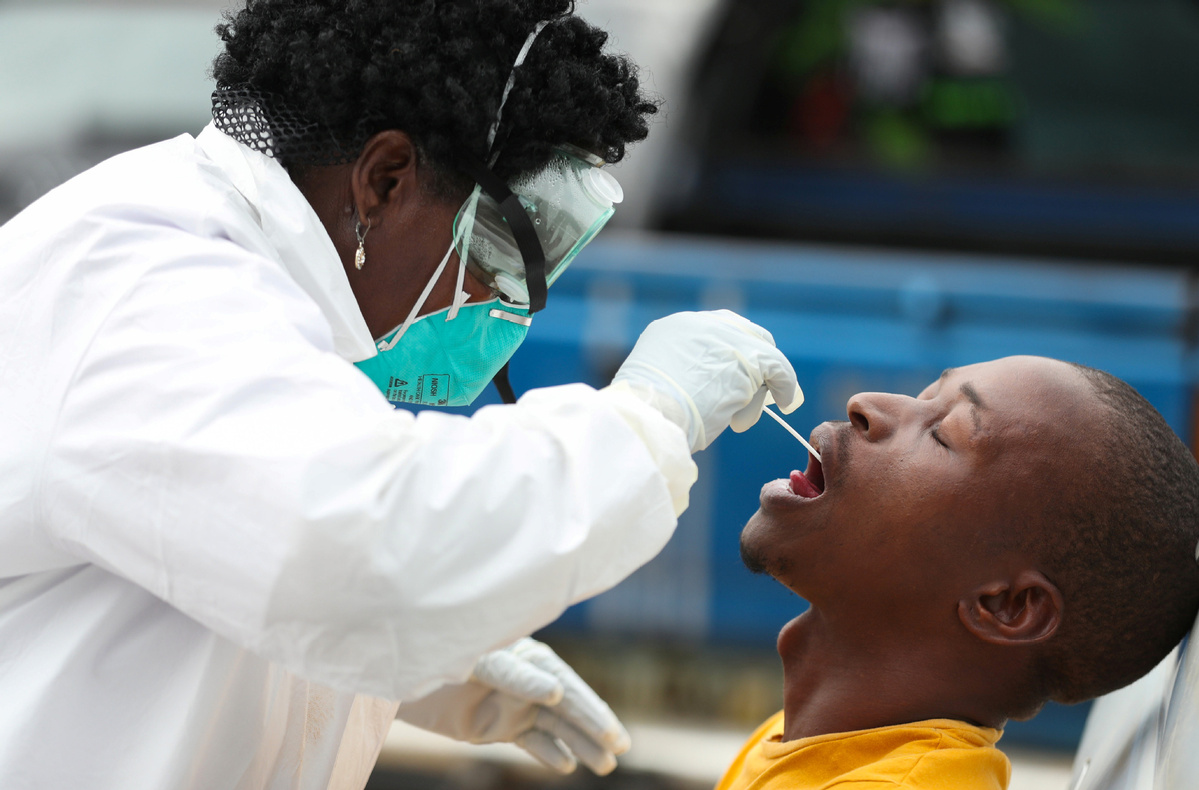 With the rapid increase of coronavirus infections in some African countries raising concerns, the World Health Organization on Thursday announced it will increase support to 11 countries in the continent that have requested assistance due to a surge in coronavirus cases and deaths.
WHO is thus mobilizing further technical experts on the ground and scaling up training to build up local capacity, particularly at the provincial and district levels.
South Africa, the most affected country on the continent with over 520,000 confirmed cases and almost 10,000 deaths, is the first beneficiary of the initiative.
WHO plans to send 40 public health experts to the country to provide surge support, working with national and provincial counterparts on key areas of response.
The first team of experts arrived in South Africa on Wednesday, while the second team is expected to be deployed next week.
The organization said 10 countries accounted for 89 percent of new cases in Africa over the past two weeks.
It added new cases had increased by more than 20 percent in 16 countries on the continent in the past two weeks compared with the previous fortnight.
"Lack of testing is leading to some under-reporting of COVID-19 cases and preventing us from understanding the full picture of the COVID-19 pandemic in Africa," Dr. Matshidiso Moeti, WHO regional director for Africa, said in a virtual press conference on Thursday.
"We need to turn this around so countries can calibrate their response, ensuring it is most effective, and as cases move into the hinterlands, testing must be decentralized from the capital cities."
To ensure adequate supply of essential medical equipment across the continent, WHO with other UN agencies has formed a global procurement consortium which leverages their networks, expertise and product knowledge to support countries with limited access to markets.
The WHO-led consortium has secured critical volumes of testing kits and other key diagnostic supplies from major manufacturers.
So far, the consortium has shipped 1.8 million testing kits to 47 countries in Africa over the past month, and another 1.1 million testing kits are expected to be dispatched in the coming weeks.
In his regular virtual press briefing on Thursday, Dr. John Nkengasong, the director of Africa Centers for Disease Control and Prevention, said about 68 percent of the people who had contracted coronavirus in the continent have recovered.
Nkengasong said total cases documented over the past week were 99, 599, translating to an 11 percent increase over the previous week.
Out of the case total, he said women accounted for 52 percent and men 48 percent.
Nkengasong added though the number of coronavirus cases continues to increase on the continent, just five countries account for 75 percent of all cases in Africa.
"The countries include South Africa with 529, 877, Egypt with 94,875, Nigeria with 44, 890, Ghana with 39, 075 and Algeria with 32, 499," he said.
With many African countries beginning to reopen their borders and economies, he said there is a need to be alert and take preemptive measures to ensure progress in fighting the pandemic is not lost.
Towards that end, Africa CDC launched the Saving Lives and Saving Economies campaign, aimed at protecting borders, economies and schools.
The campaign will focus on scaling up testing at borders and during travel using the PACT initiative of test, trace and treat. It will also aim to partner with the private sector for innovative approaches to enhance surveillance and data within inter-and intra-economic regions to protect the livelihoods and economies across the continent.
Additionally, with schools in some countries reopening later in the year, the campaign will aim to develop and leverage existing testing programs at schools through PACT while focusing on risk assessment and management in order to safely resume educational instruction for all students.
Nkengasong said consistent and widespread mask wearing is one of the best tools to slow transmission and turn the tide against coronavirus.