Greenland hub boosts commodity imports
Share - WeChat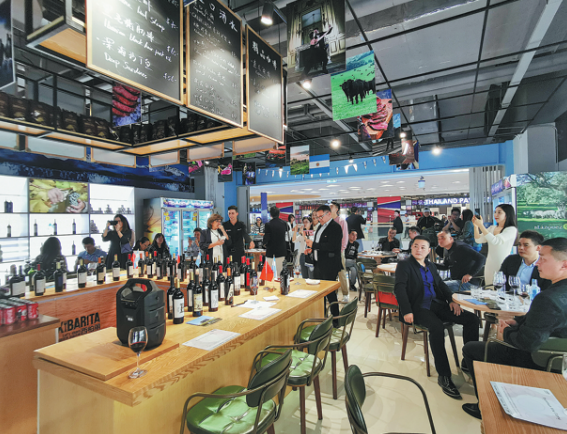 Imported beef from South Africa may still be new to Chinese consumers. But in one month's time, 12,000 units of this novel import of around 6,000 kilograms were sold out, which was all the supply the South Africa Pavilion at the Greenland Global Commodity Trading Hub had last month.
It was a pleasant surprise for Wang Junling, manager of the pavilion. The beef was imported to test the waters before being displayed at the third China International Import Expo to be held in Shanghai in early November.
"We opened the South Africa Pavilion in November last year, which turned out to be a good start. More and more South African suppliers are thus able to seize ample opportunities in China. Therefore, we will bring more South African products such as wine and cosmetics to the trading platform," she said.
The Greenland Global Commodity Trading Hub, which is part of State-owned Greenland Group's efforts to seek diversified growth drivers, was opened in November 2018 as a 365-day trade platform to extend the services of the CIIE. The hub has so far accommodated 139 companies and organizations from 57 countries and regions, introducing more than 60,000 products. Over time, the hub has received more than 5.6 million customers. Total online and offline trading volume facilitated by the hub has topped over 6 billion yuan ($857 million) so far this year.
As a result, the commercial and trade business sectors of Greenland Holdings Corporation Ltd, the parent company of the trading hub, soared 91 percent year-on-year to top 6.7 billion yuan in 2019.
During a visit to the trading hub on July 27, Shanghai Party secretary Li Qiang suggested that it should further attract resources from all over the world and explore new business models. The trading hub should grow into a commodity distribution center that connects the rest of the Yangtze River Delta region, serves the entire country and radiates across the Asia-Pacific region, he said.
Xue Yingjie, general manager of Greenland Global Commodity Trading Center Group, said an increasing number of companies have chosen to showcase their latest products at the hub ahead of the CIIE so that they can have more contacts with Chinese buyers and consumers. At least 1,000 products currently exhibited at the hub will be showcased at the CIIE this year, he said.
Based on the success in Shanghai, the conglomerate has set up the trading hub business model in another 10 Chinese cities.
Per Linden, director of the Swedish Chamber of Commerce in China, said that the Nordic country has opened up booths in Greenland's trading hubs in Shanghai, Harbin, Jinan and Ningbo. The booth in Harbin, Heilongjiang province, which was opened in early June, saw its sales revenue exceed 1.8 million yuan in one month's time.
"We would like to use Greenland's trading hubs to explore the distribution channels in China at a faster pace so that we can offer Chinese consumers more quality products imported from Europe," he said.
As an enterprise once focusing on the property sector, Greenland-which is seen as a role model in mixed-ownership reform-has now set up an extensive commercial network covering finance, retailing and healthcare. In 2015, group Chairman Zhang Yuliang announced the establishment of overseas purchasing centers to build up its consumption business sector.
"Consumption has been playing a bigger role in China's economic development while the country is undergoing economic restructuring. The trading hub will cater to the demand of increasingly sophisticated Chinese consumers. It is our hope that we can build the trading hub as the ideal venue for companies to launch new products and into a most influential distribution center for imports and exports,"Zhang said.
Zhang added that the Chinese market has become highly differentiated, and the gap between industry leaders and smaller players will increasingly widen. Therefore, companies, whether they are State-owned or privately owned, should give quality development top priority. Efficiency should be further improved and companies' driving forces reformed.
"Innovation should be the new engine for companies. In this sense, we should explore new demand in the market and seek new opportunities," he said.