Trade delegation visits Quzhou
Share - WeChat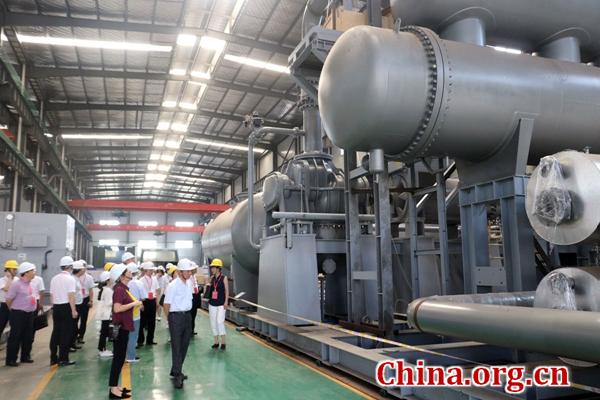 A trade delegation made up of foreign diplomats and business representatives visited Quzhou in East China from Tuesday to Thursday to explore business opportunities. This was the first international trade delegation to visit the city since the outbreak of COVID-19.
The delegation consisted of representatives of consulate generals and chambers of commerce from eight countries, including Belarus, Indonesia, Austria, the US, Japan, South Korea, Canada, and Germany.
Andrei Andreyev, consul general of Belarus in Shanghai, said he was interested in new energy and polar power projects, and that Quzhou's enterprises set good examples for a much needed transformation for the transportation system of Belarus.
The consul general also said he anticipates further talks with Quzhou's industrial park.
Deny Wachyudi Kurnia, consul general of Indonesia in Shanghai, said he hopes Indonesia and Quzhou will cooperate on artificial intelligence and big data in the future.
During the trip, the delegation visited foreign trade-oriented companies in Qujiang district, Quzhou Green Industry Clustering Zone, and Kaihua county.
The trip was jointly organized by China Council for the Promotion of International Trade (CCPIT) Zhejiang Provincial Committee and CCPIT Quzhou Municipal Committee.
Quzhou, an ancient city located in the west of Zhejiang province, has beefed up efforts to develop the digital economy in recent years. Driven by the Belt and Road Initiative, Quzhou has established trade ties with more than 200 countries and regions around the world, attracting more than 700 foreign companies to invest in the city.