TV, handset makers eye OLED panels for growth
Share - WeChat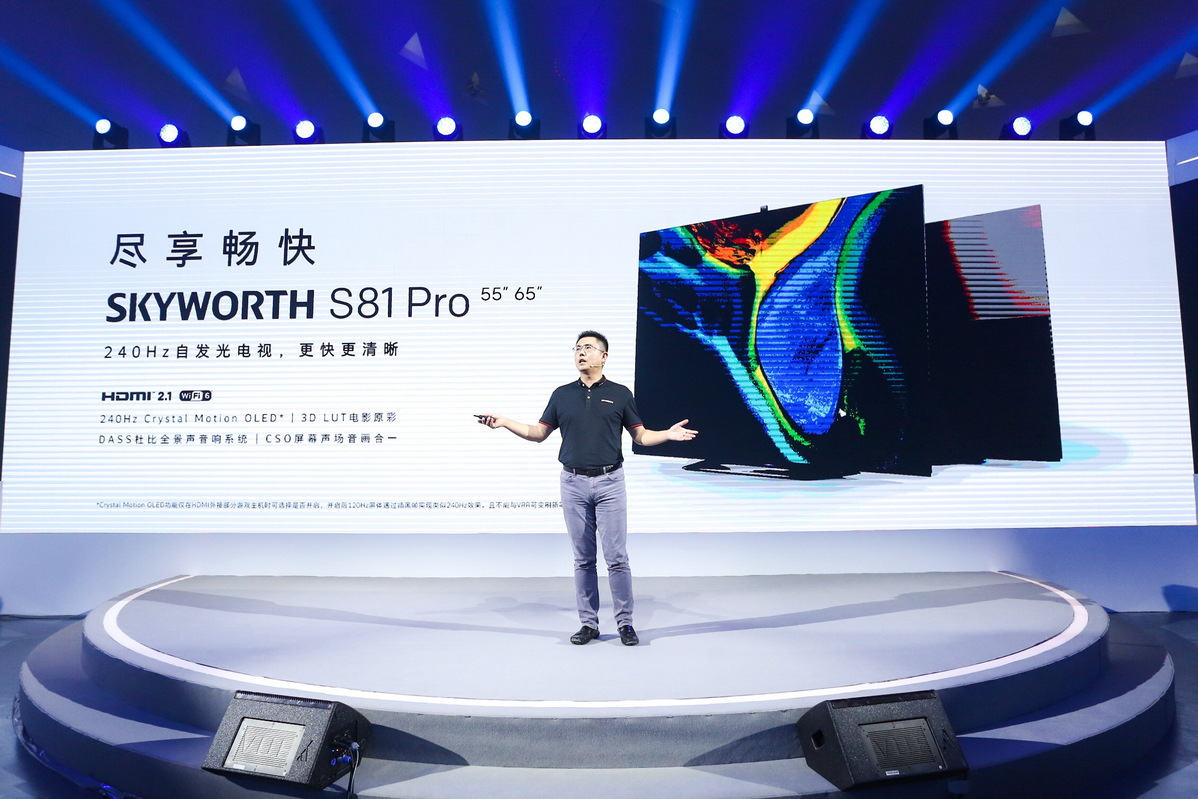 Competition in high-end organic light-emitting diode televisions is expected to heat up this year as both traditional home appliance manufacturers and smartphone makers have stepped up their push in cutting-edge OLED, which is seen as the primary development direction of display technology.
Chinese television maker Skyworth Group is betting big on OLED TVs and ramping up its research and development inputs in superfast 5G and artificial intelligence to seek new business growth points despite the slowdown in the domestic TV sector.
Market consultancy All View Cloud said TV sales reached 20.87 million units nationwide in the first half of 2020, down 9.2 percent compared with same period last year, and related sales revenue totaled 50.6 billion yuan ($7.23 billion), a fall of 23.7 percent year-on-year.
The accumulated sales of OLED TVs units came up to 47,000 units in the January-May period, with Skyworth topping the list in OLED TV shipments in the domestic market, according to AVC.
Market research firm IHS Markit said the shipment of OLED TVs is expected to reach 3.5 million units in 2020.
Tang Xiaoliang, chief brand officer of Shenzhen Skyworth-RGB Electronic Co Ltd, which is a subsidiary of the Skyworth Group, said the company is bullish on the prospect of the OLED TV industry.
The firm will focus on the R&D of AI-powered 8K chips as well as strengthen cooperation with HiSilicon, the semiconductor arm of Huawei Technologies Co and Japanese tech giant Sony Corp.
Tang said sales of its OLED TVs amounted to 11,181 units in June, accounting for 68.92 percent of the total market share.
Skyworth is transforming itself into a high-tech and innovation-driven company, having invested heavily in OLED technology, self-developed chips that are used to improve the quality of the image, and the big-screen AIoT (artificial intelligence of things) ecosystem, Tang said.
Skyworth has also launched its latest flagship TV sets, the S81 Pro OLED TVs which cover 55-inch and 65-inch versions, and deliver immersive sound for the ultimate home cinema experience.
OLED is a relatively new technology and part of the recent innovations in display. It has a fast response rate, wide viewing angles, super high-contrast images and richer colors. It is much thinner and can be made flexible, compared with the traditional LCD display panel.
The OLED TVs will become the future development direction of the TV industry and present an opportunity for TV manufacturers to expand their profit margins, said AVC President Wen Jianping.
Skyworth has been producing OLED TVs in partnership with South Korea's largest panel maker, LG Display, since 2013.
Data from AVC showed sales of Skyworth OLED TVs accounted for 46 percent of total OLED sales in the Chinese market in 2017, followed by LG with 16 percent and Sony at 14.9 percent.
LG Display is the only company capable of mass producing large-sized OLED screens globally. In August 2019, the company's production plant began operations in Guangzhou, the capital of Guangdong province.
Xiaomi Corp has also jumped onto the OLED TV bandwagon. It launched its first OLED TV under its Master series earlier this month, with the set featuring a 65-inch 4K panel and priced at 12,999 yuan.
The release of the OLED set marks the entry to the high-end TV market for the Chinese smartphone brand, whose previous offerings mostly targeted the entry-level segment.
In April, Huawei Technologies Co released its first-ever OLED smart TV with a pop-up camera in China. Priced at 24,999 yuan, the TV packs a humongous 65-inch self-illuminating 4K OLED panel with a high screen ratio. It also includes a Honghu 898 chipset developed by HiSilicon, the company's chip division, as well as its in-house operating system Harmony OS.
"The traditional TV market is almost saturated and companies need to seek new growth points," said Dong Min, an independent researcher in the home appliances sector, adding new display technologies such as OLED TVs, curved screen TVs and laser TVs are all good choices and in line with ongoing consumption upgrades.
The 65-inch TV will become the mainstream screen in people's living rooms in the future, but that OLED TV will not be able to immediately trigger customer purchases at this time although most current consumers are technophiles and high-end users, said Li Yaqin, general manager of market consultancy Sigmaintell.