Green strides bring rich rewards in Shanxi
Share - WeChat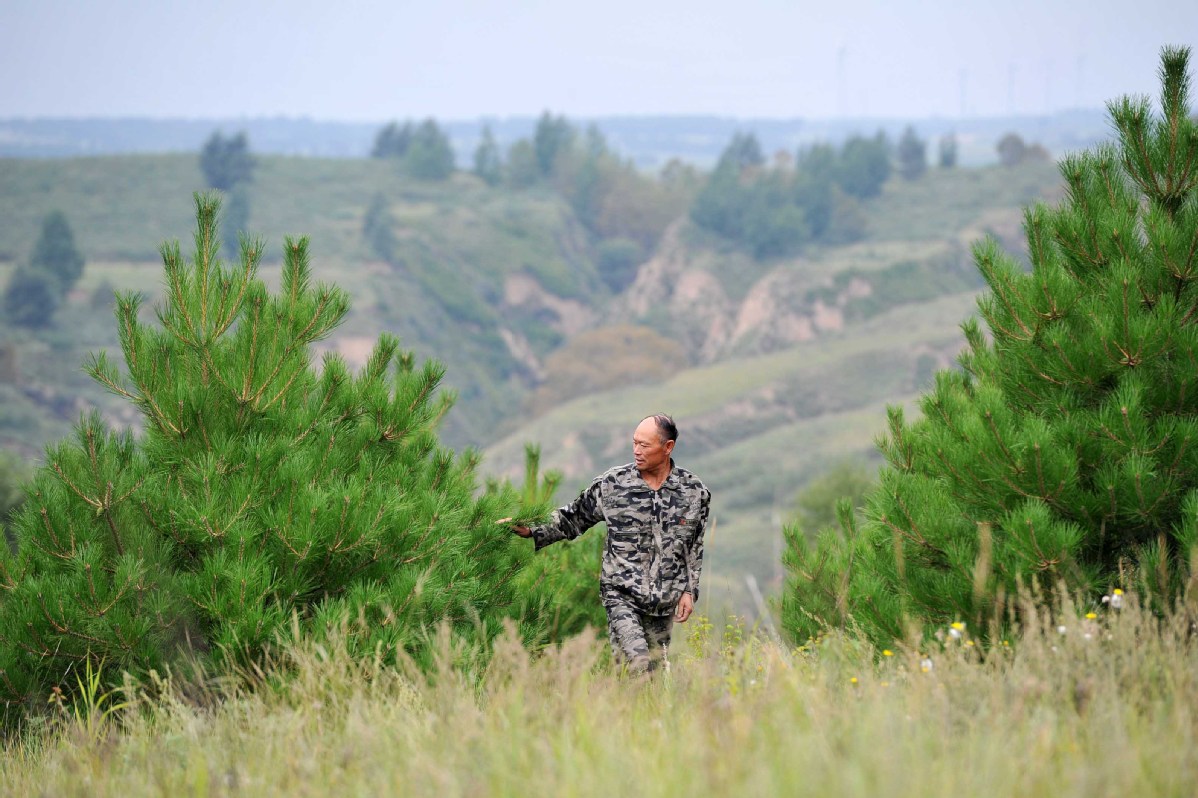 Unlike many who are fighting to build up million-dollar businesses of their own, 65-year old Li Yunsheng is fighting for a greener world and against desertification.
Li's hope is to turn his hometown of Youyu county from a drought-hit area into a green oasis.
To this end, Li quit his business in a driving school and spent nearly two decades far away from his family. He spent over 6 million yuan ($856,187) planting trees on Matou Mountain in Lidayao village of Youyu county in Shuozhou city, Shanxi province.
"When we were kids, we used to light up the house even in daytime as the sky was clouded by sandstorms. It was difficult to open doors on some mornings because our house was probably half-covered by sand during the night. The environment was severely damaged there and the living conditions were terrible. I've always wanted to change it," Li said.
Youyu county is located in the northwestern part of Shanxi province. It was once a drought-plagued landmass where the living conditions of residents were threatened by sandstorms. Back in the 1940s and 1950s, the greening rate there was only about 0.3 percent.
In 1949, the then Party secretary of Youyu county, Zhang Ronghuai, promoted greening to battle sandstorms and improve the ecological environment of the county.
Since then, government officials, together with forestry technicians and workers, have spared no effort in planting trees.
Li Yunsheng was one of them. In 2002, Li rented sandy land of over 666.7 hectares on Matou Mountain and started planting trees.
"It was much harder than you could imagine. The land was severely deteriorated at that time for trees to survive. On sandy areas, the saplings could easily be blown away by strong winds," Li said.
Since then, Li moved out of his family and started to live on the mountain where he faced great difficulties. At a place where cooking or boiling water were all but impossible, he had to eat simple foods made out of flour and drink untreated water.
In addition, there were no roads in the mountain then, making deliveries of water and saplings from elsewhere another challenge to overcome.
When Li "realized how necessary a road is to my work", the local governments heard his voice and built a road in the mountain.
At times trying, Li still managed to plant trees on the sandy ground.
"First I wrapped the roots of saplings with plastic bags, stabilized the roots with mud deep inside the sandy land. After two or three years, I dug the sand and moved away the plastic bags. Through this way, the saplings could be rooted stably in sandy lands regardless of the wind."
Years of efforts have borne fruit. The ecological environment of Matou Mountain is greatly improved.
"In recent years, I started breeding businesses which could help me earn 300,000 yuan to 500,000 yuan annually. I also plan to start ecology-related tourism on Matou Mountain," Li said.
With joint efforts from planters like Li, Youyu is turning from a drought-hit sandy land into a green paradise. To date, Youyu has nearly 113,333 hectares of plantation forests and about 130 million trees. In the past 70 years, the county's greening rate increased from 0.3 percent to 56 percent.
Zhao Shouzhong, who has been working as a forestry technician for 37 years in Youyu county, said the county's greening also helped improve soil conditions. The increasingly rich soil has allowed various trees to grow successfully.
Youyu's change of ecology has helped boost a number of businesses. Shanxi Youyu Tuyuan Industries Co Ltd was one that benefitted from the county's enhanced environment and ecosystems.
"In the past, our company mainly did business in seasonings. Now with the improvement of the environment and ecology, we are able to plant scallions of good quality and develop the scallion business with higher added-value," said Liu Jun, chairman of Tuyuan Industries.
Wang Tao, head of sales at Tuyuan Industries, said the company exports frozen scallions worth $7 million each year. The products are sold to countries such as Germany, the United States, Norway and Australia.
The company's scallion business helped lift some local farmers out of poverty and increased their income. Local farmer Liu Kai said he earned up to 170,000 yuan in profit last year from planting scallions, much higher than the past when the whole family could only earn about 50,000 yuan in profit.