Experts call for creation of better smart electricity grid
Share - WeChat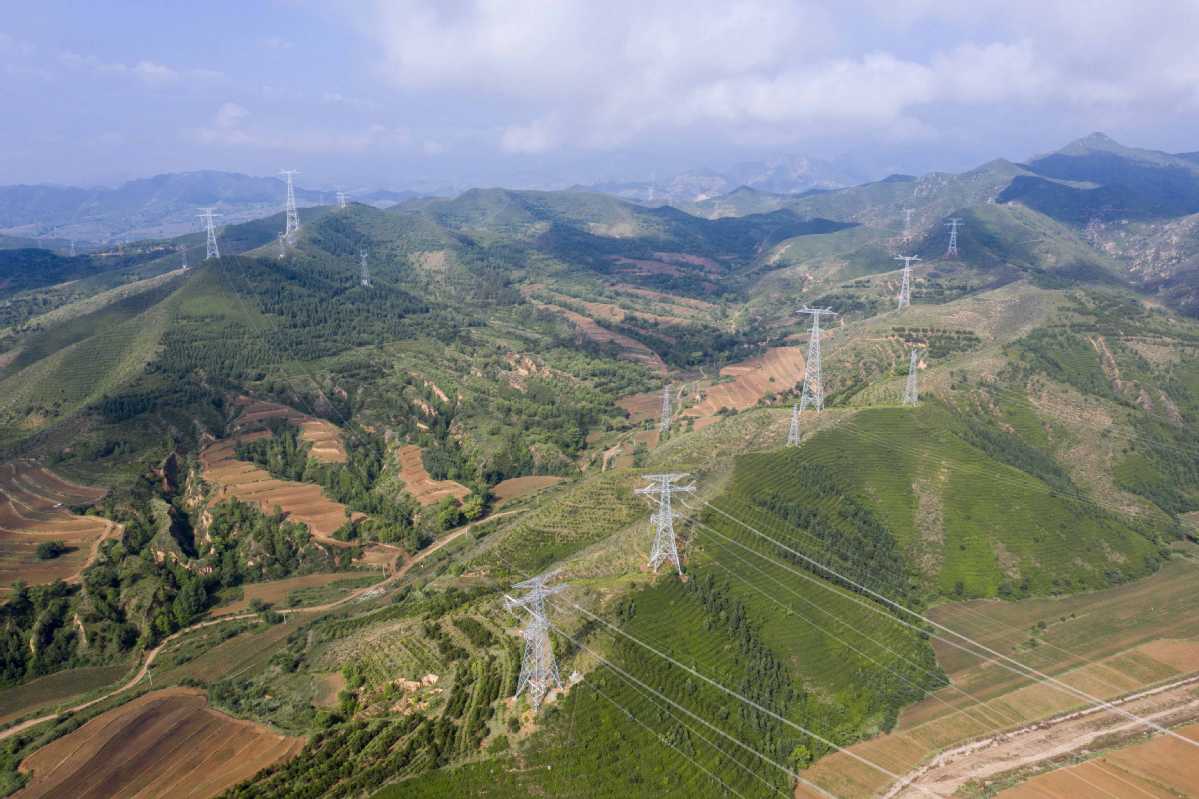 Green energy resources accounted for 27.9% of total domestic output last year
With the renewable energy penetration rate increasing with every passing year in China, the world's largest solar market-which also has a third of the world's wind turbines-should promote construction of a more flexible power grid nationwide to better utilize green energy, experts said.
Renewable energy, especially wind and photovoltaic systems, is very unpredictable despite forecasting technology can predict wind speed and other weather conditions.
"Unlike traditional large central power plants, intermittent power generation from unpredictable wind speeds and sunshine poses serious concerns regarding power reliability. Shifting to a system where more renewable generation is being dispatched to the grid brings with it a set of unintended challenges for the stability of power grids," said Jiang Yi, a professor at Tsinghua University and an academician at the Chinese Academy of Engineering.
Grid capacity has developed substantially over the past few years. However, a less flexible power supply makes it challenging for the grid to absorb more renewable power, Jiang said.
He added that storage batteries having sufficient capacity could help balance peak and trough differences in electricity consumption and allow clean energy to play a more significant role in China's energy mix over the long term.
"With sufficient power capacity developed over the past few years, China needs to further develop a more flexible power load, including intelligent charging piles and storage batteries, to adjust the supply-demand balance, better absorb solar and wind power and make sure efficient integration of renewables is regular practice in the power grid," he said.
Renewable energy sources play an increasingly important role in China's power grids, and these sources, especially solar power, have witnessed sharp cost declines in recent years.
China saw its installed capacity of renewable energy grow 9 percent year-on-year to 794 million kilowatts by the end of last year. Wind and solar farm capacity rose by 14 percent and 17.3 percent year-on-year, respectively, said the National Energy Administration.
In 2019, the country generated 2.04 trillion kilowatt-hours of electricity from renewable energy sources. That level accounted for 27.9 percent of total electricity output, up 1.2 percentage points on a year-on-year basis.
Electric vehicle batteries, for example, can offer solutions despite imposing greater demand on the grid, Jiang said.
A report by industry association China EV100 and the Natural Resources Defense Council says vehicle-to-grid technology (V2G), which allows vehicle batteries to return power to the grid when demand is high, will help the new energy vehicle charging pile industry make up for its disadvantages by using intelligent technologies.
While grid operators can enjoy significant cost savings by upgrading infrastructure to embrace the electric vehicle era, EV drivers can also be paid, it said.
Natural Resources Defense Council analyst Jin Hengmei said introducing V2G charging leads to a more efficient network while saving billions of yuan in investment required to increase power capacity.
The country's Government Work Report, released on May 22 at the third session of the 13th National People's Congress, for the first time included charging piles for electric vehicles in China's initiative of new infrastructure development.
Domestic companies are also developing a more flexible power grid to better absorb clean energy in the country.
State Grid Corp of China has invested a total of 12.5 billion yuan ($1.77 billion) in the world's first flexible direct current (DC) power grid project, the Zhangbei flexible direct current power grid, which was put into operation at the end of June.
The transmission line, the world's first renewable energy-based flexible DC power transmission system, is capable of transmitting about 14.1 billion kWh of power to Beijing each year.
The cutting-edge technology in the power grid field allows a more stable delivery of power and steady generation thanks to flexible operational controls and a more stable power system.
State Grid said it has raised its fixed-asset investment to 460 billion yuan this year, with funds mostly focused on ultra-high voltage, new energy vehicle charging piles and digital infrastructure.
Wei Hanyang, a power market analyst at Bloomberg New Energy Finance, said: "The flexible power grid will open up new opportunities for deregulated sales of clean power in the region while alleviating the issue of wind curtailment."
State Grid has been building up its expertise and brand name in flexible DC in both domestic and global markets, Wei said.
"To achieve a low carbon society, we need to change China's current energy structure from a fossil fuel-dominated energy structure to one that is dominated by renewable energy sources," Jiang said.
He suggested the country further promote the construction of a flexible power grid during the post-COVID-19 era, as China has been consuming more renewable energy over the past few years.
The International Energy Agency predicted a 20 percent fall in global energy investment this year as the pandemic has impacted investment across technologies in all sectors. However, investment in renewables has so far proved to be more resilient to wider economic fluctuations than investment in other traditional energy sources, including oil, gas and coal, it said.