Venice Film Festival to honor Ann Hui and Tilda Swinton with lifetime achievement awards
Share - WeChat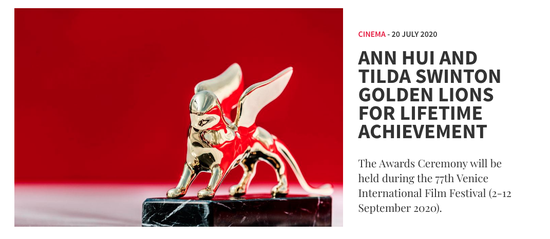 Critically-acclaimed Chinese filmmaker Ann Hui and Scottish actress Tilda Swinton will be honored with lifetime achievement awards at this year's Venice International Film Festival, organizers announced.
According to the statement, the decision was made by the Board of Directors of the Biennale di Venezia upon recommendation of the Director of the Venice Film Festival Alberto Barbera.
Hui is a veteran filmmaker from China's Hong Kong Special Administrative Region and the first female director to receive the award in the festival's history.
Reacting to the announcement, the 73-year-old said, "I am so happy to receive this news and honored for the award! So happy that I feel I cannot find the words. I just hope everything in the world will turn better soon and everybody can feel again as happy as I am in this moment."
Oscar-winning actress Swinton said that the prestigious festival has been dear to her heart for three decades and being honored in this way is "extremely humbling."
"To come to Venice, this year of all years, to celebrate immortal cinema and her defiant survival in the face of all the challenges that evolution might throw at her – as at us all – will be my sincere joy."
Swinton, 59, is known for her roles in both independent art-house films and big-ticket blockbusters. She featured in dozens of films and worked with many famed directors, such as late filmmaker Derek Jarman, the Coen brothers, Jim Jarmusch, Bong Joon-ho, Wes Anderson and Luca Guadagnino.
Born in Anshan, Northeast China's Liaoning province, Hui is "one of the best female directors in Asia" and "one of the pivotal figures in the Hong Kong New Wave film movement" from the late 1970s and 1980s, the festival said in the statement.
The prolific and versatile filmmaker, whose career spans four decades and touches every film genre, has received numerous honors for her works.
She has won more best director awards at the Hong Kong Film Awards than anyone else with six accolades. Her movies were screened at major international film festivals such as Venice and Cannes.
Her best-known titles include Boat People (1982), Song of the Exile (1990), Summer Snow (1995), Ordinary Heroes (1999) and A Simple Life (2011).
The 77th Venice International Film Festival is scheduled to run from September 2 to 12, during which the Golden Lions for Lifetime Achievement award ceremony will be held.
This year's festival will see a reduced line-up and special health and safety precautions because of the coronavirus pandemic. The full program for the festival will be unveiled on July 28.