China promises $1b loan for vaccine drive
Share - WeChat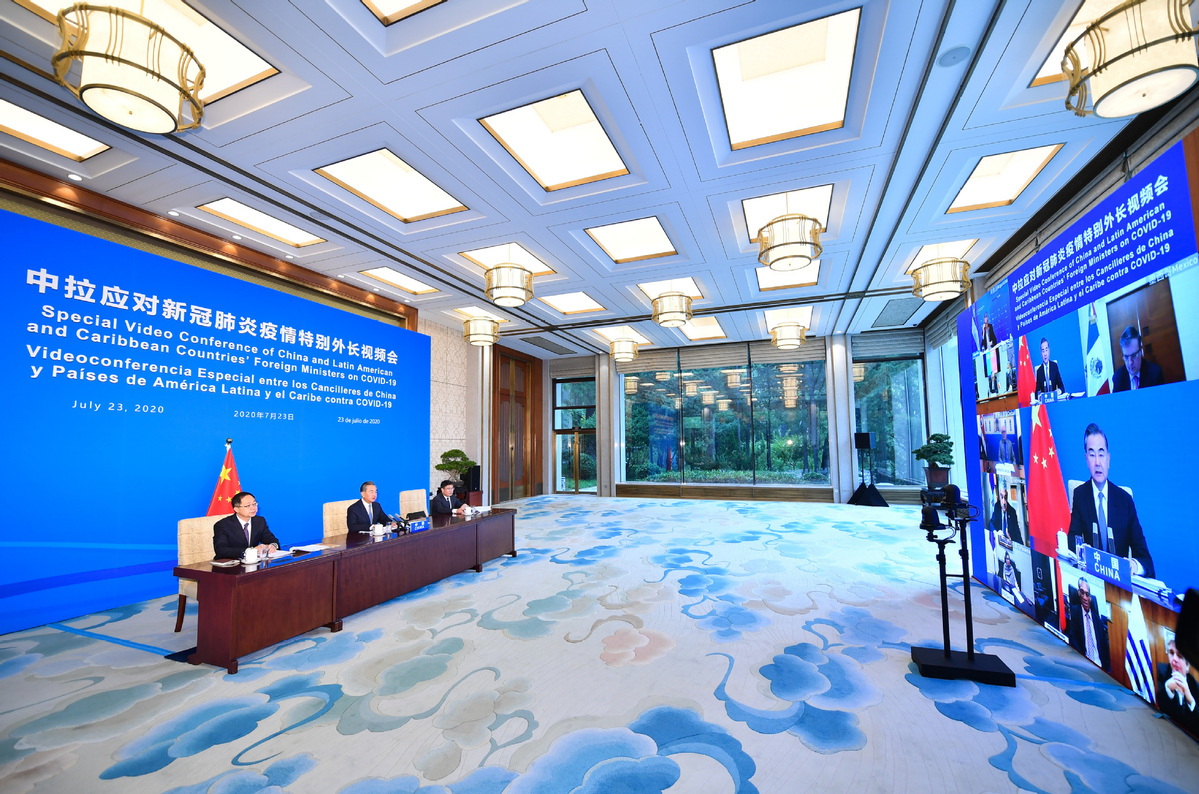 Aid to Latin America and Caribbean nations expected to strengthen links
Stepping up its support for the global response to COVID-19, the Chinese government has committed to provide a $1 billion loan to Latin American and Caribbean (LAC) countries to facilitate access to a prospective vaccine.
State Councilor and Foreign Minister Wang Yi announced the loan during a virtual meeting on July 23 with LAC foreign ministers.
"The Chinese foreign minister stressed that the vaccine developed in his country will be a public good of universal access and that his country will allocate a loan of $1 billion to support the access of the nations of the region to the antidote," the Mexican government said in a statement. Mexico's Foreign Minister Marcelo Ebrard attended the virtual meeting along with others from Argentina, Barbados, Chile, Colombia, Costa Rica, Cuba, Dominican Republic, Ecuador, Panama, Peru, Trinidad and Tobago and Uruguay.
Teams in China are among others around the world racing to find a vaccine against COVID-19, but the loan China has offered will not necessarily have to be spent on a Chinese vaccine if others become available earlier.
"The loan is not attached to a vaccine made in China. As long as a mass immunization program is implemented, the vaccine can be from any country," Juvenal Infante, director of the Center for Asia-Pacific Studies at the Sergio Arboleda University, in Bogota, Colombia, said in interview.
"The nationality of the vaccine is not being discussed. What is important here is that the governments from Latin America and the Caribbean will have enough resources to conduct mass vaccination campaigns, when the time comes," he added.
This year is a particularly significant one for China and the Latin American countries as it marks the 60th anniversary of the establishment of diplomatic relations between the two sides.
China's goal is to strengthen links with the region.
The country "remains unchanged in its determination to advance China-Latin America relations from strategic and long-term perspective, resolve to deepen China-Latin America solidarity and cooperation for common development and aspiration to promote South-South cooperation and improve global governance," Chinese Foreign Ministry spokesperson Wang Wenbin said during a regular press conference in Beijing on July 24.
As part of its cooperation with countries in the region to fight COVID-19, China has shipped millions of dollars worth of medical equipment such as ventilators, personal protection equipment and supplies as well as expertise.
"Recently, China has sought to strengthen cooperation. The announcement of a loan of $1 billion to enable Latin American countries to access the vaccine constitutes an important milestone in this direction," Juan Pablo Glasinovic, a lawyer and professor of international relations in Santiago, Chile's capital, said.
"The importance of economic ties must be complemented by greater interaction in all other fields. The announcement of potential access to the vaccine is certainly a step in that direction," he said.
A joint statement by China and the LAC countries that took part in the virtual meeting suggested the relationships are improving.
"Since the start of COVID-19, China and LAC countries have effectively worked together to contain COVID-19, guided by a deep friendship and spirit of cooperation in trying times," the statement said. "The LAC side acknowledges that China has acted decisively to contain COVID-19 and made positive progress, and appreciates China's cooperation and strong support."
Infante of Sergio Arboleda University says the loan represents another show of support from China and he believes China will step up if more funding is needed.
"This is a first offer, and if more is going to be required, they won't let down the Latin American and Caribbean countries without the economic and financial possibilities to vaccinate the whole population," he said.
The writer is a freelance journalist for China Daily.