Local carmakers face global setback amid virus outbreak
Share - WeChat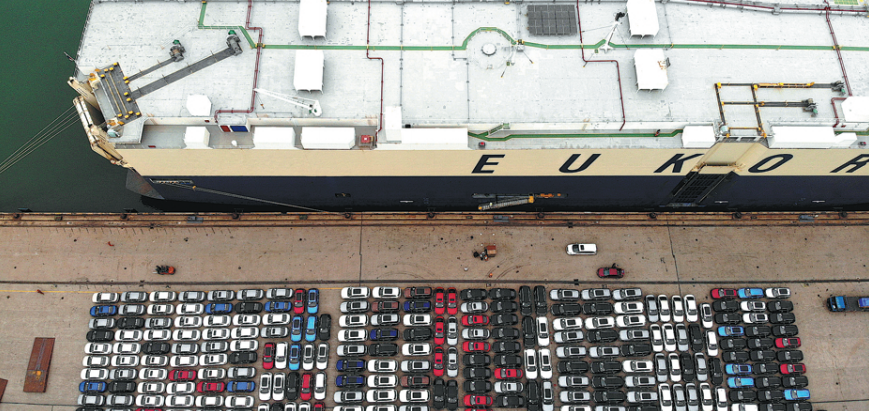 Overseas markets remain depressed as world struggles to recover from COVID-19 impact
Chinese carmakers' steps to go global have been hindered as key overseas markets remained depressed by the coronavirus pandemic in the first half of the year.
The export of Chinese vehicles declined 20.9 percent in the first six months, totaling 386,000 units, according to statistics from the General Administration of Customs.
The China Association of Automobile Manufacturers forecast that China's automobile exports will be reduced by nearly 200,000 units this year, reaching a total of around 800,000 units.
The ongoing COVID-19 pandemic and nationwide lockdown in some countries has taken a heavy toll on overseas markets.
India, Iran, Russia and Brazil are some of the worst-hit COVID-19 countries and are major overseas markets for Chinese vehicles.
Chinese carmakers have had to shrink or suspend their overseas businesses as a result.
Last month, the Times of India reported that the Indian government has put three agreements signed with China companies worth some 50 billion rupees ($669.12 million) on hold.
The projects include Great Wall Motors setting up an automobile plant in Talegaon and a joint venture with Foton that would create 1,500 jobs.
In February, Great Wall Motors showcased two concepts and four smart SUVs under its popular Haval brand and two Great Wall-branded electric vehicles at an auto expo in Delhi, India, and was the only Chinese carmaker to exhibit at the auto show.
The carmaker said it will launch a full range of Haval SUVs in the country, with Great Wall EV also rolling out a variety of models. The first India-made models will roll off the assembly line in 2021.
The carmaker exported 3,592 new vehicles in June, up 134.3 percent month-on-month. The company exported a total of 20,536 new cars in the first half of 2020.
Chongqing-based Changan Automobile started its overseas businesses in 1991 and its products are now on sale in more than 50 countries.
Last year, the carmaker exported 67,000 units, increasing 12 percent year-on-year.
Changan's overseas business has been affected by COVID-19 with the carmaker reducing or suspending projects in the Middle East, Africa, South America and ASEAN countries. Changan has also lowered the export target for this year, according to China Automotive News.
SAIC-GM-Wuling, a GM joint venture with SAIC and Guangxi Automobile Group, reported its total sales revenue in overseas markets growing by 51 percent year-on-year to reach $250 million during the first half of 2020.
It exported 38,786 vehicles in the first six months of this year, up 42 percent compared with the same period in 2019.
A total of 25,287 completely-built units and components for assembly of the joint venture's compact crossover SUV model Baojun 530 were exported between January and June, surging by 86.2 percent year-on-year.
The carmaker also shipped the first batch of its new, self-developed subcompact crossover SUV model Baojun 510 to South America last week, and plans to export the model to the Middle East, Africa, Mexico and other overseas markets, the company said.
Last month, the export volume of Chery increased 27.3 percent month-on-month. In the first half of the year, the carmaker exported 41,799 passenger cars, growing 42 percent year-on-year.
Chery said they adjusted strategies according to different periods of the pandemic and effectively stabilized the overseas markets. Sales in Brazil and Russia have even hit new five-year records.
Unlike the above carmakers, SAIC, BAIC, JAC and Geely saw exports decline in the first half of the year.
New York-based consulting firm AlixPartners said automakers might not recover from the coronavirus until after 2025.
Xu Haidong, vice-chief engineer of the CAAM said the determination and confidence of Chinese carmakers to expand in overseas markets is unlike before.
However, the impact of the pandemic that has slowed global opportunities and demand is temporary. Despite this, Xu said Chinese carmakers should remain hopeful that their global strategies should return to normal once the pandemic ends.