Coming out of traditional mold and giving life a new beginning
Share - WeChat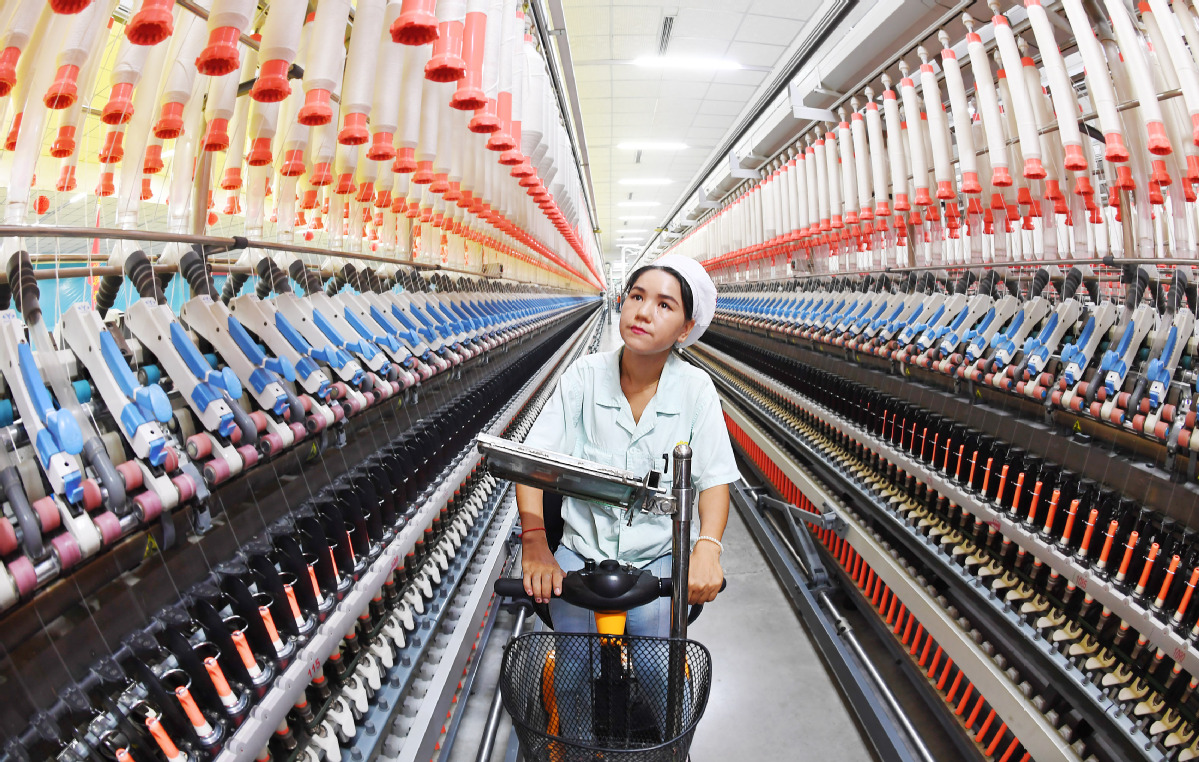 Women of Uygur ethnic group embrace new roles as jobs help villagers overcome poverty

Editor's note: With China set to meet its goal this year of eliminating extreme poverty before next year's 100th anniversary of the founding of the Communist Party of China, this series looks at the efforts of different areas of the country to erase poverty and improve livelihoods.
Gulbahar Baykem, 26, who came from an impoverished village of Shule county in Kashgar of Northwest China's Xinjiang Uygur autonomous region, used to be a housewife who never left the family and the place where she grew up.
But in 2017, she began a new life, working with a guesthouse affiliated to a State-owned petrochemical company in Urumqi, the regional capital.
Gulbahar now earns about 2,100 yuan a month from her job, and she has also roped in her husband, who was offered the position of a security guard by her company.
The couple earn nearly 5,000 yuan a month together, and the woman who has freed herself from the traditional role as a housewife is planning to settle down in Urumqi with her husband.
Her experience is certainly not unusual in southern Xinjiang. According to figures from a major survey on Xinjiang women's social status, while about 70 percent of the women interviewees aged 18 to 64 held paying jobs, only 10 percent of them engaged in nonagricultural work.
Marhaba Wulayim, 25, also a Shule villager, dropped out of a high school seven years ago. She remembers drifting from job to job, all of them part time and unstable with minimal pay.
"It was difficult for me to hold a regular job with stable income. I spent a lot of time at home, doing housework. But, unlike a cleaner in a restaurant, I did not even get paid for washing the clothes or mopping the floor at home," said Marhaba, whose family could not make ends meet for years.
Increasing employment in the nonagricultural sector for those with similar experiences to Marhaba's is also one major indicator of achieving the Millennium Development Goals of the United Nations to help promote gender equality and empower women.
When President Xi Jinping last visited Xinjiang in 2014, he stressed that development remains key to addressing challenges in the region, with the aim of improving people's livelihood, benefiting local communities and enhancing unity among ethnic groups.
According to latest census figures, Xinjiang has a permanent population of about 21.8 million people. Southern Xinjiang, where most inhabitants are members of the Uygur ethnic group, holds 48 percent of the population.
To that effect, southern Xinjiang has been a focus of the country's poverty alleviation drive, with increased government funding and social resources.
According to the latest work report of the regional government in 2020, nearly 120 billion yuan ($17 billion) has been invested in Xinjiang from 19 provinces and municipalities, central and state organs, and State-owned enterprises since 2010, the year the central government launched a new round of assistance program to the region.