Consumer spending on healthy, fresh snacks rises
Share - WeChat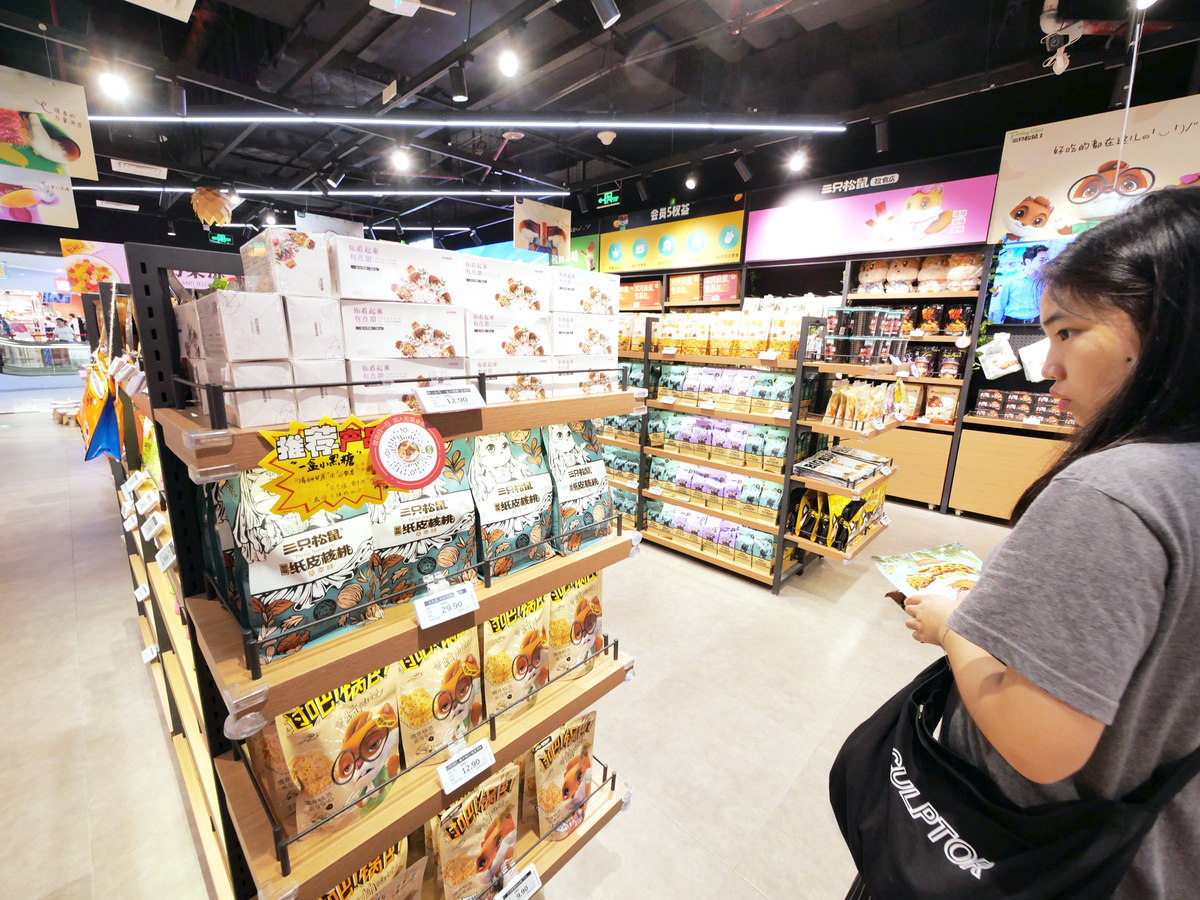 On a typical night, Ye Jing turns on TV for her favorite series and opens a bag of snacks. This is the favorite time of the day for the 30-year-old media professional in Beijing.
Ye spends an average of 500 yuan ($71.5) per month on snacks. Instead of eating those which are unhealthy and high in calories, she mainly buys fresh and healthy snacks.
"I rarely eat unhealthy puffed food. I would like to have some snacks which are both delicious and healthy, such as nuts and dried fruit. Braised foods are also my favorite. They contain no preservatives, have high nutrition such as protein, and are clean and sanitary," she said.
Given the consumption upgrade and the stay-at-home habit developed by the COVID-19 pandemic, China's snack market will experience rapid growth in the coming years with an obvious trend toward fresh and healthy food, a recent report showed.
Issued by Beijing-based think tank EO Intelligence, the report estimated the sales volume of China's snack market will reach 3 trillion yuan in 2020 and surpass 4 trillion yuan in 2025.
Consumers are paying increasing attention to whether snacks are healthy, fresh, and nutritious, the report said.
Up to 71 percent of the surveyed consumers said snacks are of equal importance to their physical and psychological health. Over 85 percent of millennials who are the main consumers in the market said that freshness and healthy qualities are their top focus in choosing snacks.
"Snacks are playing an increasingly important role for consumers, becoming an integral part of their daily life. In addition, owing to the epidemic, people have more time at home, and they need snacks to spend their leisure time," said Cao Peikun, an e-commerce analyst at EO Intelligence.
Another report by United Kingdom-based Barclays Bank said Generation Z paid more attention to the nutrition of snacks and they mainly favored plant food.
Data from e-commerce giant Alibaba showed that in February, the purchase of nuts and fresh vegetables and fruits on the platform surged 122 percent and 72 percent year-on-year, respectively, demonstrating the pursuit by consumers of fresh and healthy snacks.
Alibaba Group's Tmall platform said food consumption trends on Tmall this year are seasonal ingredients, fresh-keeping technology and no additives.
"Consumers tend to favor fresh food. They even search for seasonal fruits online before they come to the market. Meanwhile, more consumers pursue fresh delivery, and periodic delivery has become a new trend. The trend raises new requirements for enterprises' fresh-keeping technology," Cao said.
Ye said that the braised food she ordered online came with ice bags to keep the food fresh. The snacks contain no additives.
More than 60 percent of consumers would like to choose snacks without any additives to appreciate the natural taste of food, Cao added.
Liu Siran, chief marketing officer of Dongguan, Guangdong-based confectionery maker Hsu Fu Chi, said the company noticed that snacks that are more nutritious and healthier are favored by more consumers, especially the young.
To meet the growing demand, Hsu Fu Chi enhanced the healthy function in its core products. For example, it added vitamin C into candies and lactic acid bacteria into chocolates. It also cut the amount of sugar and oil in cakes. The changes increased customer satisfaction.
"In the future, we will introduce more healthy snacks to meet consumer demand," Liu said.
The report from EO Intelligence showed that fresh snacks contain a relatively long industrial chain, which can be generally divided into the upstream, the midstream and the downstream segments.
The upstream involves the preparation of raw materials and semi-manufactured food. The midstream contains food production, quality inspection, logistics and warehousing. The downstream is related to sales and brand promotion.
To meet the rising demand of consumers, the report suggested that the upstream of the industry should guarantee raw material quality, the midstream should focus on technical innovation, and the downstream pay attention to the synergy between logistics and stores.
"When the epidemic is over, enterprises should focus on online and offline integration under the new retail background to offer better user experience to consumers," Cao said.
Today's Top News
Editor's picks
Most Viewed