Floods highlight importance of food security
Share - WeChat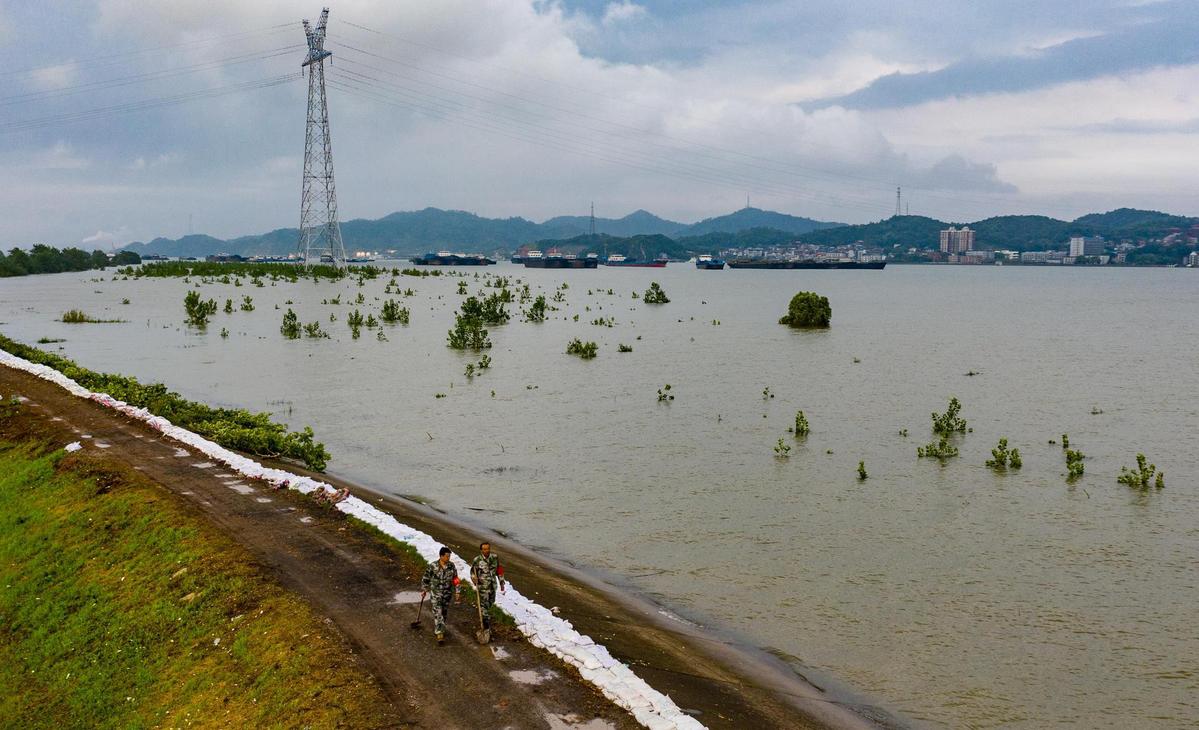 The floods in the southern parts of China have triggered fresh concerns about whether the country will face a food shortage and nutrition crisis. Although China's food (especially cereal) stock and supply are adequate, concerted efforts are needed to ensure food and nutrition security for all citizens, particularly those in the flood-affected areas.
The measures taken to prevent and control the spread of the novel coronavirus outbreak disrupted food production, processing, transportation, marketing and trade in February and March, posing a threat to food security. Fortunately, the novel coronavirus has been largely controlled in the country, and the economy, including the agricultural and food sector, has mostly recovered. And various government policies including green channels for transportation of fresh foods and workers in the food sector have helped minimize the impact of the shocks.
In addition, financial support and tax concessions to farmers and agricultural enterprises, and online delivery platforms have played a critical role in ensuring the smooth functioning of the entire food supply chain.
China has enough food stock, particularly that of cereals (rice, wheat and corn), as it had a bumper harvest in 2019 and reaps another good summer harvest (an increase of 0.9 percent) this year. According to government sources, there are enough cereals in stock to feed the population for the whole year-one of the reasons why cereal prices have been stable. But prices of meat and vegetables increased in June, which means concerted efforts are needed to prevent any shortage of these foods in the future.
On July 8, the Ministry of Finance and the Ministry of Emergency Management allocated 615 million yuan ($88 million) for disaster relief in flood-hit regions, mainly to Anhui, Jiangxi, Hubei and Guizhou provinces, the Guangxi Zhuang autonomous region and Chongqing. Of the total sum, 430 million yuan is to be used for flood control, and the rest for rescue and relief operations in disaster-affected areas.
However, more support should be provided for the affected areas and farmers so they can recover from the floods-for instance, seeds for crops and feed for livestock must be supplied to prevent a shortage of food in the fall, and more attention should be paid to vegetables and livestock, which help improve consumers' nutrition and health.
Also, since China has vowed to eliminate absolute poverty by the end of 2020, special efforts are needed to ensure poor farmers emerge out of poverty despite the floods, while measures should be taken to prevent rural residents from slipping back into poverty under the impact of the floods. As such, social protection programs including cash transfer should be strengthened in impoverished regions and counties, as well as in areas that have suffered a double blow from the epidemic and the floods. Securing nutritious and healthy foods for children, women, the elderly and other vulnerable groups will be critical to the post-pandemic and post-floods recovery.
The pandemic, more frequent extreme weather events, and the rising threats of pests and diseases to crops and livestock are a wake up call for the world and China to make their agriculture and food systems more resilient to shocks.
China has invested heavily in flood control for centuries, especially after the devastating 1998 floods. But with climate change intensifying, the government needs to increase investments in flood control management and irrigation-for example, by combining flood control measures with ecological conservation, tree planting and wetland preservation.
It should also develop agricultural technologies to build resilience against floods and droughts, similar to the development of climate change-resistant rice varieties by Chinese researchers and foreign scientists from the International Rice Research Institute. Some of the rice cultivars are more resistant to droughts, floods, extremely high temperatures, unusual cold waves, and saline soil than the normal varieties. Similarly, Chinese and foreign scientists from the International Maize and Wheat Improvement Center have developed drought-and high temperature-tolerant corn varieties.
There is a need to establish a national flood insurance system, too, because the post-disaster government aid-the main channel for disaster relief-is less efficient than insurance. Many developed countries such as the United States, the United Kingdom, Australia and New Zealand have active flood insurance programs, which help reduce the losses caused by floods through market-based means (in partnership with private insurance companies) and facilitate the construction of disaster prevention and alleviation infrastructure. And innovative methods (including the application of internet or mobile phone-based technology and dynamic flooding risk map) are needed to help farmers increase their agricultural insurance uptakes, which will better protect them against increasing climate change shocks.
Moreover, China needs to reinforce the social protection system, by using information and communications technology and increasing government capacity at all levels. Efficient, timely and targeted aid through a well-established social protection system is essential for protecting the poor and vulnerable when natural disasters like floods wreak havoc in the country.
The author is chair professor at China Agricultural University and former director general of International Food Policy Research Institute based in Washington DC.
The views don't necessarily reflect those of China Daily.
Most Viewed in 24 Hours
China Views