Wang stresses shared future in UN address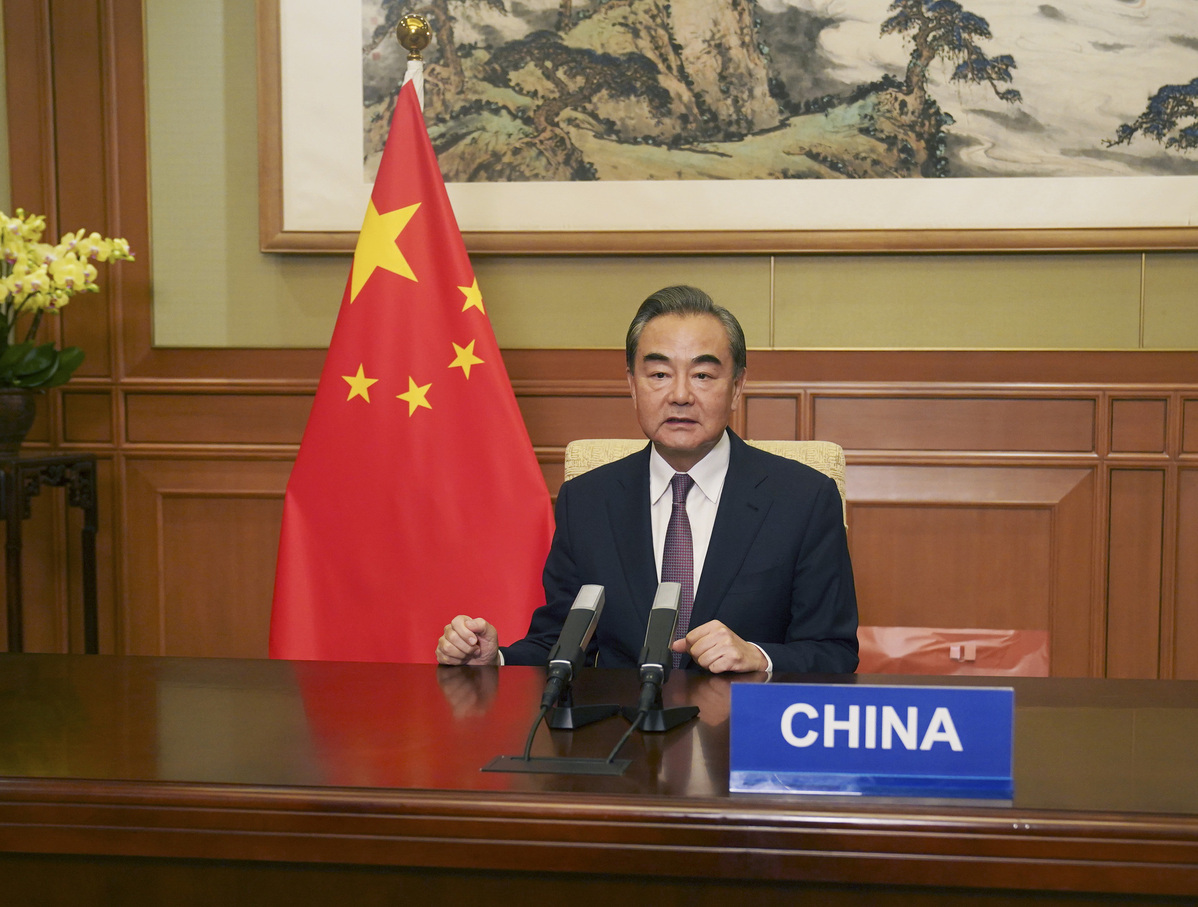 'Myriad challenges have driven home... world is an indivisible community'
State Councilor and Foreign Minister Wang Yi underscored the importance of firmly upholding multilateralism and building a community with a shared future for mankind during a speech at a virtual high-level conversation of the United Nations Economic and Social Council on Friday.
Since the UN was founded 75 years ago, the world has seen profound shifts, accentuated by the impact of COVID-19, said Wang.
"The myriad challenges before us have driven home the fact that this is an era of intertwined traditional and non-traditional security threats as well as interconnected interests of all countries, and our world is increasingly an indivisible community with a shared future," he said.
During the conversation, titled "Multilateralism after COVID-19: What kind of UN do we need at the 75th anniversary?" Wang stressed that to meet the challenges of the time, whether in pursuing peace and stability, achieving common development, combating COVID-19 or improving post-COVID-19 global governance, the world needs "a stronger, not weaker, UN".
"The UN's authority must be upheld, not undermined," he said. "We all have a duty to respond to the call of the times. We need to firmly support the central role of the UN, advance multilateralism and work for a community with a shared future for mankind."
Wang underlined the importance of upholding multilateralism.
"We must always stand on the side of multilateralism and international justice. We must uphold the international system built around the UN, safeguard the WTO-centered multilateral trading regime and speed up the implementation of the 2030 Agenda for Sustainable Development and the Paris Agreement on Climate Change," he said.
"We need to say no to unilateralism. We need to oppose any act of walking away from international organizations and treaties or replacing them with something out of nowhere. No one should challenge or undermine universally recognized rules out of selfish interests."
He emphasized that the UN is needed to support greater democracy in international relations and reject hegemony and power politics.
Humanity's future must be decided by the people of the world together, he said.
"Any country claiming that its own interests should always come first and be placed above the common interests of the global community is morally unjustified and doomed to failure," he said.
"The basic norms governing international relations, such as respect for national sovereignty, independence and territorial integrity and non-interference in internal affairs, must be observed by all."
Rule of law
Wang said international order underpinned by international law should be safeguarded, and unlawful acts and double standards rejected.
"Development and progress will not be possible without order and the rule of law. Upholding the international rule of law is what our people want and what this globalized world needs," he said.
"We need one single set of rules, not double-standards or selective application of these rules, when determining the merits of an issue."
He called for solidarity and cooperation and the rejection of beggar-thy-neighbor practices.
The fight against COVID-19, he said, which has infected more than 14 million people and claimed more than 500,000 lives, urgently requires nations to cooperate.
"We must always follow a people-first approach and put saving lives above all else. The world needs to come together and give the World Health Organization full support in playing its statutory role," he said, adding that any politicization, stigmatization or name-calling associated with the virus must be rejected, as should scapegoating and blame-shifting.
China is a firm proponent and practitioner of multilateralism, Wang said. As a founding member of the UN and the first country to sign the UN Charter, China has always supported the UN in playing an active role, upheld its authority and stature, and followed the purposes and principles enshrined in the UN Charter, he added.