US accusations of vaccine theft 'absurd'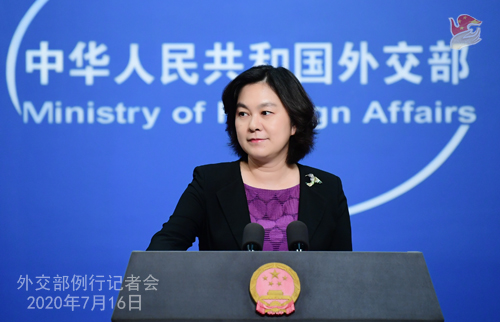 China is leading the world in developing novel coronavirus vaccine candidates, and it is "absurd" to accuse China of trying to steal US vaccines through cyberattacks, Foreign Ministry spokeswoman Hua Chunying said on Friday.
Hua made the remark at a daily news conference in response to United States Attorney General William Barr's claims on Thursday that "PRC-linked hackers have targeted American universities and firms in a bid to steal IP related to coronavirus treatments and vaccines."
"We have the best researchers. We don't need to steal to get to the leading position," Hua said.
China's research teams have carried out multiple tasks to develop five kinds of vaccines, and Chinese candidate vaccines with independent intellectual property rights have already entered clinical trials, she said.
According to a white paper China released in June to explain its efforts in fighting COVID-19, China had approved four inactivated vaccines and one adenovirus vaccine for clinical trials by then.
China will also continue to work with other countries to strengthen cooperation in vaccine development and distribution so that the world can fend off the pandemic as soon as possible, Hua said.
"China will not act like some countries which seek to monopolize and buy out the vaccines and medicines," she said.
COVID-19 vaccine development and deployment in China, when available, will be made for the global public good, which will be China's contribution to ensuring vaccine accessibility and affordability in developing countries, President Xi Jinping said when addressing the 73rd World Health Assembly in May.
Hua also dismissed Barr's claims that China is "engaged in an economic blitzkrieg ... to surpass the United States as the world's preeminent superpower".
Some people in the US have spared no efforts in describing China as a rival and defaming and besieging China, Hua said, adding they have used their attacks on China as "a silver bullet" to address their domestic political issues.
"Out of their own political interests, those people went so far as to kidnap domestic public opinion in the US," Hua said, pointing out that such moves are "doing grave harm to the US and the world".
China has never intended to challenge or replace the US, she said.
"China's policy toward the US hasn't changed. We hope to develop bilateral ties with good will and sincerity," Hua said.
Vice-Foreign Minister Zheng Zeguang held a video meeting with representatives of US companies on Wednesday.
China has been trying to develop ties with the US featuring non-conflict, non-confrontation, mutual respect and win-win cooperation, and the US shouldn't repay China's good will with harm, Zheng said in the meeting, according to a Foreign Ministry statement.
China-US ties are facing a serious and complex situation, and the US has seriously undermined the ties by interfering in China's domestic affairs and hurting China's interests, Zheng said, adding that some people in the US have resorted to all kinds of means to obstruct bilateral cooperation.
China will continue to make necessary responses to safeguard its sovereignty, security and development interests, and the right path for developing bilateral ties lies in mutual respect and seeking common ground, Zheng added.