CHEC's container terminal to boost global trade
Share - WeChat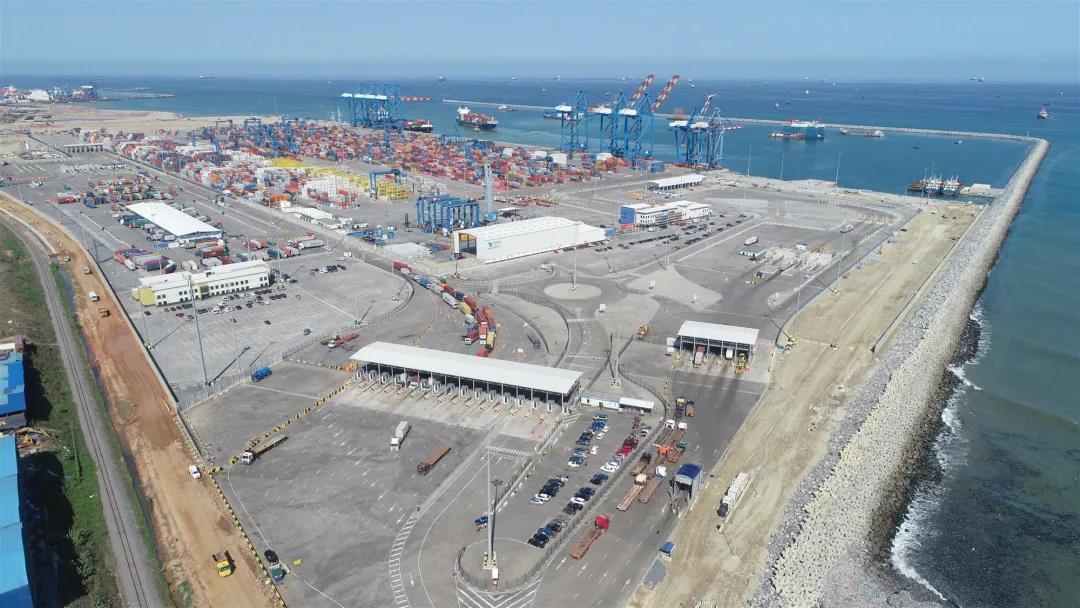 Ghana's new container terminal located in West Africa's Gulf of Guinea has placed Ghana in a more competitive position as it is able to accommodate larger vessels, thus unlocking huge trading opportunities within the region and with the rest of the world.
Built by China Harbor Engineering Co, or CHEC-a State-owned enterprise specializing in building ports, marine engineering, dredging, railroads and airport construction projects-the new container terminal at Ghana's port of Tema was completed last month, about 50 days ahead of schedule.
With construction work beginning in July 2016 with a contract period of 49 months, the project, currently the largest water project in Ghana, includes construction of a 3,558-meter breakwater, a 1,400-meter deepwater container berth, facilities covering 121 hectares for land reclamation and foundation treatment, dredging of dock basins and foundation trenches, as well as engineering and support equipment.
In addition to integrating its advantageous resources, optimized management and strengthened scientific and technological innovation during the whole construction process, CHEC said the project provided nearly 4,000 job opportunities in a number of types of work for local communities.
The new terminal will play a role in construction of local infrastructure and free trade zone development in Ghana, thus helping improve local living standards and promoting economic growth, said Lin Yichong, chairman of Beijing-based CHEC.
To build an environmentally friendly project, Lin said the company has set up a specialized team to work with local authorities to ensure all the construction work strictly follows international standards. Its construction team also built a sea turtle breeding center and moved more than 17,000 sea turtles to other livable places.
Modern port facilities can help Ghanaian companies and firms from surrounding countries to export their agricultural and industrial products to other parts of the world, and import goods they need such as medical materials, daily necessities, machine tools, chemicals, manufacturing parts and construction machinery, said Feng Yaoxiang, director of the investment promotion division at the China Council for the Promotion of International Trade in Beijing.
The new container terminal project at Tema Port will not only form a gateway for global companies to build and enlarge their market presence in West Africa, but also further promote international industrial capacity cooperation between China and Ghana, Feng added.
He said continued foreign and domestic investment in infrastructure development such as ports, roads and airports will be key elements in supporting economic growth in Africa, at least over the next decade. This will create favorable conditions to boost trade and people-to-people exchanges in this massive market.
As a subsidiary of China Communications Construction Co, a centrally administrated SOE,CHEC to date has more than 15,000 employees globally and has a presence in over 100 countries and regions. The company sealed $15 billion in project deals in markets such as Thailand, Saudi Arabia and Colombia in 2019.
By partnering with China's private companies in the bidding process, the company won the bid for a solar energy development project in Nauru last week. The project, under the EPC (engineering, procurement, construction) operational model, is the first solar energy storage integrated project won by CHEC.
The project involves design, installation and commissioning of a 6 MW (nominal installed AC capacity) solar farm, a 2.5 MWh/5 MW battery energy storage system (BESS), and an 11 KV substation.
Ma Yu, a senior researcher at the Beijing-based China Academy of International Trade and Economic Cooperation, said after years of development, Chinese SOEs have already expanded their overseas projects from resource development and infrastructure construction to industrial cooperation and other types of investment packages, especially in economies participating in the Belt and Road Initiative.
To prevent infection risks from COVID-19, the Chinese government and business associations have urged companies operating overseas to prepare enough protective materials and make emergency plans, as well as maintain close communication with host countries, according to information released by the Beijing-based China International Contractors Association.