Livestreaming gains traction abroad
Share - WeChat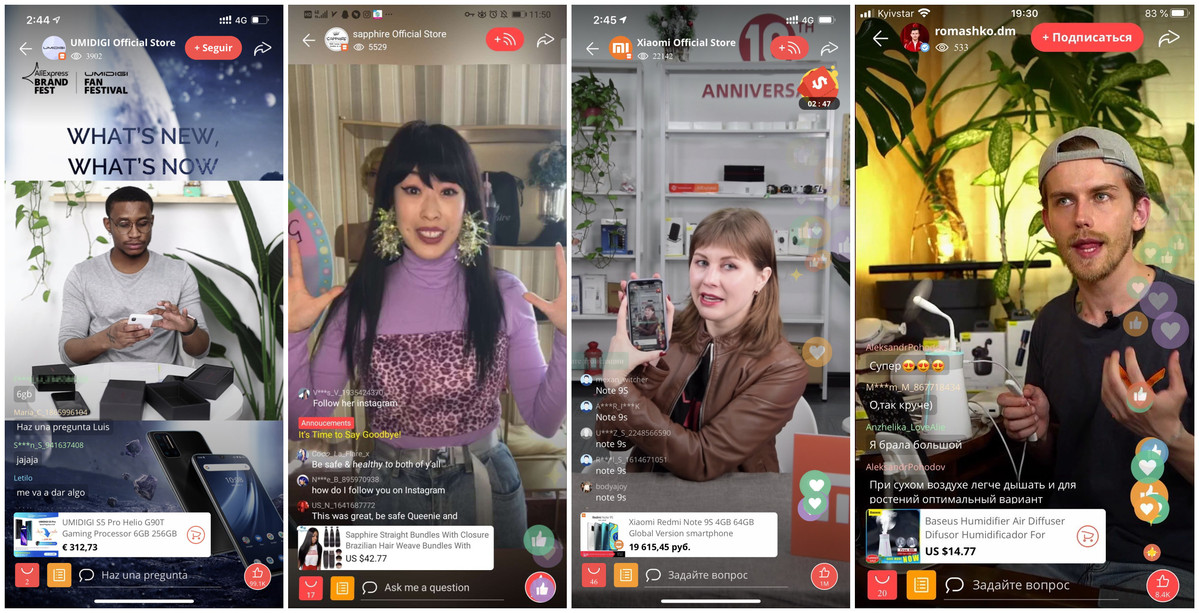 AliExpress playing key role in promoting Chinese-made products
AliExpress is a well-known e-commerce gateway for overseas consumers looking for Chinese-made products. And now the platform is exporting something other than physical goods.
Derived from China's bustling digital media landscape, livestreaming has moved quickly from the periphery to the mainstream, with businesses engaging with customers in smartphone-based broadcast shows in which they market products and often offer steep discounts.
Today the novel marketing method is beginning to take root outside China, with offshore online hosts jumping on the livestreaming bandwagon to entice shoppers and gain an earlier edge to build up a proprietary follower base.
Among them include Dima Romashko, a 29-year-old Ukrainian TV host for a music channel, who touted livestreaming as a "life-changing experience" where he gained experience speaking to mass audiences.
Romashko's passion for the profession was ignited seven years ago when looking for an affordable pair of shoes online. Ever since he made his first value-for-money purchase on AliExpress, Romashko became a fan of the platform and voluntarily shared gems he discovered via the site among his social circles.
"When I'm livestreaming and introducing products, I always think about how I can let my audience know more about me and how I can gain their trust," said Romashko, who promotes everything from headphones to cosmetics and apparel.
He typically hosts three shows per week, each lasting 30 minutes to three hours. With some 300,000 followers across all popular social media networks, his best-performing records include the sale of 3,000 tech gadgets and 1,000 items of clothing, each in a single show.
Amateurs-turned influencers on AliExpress like Romashko began springing up as the site had some 150 million buyers by the end of last year. The platform has thus galvanized into action, launching a dedicated initiative this year called AliExpress Connect to help influencers sell through the marketplace.
Under the program, influencers and those who want to launch an influencer career can access collaboration opportunities, both with AliExpress and with brands that are selling through the platform. In return, they will be rewarded for creating original content that helps brands sell their products and brings new customers to the sellers.
The goal is to empower over 100,000 content creators worldwide over the course of the coming year to bring new job opportunities and help them generate new income streams, especially amid the global economic downturn caused by the COVID-19 pandemic, said Wang Peng, head of overseas seller operation and social commerce cooperation at AliExpress.
"We have cultivated this idea for a while. China is known to be advanced in e-commerce development, and livestreaming and content-driven sales have become some of the hottest trends in e-commerce," he said. "We recognize that the 'Shoppertainment' phenomenon-the fusion of content creation, entertainment and commerce-is reshaping the retail industry and consumers' online shopping habits."
Wang said the project is open to all who have a passion for being livestreamers, meaning one doesn't have to have an existing vast follower base as a prerequisite. Rather, established and emerging influencers can register through a one-click sign-up process tied to their Facebook, Instagram, Twitter, TikTok or Google accounts.
They can then take part in a number of different tasks and campaigns, working with both Ali-Express and its sellers through the task center and product center. After influencers complete their initial tasks, they can take on more tasks to "level up" within the program, gaining access to campaigns that offer higher remuneration.
"We don't earn any commission on any of the deals that are made between individual key opinion leaders and brands," Wang said. "We believe in the strength of our eco-partners, and that the prosperity of the ecosystem has a higher priority than the profitability of AliExpress Connect."
Customers watching the shows are also growing in sophistication, propelling online hosts like Spain-based Gonzalo Suarez Mendaza to make extra preparations.