63-year-old Chinese master carpenter turns YouTube influencer
Share - WeChat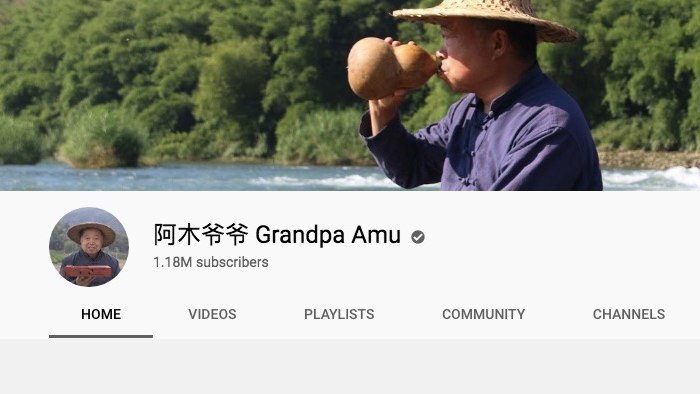 A 63-year-old Chinese grandpa's traditional carpentry skills are delighting tens of millions of viewers online as he creates woodwork without glue, screws or nails.
The Chinese master carpenter, Wang Dewen, known as "Granda Amu" on YouTube, has been dubbed as the modern day Lu Ban, a famous Chinese structural engineer during the Zhou Dynasty, thanks to his vast carpentry knowledge. His most popular video, which shows him making a fantastic wooden arch bridge, went viral on the platform, gaining more than 42 million views.
Grandpa Amu follows an ancient Chinese mortise and tenon technique, which means no nails or glue are involved in the entire process of building the arch bridge.
Grandpa Amu has also made several wooden toys for his grandson using the same technique. He created a folding stool, that looked like the China pavilion from the 2010 Shanghai Expo. "A block of wood transforms into a stool. Genius," a YouTube user named Rey Rey commented under the video.
Among all the items, a walking Peppa Pig and a bubble blowing toy are his grandson's favorites.
The master carpenter has so far attracted over 1.18 million subscribers on YouTube. Grandpa Amu insists that he is not an internet celebrity but just an ordinary farmer.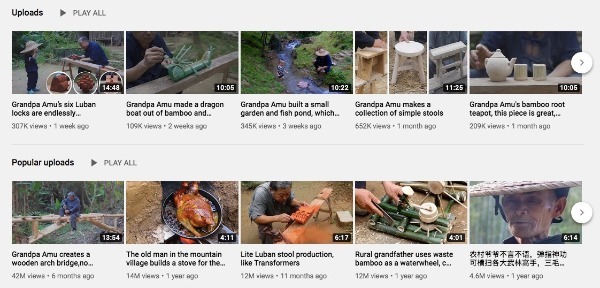 Spreading Chinese culture to the world
Li Ziqi, who lives in a picturesque village of southwest China's Sichuan Province, has made a name for herself by making various Chinese dishes on YouTube since 2016.
In her videos, she gracefully works as a farmer, impressing viewers with her understanding of food, nature and Chinese culture while showcasing the charm of Chinese culture in every detail of daily life.
Her traditional food preparation craft and Chinese rural lifestyle have attracted 11.1 million subscribers on YouTube. Just like Li Ziqi, Grandpa Amu is also trying to spread unique Chinese techniques to the world.
Grandpa Amu's son and daughter-in-law now work full time on his videos, hoping that the channel's popularity would help local villagers better sell their farm produce.
"We came up with the idea of making the videos because we wanted to bring our rural culture to others and let people learn about these ancient Chinese techniques," said Huang Chunmei, Grandpa Amu's daughter-in-law, in an interview with South China Morning Post.
Most Popular