US coronavirus cases set another record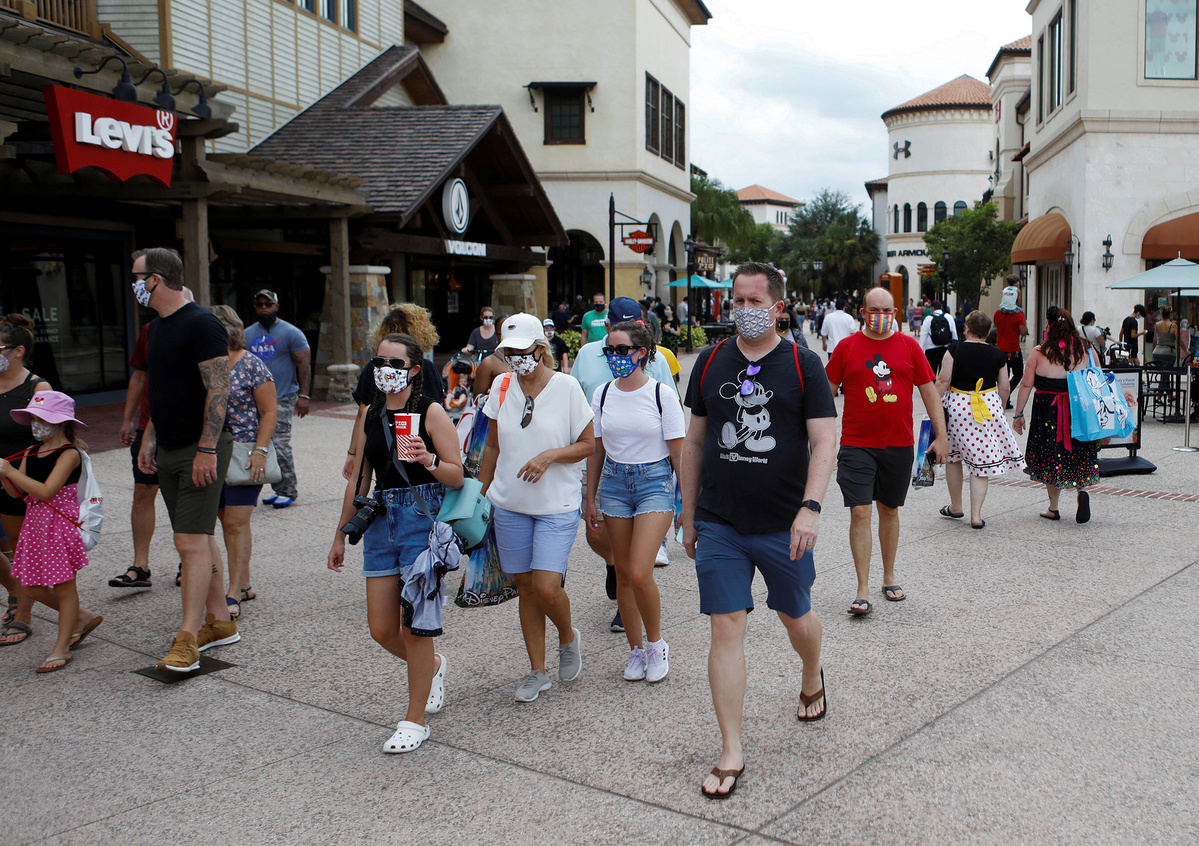 As the US exceeded 3.2 million cases of the novel coronavirus on Sunday, Admiral Brett Giroir, who coordinates the government's testing efforts, called on Americans where there are virus hot spots to wear masks in public "or we will not get control of the virus''.
Florida on Sunday reported the largest daily increase in positive coronavirus cases in any state since the pandemic began.
The 15,299 additional cases represents a total of almost 3,700 more than any state had reported in a day. Last week was Florida's deadliest, with almost 500 fatalities from COVID-19.
The US reported more than 68,000 cases of the virus on Friday alone, marking a new high for a 24-hour period, according to Johns Hopkins University data, and more than 134,000 deaths have been caused by the virus.
When asked on ABC's This Week if more stringent lockdowns might be needed in Southern states where cases are multiplying, Giroir said, "Everything should be on the table."
"For this to work, we have to have like 90 percent of people wearing a mask in public in the hot spot areas," he said. "If we don't have that, we will not get control of the virus."
Giroir also took a jab at Dr Anthony Fauci, head of the National Institute of Allergy and Infectious Disease, who until a few weeks ago had been the administration's go-to spokesman on the pandemic.
"Fauci is not 100 percent right," Giroir told NBC's Meet the Press. "He looks at it from a very narrow public health point of view."
Giroir made his mask comment one day after President Donald Trump wore a mask in public for the first time when he visited wounded veterans at Walter Reed National Military Medical Center in Bethesda, Maryland.
"I've never been against masks," the president said, "but I do believe they have a time and a place."
Trump has frequently said that he doesn't need to wear a mask because he and his staff are regularly tested for the virus.
House Speaker Nancy Pelosi, a Democrat from California, said Sunday that Trump's decision to wear a mask at Walter Reed hospital amounted to an "admission" that facial coverings can curb the virus' spread.
"Now he's crossed a bridge. That's an admission that, if you're going to see our soldiers, you have to wear a mask. If you're going to be with our children, you have to wear a mask," Pelosi said on CNN's State of the Union. "If we want to stop the spread of the coronavirus … you have to wear a mask.
"Hopefully, by his example, he will change his attitude, which will be helpful in stopping the spread of the coronavirus," she added.
Texas Governor Greg Abbott told Texans on Friday to wear masks because face coverings were "the only way" businesses could stay open.
"It's disappointing" that some local officials are refusing to enforce the state's mask order, Abbott said. "If we do not all join together and unite in this one cause for a short period of time … it will lead to the necessity of having to close Texas back down."
Abbott's order effective July 3 requires face masks in public spaces in counties with 20 or more active COVID-19 cases.
In addition to Florida and Texas, South Carolina, Georgia and Arizona have been particularly hard hit with more coronavirus caseloads.
In May, Florida became one of the first states to begin reopening its economy. A month ago, less than 5 percent of tests came up positive on a daily average. Last week, the daily average exceeded 19 percent.
Schools in Florida are to open in many parts of the state in four weeks. Governor Ron DeSantis has ordered them to offer five-days-per-week, in-classroom education.
Education Secretary Betsy DeVos on Sunday downplayed the possibility of children spreading the virus by returning to in-classroom learning this fall.
She said on CNN's State of the Union that there is nothing in the coronavirus data to suggest that children returning to the classroom would endanger others.
She also downplayed Trump's threat to strip federal funding from schools that decline to open classrooms, saying there is "no desire to take money away" from schools struggling to meet guidelines laid out by the Centers for Disease Control and Prevention (CDC). Those guidelines are "meant to be flexible", DeVos said.
The American Academy of Pediatrics, the American Federation of Teachers, the National Education Association and the School Superintendents Association on Friday criticized Trump's threat as a "misguided approach, putting already financially strapped schools in an impossible position that would threaten the health of students and teachers".
Walt Disney World near Orlando began a phased reopening on Saturday, nearly four months after the theme park shut down.
As with other theme parks that have announced reopening plans, park capacity is limited. Visitors are undergoing temperature checks and are required to wear face masks. Some attractions and character interactions were unavailable as safety precautions.
Two of Disney's four major parks, the Magic Kingdom and the Animal Kingdom, reopened, their combined crowds appeared to be in the 16,000 range, according to media reports.
Epcot and Disney Hollywood Studios are set to open on Wednesday.