Pandemic hinders growth of car-sharing business
Share - WeChat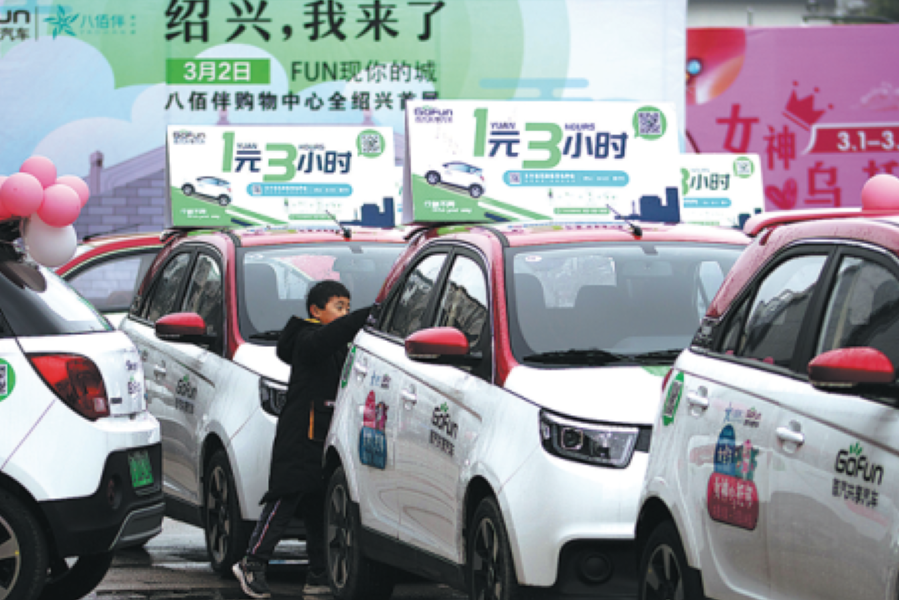 Global consultancy firm thought the market in China is promising
Car-sharing businesses in China are seeing a slowing in development because the pandemic has cut people's demand for the service.
Gofun, a car rental brand from Shouqi Group, intended to amplify its model portfolio with a total of 100,000 to 300,000 vehicles on service by the end of 2020, according to a report by auto portal Gasgoo. However, the outbreak of the pandemic has forced the company to press pause on that plan, according to a Gofun executive.
The pandemic has cut nationwide travel and led to a sharp drop in Gofun's business volume, the executive added.
Gofun is among more than 50 car-sharing operators in China facing such a dilemma. Many other operators struggled to deal with demanding investment and high operating cost.
With the development of information technology and policy support, the sharing economy has achieved sound results.
China's sharing economy achieved a trading volume of 3.28 trillion yuan ($469.11 billion) in 2019, a year-on-year growth of 11.6 percent, according to an annual development report on China's sharing business released by the State Information Center.
With the popularization of technologies, including big data, cloud computing, the internet of things and artificial intelligence, the way people make use of a car will be changed, according to insiders.
In the future, people may not need to own a private car by themselves, as they can resort to car-sharing services.
Under this context, a raft of automakers announced plans to transform into mobility service providers, including notable overseas auto brands Volkswagen, Audi, BMW, Mercedes-Benz and Chinese automakers BAIC, Changan, GAC and Geely.
Global consultancy firm Roland Berger estimated that by 2025 there will be 600,000 vehicles on service in China's car-sharing rental market.
However, due to its intensive asset investment and difficulty to profit in short term, the car-sharing business has suffered from development restrictions, which deteriorated in the pandemic outbreak, insiders said.
Car-sharing service providers EVCard and Pand Auto said that the car-sharing business has high operating costs, a need for long-term investment and strong service capability, making it difficult for industry players to survive, Gasgoo reported.
The cost of car-sharing business includes the fixed prices of vehicle purchases, network construction and vehicle insurance, and the operation cost of vehicle depreciations, parking, technology development, vehicle maintenance and management.
Revenue of the businesses only come from the vehicle rent, which is determined by multiple factors, including price, vehicle fleet size and vehicle turnaround rate.
The car-sharing business in China is still thought to be promising. According to a market analysis report on China's car-sharing business released by Roland Berger in 2018, the country's car-sharing market will see a compound growth rate staying around 45 percent in the following 10 years.
By 2030, market capacity is expected to reach 3.8 trillion yuan and China will be the largest car-sharing market across the world.
To achieve favorable operation, the entire car-sharing industry needs to pay more attention to technology upgrading, operation model innovation and the improvement of industry regulations, insiders said.
"While new energy vehicles are still the mainstream models serving at the car-sharing market, operators should work on innovative technologies that offer customized and stable mobility services while making the best of NEVs," said Yu Qingjiao, secretary-general of the Zhongguancun New Battery Technology Innovation Alliance.
Insiders said that it is also necessary to realize that industry regulations and rules must be followed, especially with regards to parking and safety-related regulations of shared cars.