Architects draw up designs for post-pandemic world
Share - WeChat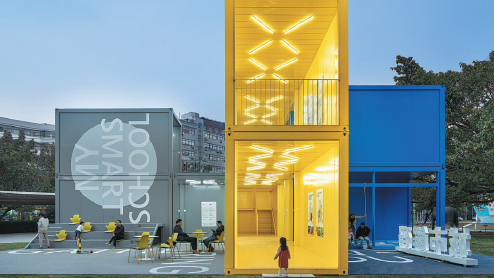 Massimo Mercurio, creative director of Mercurio Design Lab, headquartered in Rome, feels that homes must become larger. As a gauge, a comfortably-sized apartment for one person to live in and work from in the long term should be about 80 square meters. With every additional family member, the area should expand by 30 percent to 40 percent.
Mercurio said that balconies could be added to give an impression of greater space.
"It is important that we design homes that people are happy living in-unfortunately, this was not being done.
"COVID-19 could be the 'push' to make us do the right thing and convince developers that they should not just think about their bottom line, but also buyers' well-being."
The evolution of residential projects is closely tied to offices.
A survey of more than 2,700 white-collar workers conducted in Singapore in April found that eight in 10 wanted to continue working from home.
Combined with the threat from COVID-19, this has shone the spotlight on the future of work and what the office will look like.
Multinational practice Gensler, based in San Francisco, has come up with a series of guidelines on how to mold this space in the short, medium and long term.
The guidelines are driven by a focus on personal health and wellness.
Ben Tranel, a principal and regional leader in Gensler's Office Buildings-Developer division, posted on its blog, "One way would be to document a building's healthy status by meeting an agreed-upon industry standard. It could be through an existing initiative like the WELL Building Standard, a performance-based system for measuring, certifying and monitoring building features that impact human health and well-being."
This standard rates buildings by considering factors such as air, water, light and comfort, and in doing so, gives occupants increased confidence in the interior environment.
Other ideas include re-evaluating floor plans to de-densify the office, which could permanently alter building forms.
For instance, with more people working from home, the office could become a space for meeting rooms of different sizes and well-spaced communal workstations.
Biophilic design elements-the integration of natural elements and processes with the built environment-will probably be another key feature of offices. In addition, more outdoor space may be included on each floor by providing terraces and roof decks.
Tranel posted, "Proponents of this approach maintain that design interventions that incorporate nature or mimic natural systems are linked to decreased stress, enhanced creativity and accelerated recovery from illness.
In the workplace, this can also lead to a reduction in the number of sick days, he added.
One of the most profound impacts COVID-19 will have on the built environment will be felt at healthcare facilities.
As they are at the forefront of the fight against the pandemic, it is important they have effective solutions for infection control, and facilities designed for this. However, many of them do not-and it is now vital, more than ever, to correct this.
Angela Lee, principal and regional managing director for Asia-Pacific at HKS Architects in Singapore, said, "A lack of isolation wards, a shortage of personal protective equipment and ventilators, along with an absence of any pandemic response strategy, have been common issues seen across the world.
"Some immediate steps that healthcare facilities can consider taking for the future include clear segregation of patients from those that have contagious diseases."
Lee said another issue-often overlooked-is the need for measures to enable medical professionals to work around the clock during pandemics. For example, hospitals can look at providing accommodations-because staff members, during such crises, will often be unable to go home, perhaps for extended periods.
"Hospitals should also engage with their facility managers to have protocols in place for different types of disaster, and evaluate their plans frequently," Lee added.
"Regular drills and reviews of protocols and plans will ensure staff are well-trained to handle such future events."
HKS has published some of its design solutions for helping healthcare facilities cope during a pandemic. These include expandable or convertible exterior spaces, mass casualty decontamination and converting emergency observation units into pandemic isolation areas.
Some of these ideas surfaced as early as 2014, when the company was commissioned by the Macao Health Bureau as a consultant for the design of a new 1,200-bed hospital complex.