Seoul mayor found dead after leaving note
Share - WeChat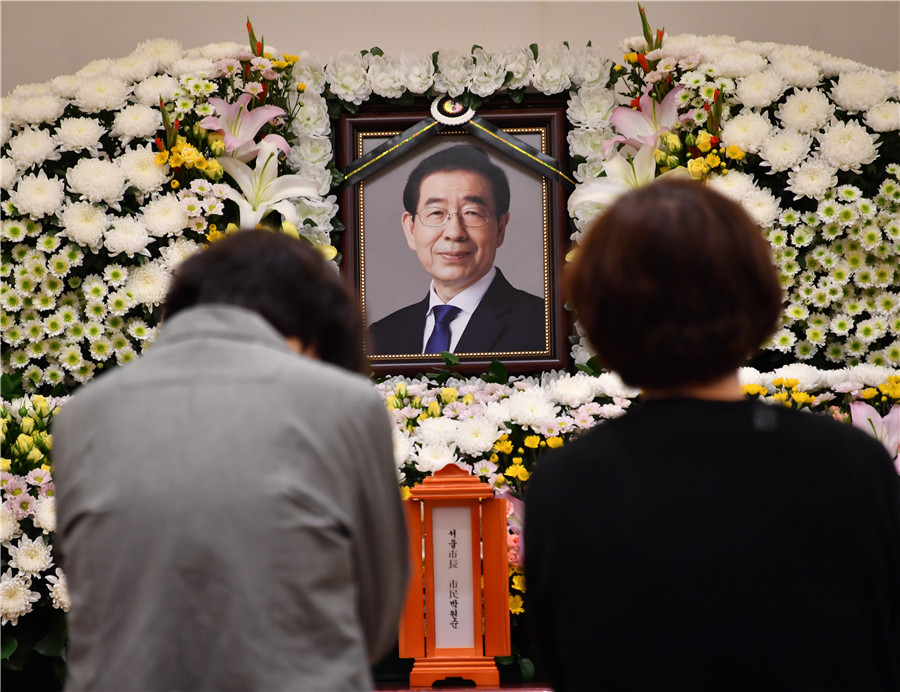 Suspected suicide follows apologetic last words and sexual harassment claim
SEOUL-The longest-serving mayor of the Republic of Korea's capital Seoul and one of the country's most prominent elected officials was found dead on Friday after he was reported missing.
The city government said Park Won-soon's funeral will last for five days in the fashion of a mayoral funeral, unlike a three-day general funeral. A memorial altar was set up in front of the City Hall in central Seoul on Friday afternoon to allow citizens to mourn his death.
Park, 64, was found dead in the woods around Mount Bugak near his official residence in central Seoul, shortly after midnight, with a note left at his residence in which he expressed regret.
"I apologize to everyone," he wrote in the note left on his desk and released by the city government with the permission of his family.
"I thank everyone who was with me in my lifetime. I am so sorry to my family, to whom I have only caused pain."
It continued with a request that his remains be cremated and scattered around his parents' graves.
Park was first reported missing on Thursday evening by his daughter, who said he left a message "sounding like a will" before he went missing.
Police said there were no signs of foul play and would investigate the exact cause of his death.
His funeral is to be held next week.
Park, a member of the ruling Democratic Party, was first elected as Seoul mayor in a 2011 by-election and then reelected in 2014 and 2018.
A former human rights lawyer and civic activist and the longest-serving Seoul mayor, he had been regarded as one of the presidential hopefuls for the 2022 presidential election.
The political community expressed shock and condolences over Park's death, with the Democratic Party, the political home of Park, canceling most of its events for Friday.
His supporters wailed and called out tributes such as "We love you" and "We are sorry" when his body arrived at a Seoul hospital. His name was the most popular search word in main portal sites, and condolence messages flooded social media.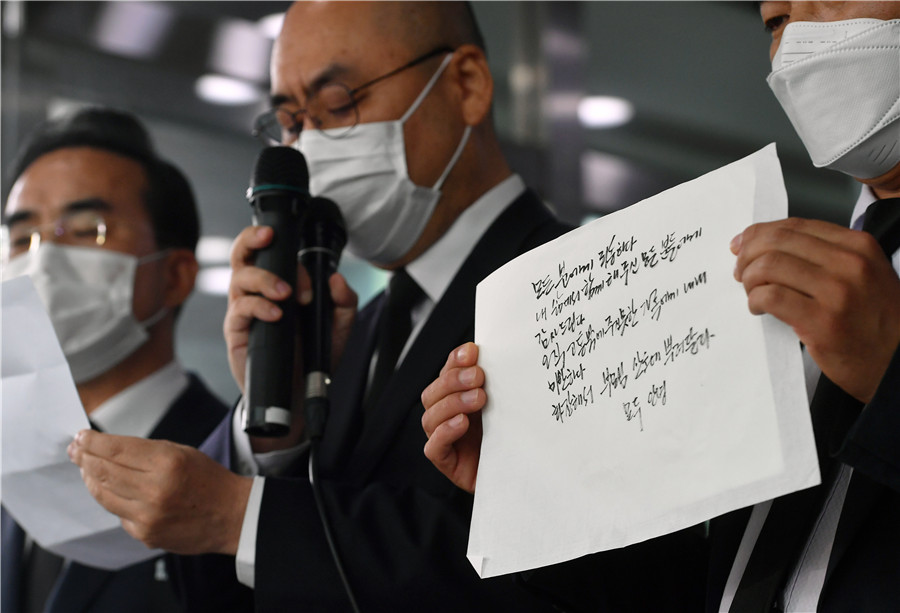 Criminal complaint
The suspected suicide came after a former secretary to Park on Wednesday filed a criminal complaint about him in which she alleged sexual harassment over an extended period.
Police confirmed the complaint but did not elaborate on the nature of the allegations. In accordance with the law, the case was automatically terminated upon the mayor's death.
Some critics questioned the image of a man who had portrayed himself as "a feminist mayor" dedicated to gender equality and was a vocal supporter of the "Me Too" movement.
There are worries that public mourning for Park could lead to criticism of the alleged victim, whose identity is largely unknown.
However, a representative for Park's family issued a statement on their behalf saying it was time to let him go and urging people to avoid spreading "groundless statements".
Meanwhile, Seo Jeong-hyup, vice-mayor for administrative affairs, will serve as the city's acting mayor until a by-election, which is scheduled for April.
In another development, jailed former ROK president Park Geunhye had her sentence reduced to 20 years on Friday in a retrial of the corruption scandal that led to the impeachment of the ex-head of state, according to local media.
She was ousted from the presidency in March 2017, becoming the country's first impeached leader over the corruption scandal that involved her longtime confidante Choi Soon-sil.
XINHUA
Today's Top News
Editor's picks
Most Viewed