Cliffside villagers step up to new homes and better lives
Share - WeChat Editor's note: With China set to meet its goal this year of eliminating extreme poverty before next year's 100th anniversary of the founding of the Communist Party of China, this series looks at the efforts of different areas of the country to erase poverty and improve livelihoods.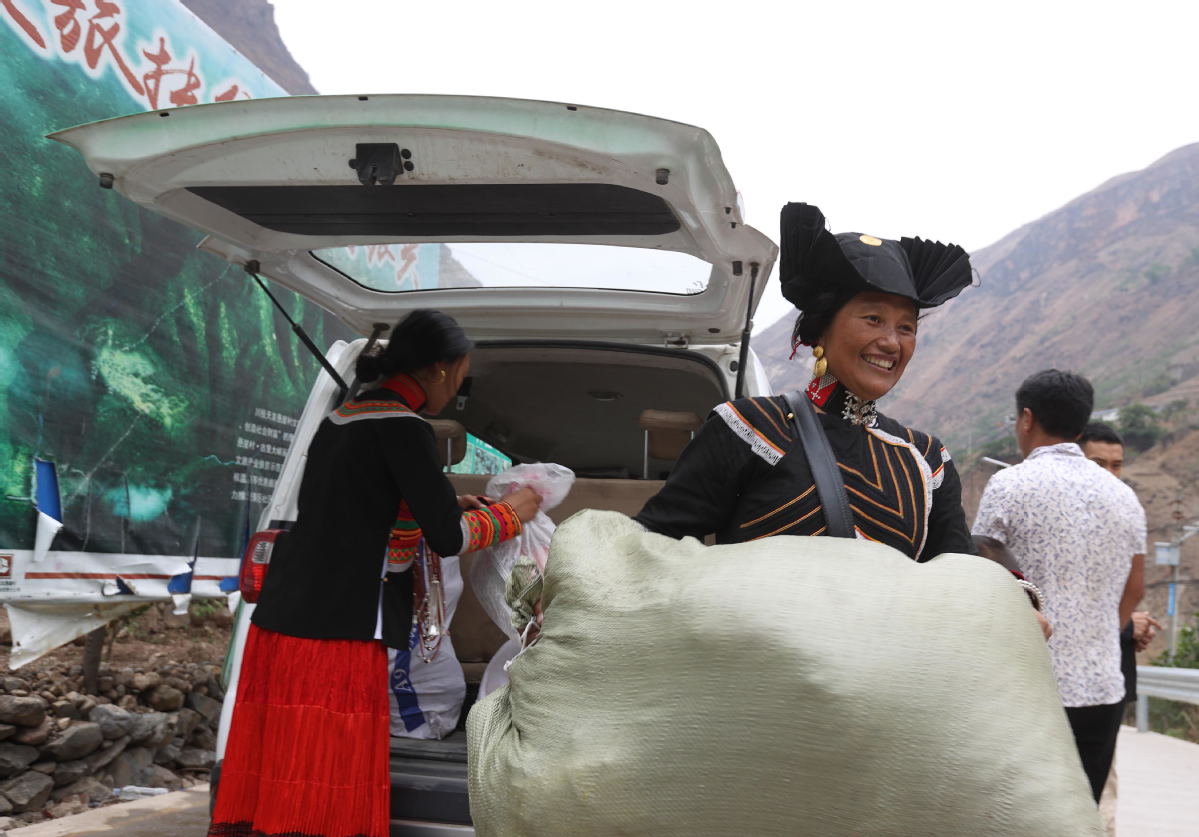 Yi ethnic group member Mose Ziha strums his guitar as he looks into his propped up mobile phone.
The 44-year-old then bursts into song, livestreaming in the Yi language a soothing folk melody about families warmly welcoming guests into traditional homes.
That is exactly what Mose is doing – only that his home is a gleaming unit in a month-old apartment complex, complete with running water, electricity and other modern amenities.
"It is very comfortable here and I'm enjoying facilities I never had. I have everything I need," Mose said of his apartment in Zhaojue county of the Liangshan Yi autonomous prefecture, Sichuan province.
He is one of more than 80 households from the county's Atuleer village that had started moving to new apartments in the county seat earlier in May, as part of latest efforts in a nationwide poverty alleviation drive.
Local government reports point to Zhaojue's significant achievements in poverty alleviation, in line with the nation's aim to eradicate extreme poverty — defined as living with less than 2,300 yuan ($325) in annual income — by the end of this year.
By the end of last year, 136 of the 191 impoverished villages in Zhaojue were lifted out of poverty, with 67,932 poor people from 15,239 households lifted out of poverty and the poverty rate dropping from 31.8 percent to 11.3 percent.
Click here to watch the video of "cliff village"
As of mid-June, the remaining 55 impoverished villages in the county, covering 7,081 households with 33,073 poor people, all shed their poverty label. In Atuleer alone, per capital income of poverty-hit residents is forecast to rise above 9,000 yuan by this year, or nearly five times the 1,961 yuan per capita income of poor households identified in 2014.
Comprehensive measures to fight poverty range from housing and health to entrepreneurship and education. County plans include safe housing projects for more than 4,800 needy households, over 100,000 night-school classes for farmers, nearly 10,000 skills and entrepreneurship sessions, and extensive public health and environmental projects for rural families. Business enterprises and groups from more developed coastal areas also work with the agricultural sector and help build Zhaojue's industries.