Molding a career
Share - WeChat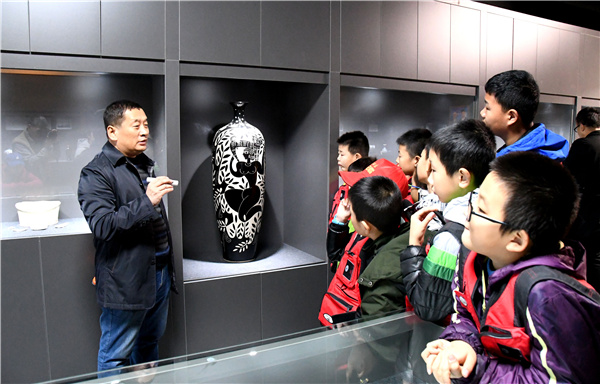 Clay is transformed into fine porcelain as a once-lost ancient skill enjoys a revival.
He makes things. Molds them. Shapes them, exposes them to furnaces and glazes them. They are made out of what at first sight looks like muck. Zhang Wenliang's hands turn mud into art.
The room where he works is quiet enough to hear the light buzz of the spinning potter's wheel, along with the splashing sound of water and clay being mixed together.
The bottom of the vessel emerges after Zhang sticks a bamboo knife in the moving clay, and then, as if by magic, so do the vessel's bulging body and narrow bottleneck in the wake of the genteel and artistic path of his fingers.
"This is the most classic model of our Pingding carved porcelain," Zhang says.
Pingding county, located in Yangquan city, sits in the center of North China's Shanxi province and has a long porcelain-making history that dates back to the Tang Dynasty (618-907).
The most traditional carved porcelain is black glazed.
Unlike other well-known porcelain, whose patterns are often drawn in advance, the Pingding porcelain is directly carved by a knife before the wet clay dries. This requires that the carving is done quickly in one sitting.
"Those carved images mostly reflect folk culture and customs in the north," Zhang says.
Of all the steps involved in making the porcelain, Zhang says the most crucial one is the firing.
"You never know exactly what pattern will emerge," he says.
More than two decades of porcelain making, however, has given Zhang a good sense of just how it will turn out.
Most Popular