Mountain echoes to the school of rock
Share - WeChat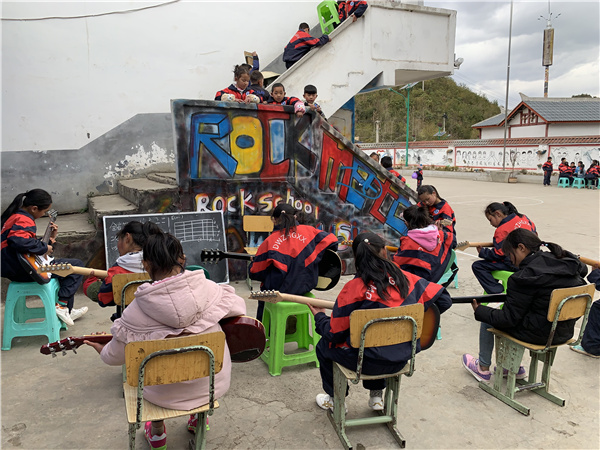 Students are given the chance to express themselves as teachers help them to tune into their creativity.
The rhythmic drum beat sets the stage for the performance. Five girls in school uniform-a drummer, two guitarists, a bass player and a vocalist-from Haiga Primary School in Guizhou province perform a cover of a Miserable Faith single, appropriately named, Sing for You.
Their talent has given them high hopes as has the location of their school: About 2,900 meters above sea level, located half way up a mountain in Liupanshui, it is nicknamed as "the school in the clouds". Most of its students are from the Yi ethnic group.
Their video clip has become an overnight online sensation, and has been viewed about 60 million times on micro-blogging platform Sina Weibo.
On June 19, Miserable Faith, a well-known indie rock band in China, reposted the video with the comment: "Every angel loves beauty. There will be a larger stage for you in the future."
Miserable Faith contacted teacher Gu Ya who posted the video and invited the girls, who formed the band, Weizhi Shaonian (meaning "unknown youngsters"), last year, to sing on stage with them.
In the footage, their classroom is the stage, and their performance attracted dozens of pupils at the school. Many internet users commented that "this is the real-life School of Rock". This refers to the hit 2003 movie in which substitute teacher Dewey Finn, who is a wannabe rock star, turns his class into a rock band.
Behind the Haiga rock band, Gu, who has taught Chinese language since 2016, is the real-life Finn, bringing music to students in the mountain. Besides being a teacher, he is also the guitarist in a local rock band called Osmosis.
He never expected that the school band would be as popular as it has become and the sudden fame has disrupted school life. Fame and its burdens may have their place, but school is not one of them.
"If you really like us, please leave us alone," Gu says, adding that he refuses any kind of commercial cooperation.
"We are just playing music for fun," says the 32-year-old teacher, adding that, at first, he just wanted to find a way to relate with his students.
"Those who live in the mountains, especially students and teachers, are lonely, and music can connect people," he explains.
Most Popular